LendingTree Reveals the Most Free & Clear Cities in America
Published on: September 26th, 2018
Editorial Note: The content of this article is based on the author's opinions and recommendations alone. It may not have been previewed, commissioned or otherwise endorsed by any of our network partners.
New LendingTree study ranks cities by the share of homeowners without mortgage debt obligations.
Many U.S. property owners dream of the day they shed the mortgage, owning their homes outright. Reaching this milestone means not only skipping the monthly payment but achieving what is perhaps a lifelong goal of asset accumulation. LendingTree ranks U.S. cities by the proportion of such homeowners who are free and clear.
As home prices rise, these homeowners receive the full benefits and see their wealth accumulate. This wealth accumulation boosts consumer spending via the wealth effect, making for more dynamic economies.
Homeowners who do not have mortgage debt can decide if and how they want to access this wealth, perhaps by taking out a loan to address life needs, and are generally better able to absorb financial shocks. The Federal Reserve's measure of how much wealth households have in real estate equity has climbed from a $6-trillion level nine years ago to about $15 trillion in 2018.
To assess "free and clear" homeowners, we used LendingTree's proprietary database of almost all homes in the United States. We calculated the proportion of homes with zero mortgage debt in each city. We also calculated the median value of mortgaged and non-mortgaged properties and their ratio.
LendingTree helps individuals track the value of their home and the amount of leverage they have while also accessing tools to manage their credit.
Key findings
Our top free and clear cities get there by different means:
No. 1 Detroit arrived at the top spot for a not-so-great reason: mortgage lenders have historically viewed housing in the city as risky and, as a result, there are fewer homeowners here. This was often driven by discriminatory lending practices which excluded many Detroit residents from the mortgage market.
Miami ranks second and is a top destination for foreign buyers. These buyers are often wealthy and therefore pay cash for their home purchases.
Third place Las Vegas has a high ratio of homes owned by cash-ready investors. Persistent migration inflows mean potential landlords find a ready market and homes at affordable prices.
Our least free and clear cities are Washington D.C., Virginia Beach and Seattle.
Washington D.C. and Seattle have some of the highest-priced homes in the nation. Even with the abundance of high-paying jobs in these cities, it's difficult to purchase a home without a mortgage.
Virginia Beach has one of the highest rates of military households in the country. It also has more than its share of homeowners, thanks to the accessibility of mortgages from the Department of Veterans Affairs (VA). These typically younger mortgage holders are still paying off the loans, making Virginia Beach one of the least free and clear cities.
A curious result is that six cities in California are among the top 20 free and clear cities, despite relatively high home prices in the state. California's property tax laws discourage homeowners from moving, so many have long tenures and have had the opportunity to pay down their mortgages.
The Most Free & Clear Cities in America
#1 Detroit
Free & clear: 55%
Median value of non-mortgaged homes: $103,000
Median value of mortgaged homes: $206,000
#2 Miami
Free & clear: 52%
Median value of non-mortgaged homes: $236,000
Median value of mortgaged homes: $303,000
#3 Las Vegas
Free & clear: 48%
Median value of non-mortgaged homes: $231,000
Median value of mortgaged homes: $252,000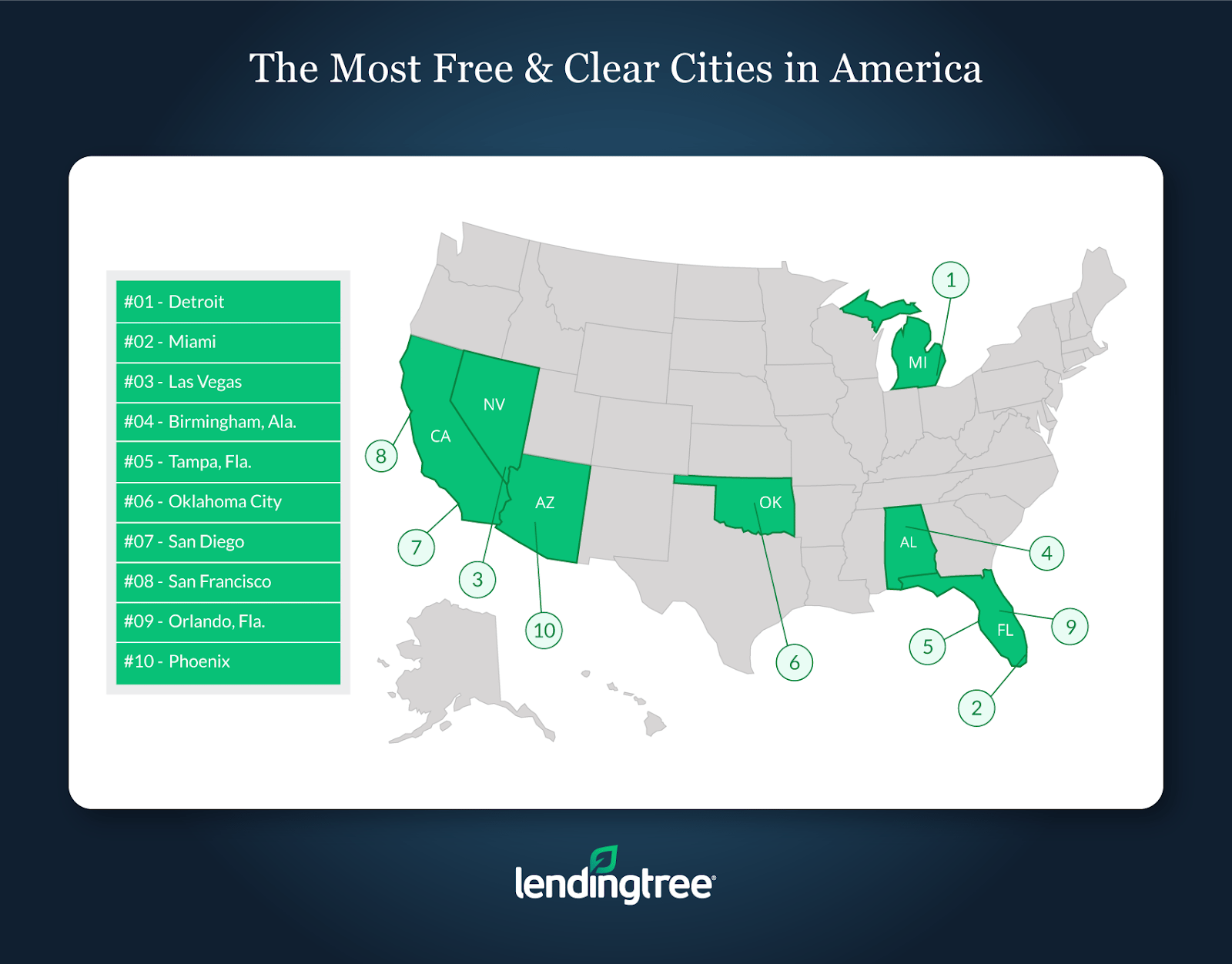 The Least Free & Clear Cities in America
#48 Washington, DC
Free & clear: 23%
Median value of non-mortgaged homes: $392,000
Median value of mortgaged homes: $409,000
#49 Virginia Beach
Free & clear: 22%
Median value of non-mortgaged homes: $216,000
Median value of mortgaged homes: $234,000
#50 Seattle
Free & clear: 22%
Median value of non-mortgaged homes: $447,000
Median value of mortgaged homes: $480,000
Methodology
To determine the most free and clear cities, we looked at data pulled on August 8, 2018 from the My LendingTree property value database. The database includes estimated home values for more than 155 million properties in the U.S. based on public tax, deed, mortgage and foreclosure data, as well as proprietary local data used to power home financing recommendations for My LendingTree users. The share of free and clear homes was calculated by counting the number of homes with a mortgage balance of zero and dividing by the total number of homes in each city as defined by the Core-Based Statistical Area (CBSA).