Competition among lenders was worth over $25,000 to borrowers last week
Published on: April 3rd, 2018
Editorial Note: The content of this article is based on the author's opinions and recommendations alone. It may not have been previewed, commissioned or otherwise endorsed by any of our network partners.
LendingTree shows borrowers how to fight rising rates as the spring selling market heats up.
Homebuyers could have seen median savings of $25,880 by comparison shopping for the best mortgage rates last week, up 26% from a year ago.
This week's Mortgage Rate Competition Index was 0.56 for purchase mortgages, up 0.11 from a year ago, and unchanged from last week. The Index measures the median spread between the highest and lowest APR available on the LendingTree platform.

April 3, 2018 — Charlotte, N.C.
We calculate the Mortgage Rate Competition Index weekly as the median spread between the lowest and highest APR offered by lenders in our marketplace. By calculating this spread, we hope to show consumers how much they stand to save by comparing rates during the lending shopping process.
Purchase loans
Across all purchase loan applications on LendingTree for the week ending April 1, 2018, the index was 0.56, unchanged from the previous week.
How big of a deal is it to nab a mortgage rate that's 0.56% lower than the competition? Over 30 years, that could translate to $25,880 in savings on a $300,000 loan (see Mortgage Savings Tracker graphic below).
Refinances
The index was wider in the refinance market at 0.63, up from 0.59 the prior week.
Using the same assumptions in the previous examples, borrowers shopping for refi loans could have saved $29,081 by shopping for the lowest rate.
Other findings
Average savings in 2018 are outpacing 2017 savings, up to $27,000 from $21,000 for purchase mortgages. Refinance loan savings are up to $29,000 from $26,000.
The Mortgage Rate Competition has widened as rates increase, reflecting how mortgage lenders have unique business circumstances that impact how they change the rates at which they can offer consumers loans.
Mortgage Savings Tracker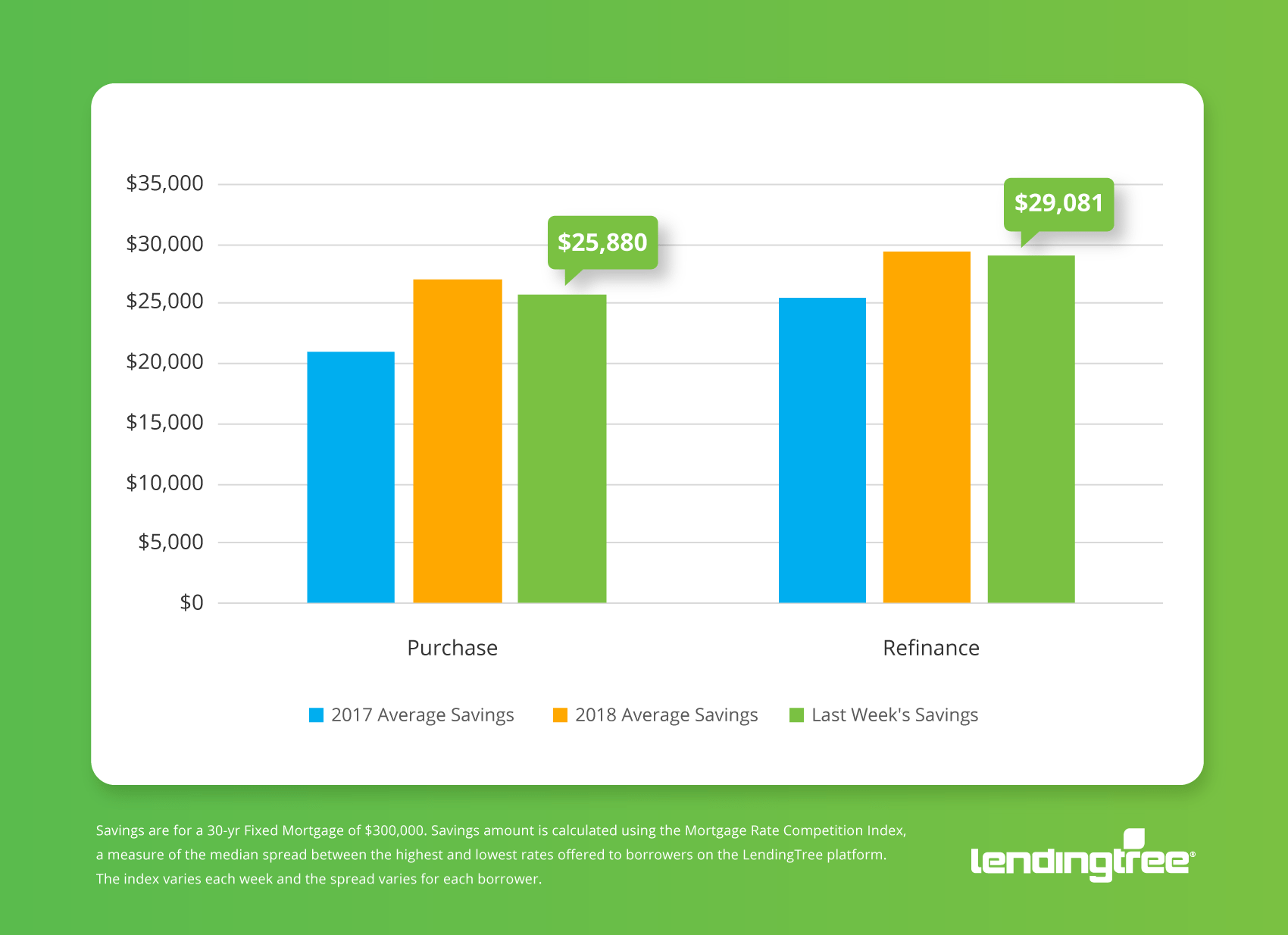 Mortgage Rate Competition Index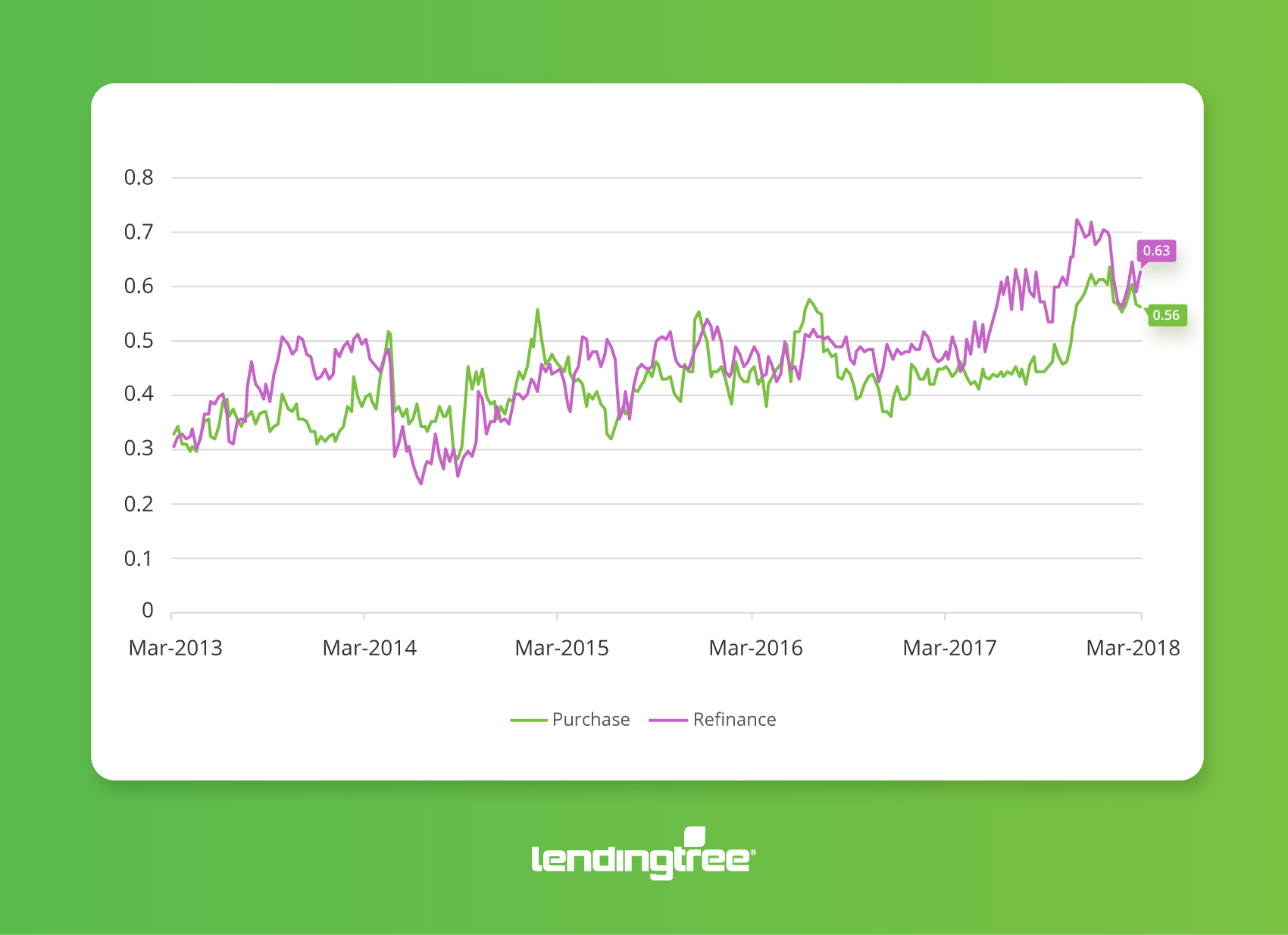 Wage data will set the tone for April mortgage rates
Mortgage rates stabilized in March after increasing rapidly in January and February. Among the drivers for the increase in rates were expectations for higher inflation. These expectations were tempered when the release of February's jobs data on March 9 showed a slowdown in wage increases to 2.6% Y/Y after a jump in January to 2.8% Y/Y.
Friday's release of the jobs data could set the tone for mortgages rates in April. A surprise in the upside for wages will bring inflation concerns back to the fore and put upward pressure on rates.
We are getting into the core of the spring selling season for homes. Data for mortgage applications released last week showed a significant jump in purchase applications, up 3% over the prior week and 8% higher than a year ago. Low inventory is the defining characteristic of the current housing market and buyers should do all they can to position themselves competitively. Getting financing in place ahead of the house hunt is crucial and we strongly advise buyers to shop for a loan first.
What is the Mortgage Rate Competition Index?
The LendingTree Mortgage Rate Competition Index is a new proprietary measure of the dispersion in mortgage pricing. It measures the spread in the APR of the best offers available on LendingTree relative to the least competitive (i.e. the highest) rates. Our research shows that mortgage rate competition varies with the financial and operational measures of activity in the mortgage markets. More details on the index are available in a white paper on LendingTree's website.
How is the index formulated?
A mortgage shopper enters their information on LendingTree.com. They input loan variables including the proposed amount and down payment, property variables including property type and location and personal information including income. LendingTree transmits this data, including a soft credit inquiry, to lenders who evaluate the borrower against their lending parameters in their pricing engines. Interested lenders return a rate and fee offer. For our index, we combine the rate and fees into an APR and calculate the spread as follows:
Offers
APR
Lender 1
4.21
Lender 2
4.33
Lender 3
4.40
Lender 4
4.55
Lender 5
4.62
The spread is the difference between the highest and lowest offers, in this example, 4.62-4.21 = 0.41. We repeat this calculation across 30-yr loans that week and then find the median of the individual spread, which is our index value for that week. This is done separately for the population of purchase and refinance loan requests.
Download The LendingTree Mortgage Rate Competition Index White Paper
Tendayi Kapfidze is Chief Economist at LendingTree. He leads the company's analysis of the U.S. economy with a focus on housing and mortgage market trends. Read more about Tendayi.
If you're interested in receiving this weekly report and other relevant mortgage reports, please email: [email protected].