Mortgage Savings Tracker and Mortgage Rate Competition Index
Published on: March 13th, 2018
Editorial Note: The content of this article is based on the author's opinions and recommendations alone. It may not have been previewed, commissioned or otherwise endorsed by any of our network partners.
LendingTree adds groundbreaking transparency to the mortgage shopping market
According to the Mortgage Savings Tracker, potential homebuyers could have saved an average of $26,780 by comparison shopping for the best mortgage rates last week, up 2.4% from the prior week.
This week's Mortgage Competition Index was 0.58 for purchase mortgages, up 0.13 from a year ago, and up 0.02 from last week. The Index measures the median spread between the highest and lowest APR available for each loan request on the LendingTree platform.
Buying a home is likely the largest financial transaction a consumer will make during his or her lifetime. Unfortunately, many of us are not very good at shopping for money (i.e. loans). In fact, we are far better at shopping for many smaller items than we are at shopping for loans. People will drive across town to find the cheapest price of gas, passing many gas stations along the way. And when shopping for cellphones, 72% of consumers consider at least two options and 57% visit five websites.
Yet, the Consumer Financial Protection Bureau (CFPB) reported that less than half of mortgage shoppers look to more than one lender when seeking out a home loan. The CFPB's research found that 60% of mortgage shoppers mistakenly believe that prices are the same across lenders. A LendingTree study found that only 14% of people regularly comparison shop.
By comparing rates from different lenders, however, consumers could potentially save thousands of dollars. Even with excellent credit, the average homeowner will spend over $200,000 on interest charges alone on a 30-year fixed rate loan of about $260,000. In contrast, the average cost of a cellphone is $700 and a gallon of gas costs $2.60.
So why do consumers spend so little time shopping for mortgages?
There are many reasons, but at LendingTree, we believe one is that the mortgage industry has not done a great job of informing consumers on the amount of savings available and the ease with which savings can be accessed.
That is why we are introducing the LendingTree Mortgage Savings Tracker. Built on top of our proprietary Mortgage Rate Competition Index, the Mortgage Savings Tracker will bring a new transparency to mortgage shopping by highlighting the significant savings that are available to potential borrowers for both purchase mortgages and refinancing.
Our Mortgage Savings Tracker will make it easier for mortgage borrowers to know the average savings available in the market. Each week, we will calculate the Mortgage Rate Competition Index, which measures the average difference of offers from lenders to individual borrowers for both purchase and refinance mortgages.
Using a standard loan size of $300,000, we will then calculate the lifetime savings on 30-year fixed loans. Some weeks the savings will be larger than others, but there will always be variations between rates because mortgage lenders have unique business circumstances that impact the rates at which they can offer consumers loans.
Our inaugural release could not come at a better time for consumers shopping for mortgages. Interest rates began on an upward trajectory in 2018, potentially increasing the cost of borrowing money on a daily, if not hourly, basis. Rates are projected to continue their upward trend throughout 2018.
Some lenders react to rate changes by drastically raising or lowering mortgage rates. This is like how gas stations react to market changes by changing the price of gas. When gas prices change, many drivers may switch gas stations to save money. They can easily figure out their savings by seeing the gas station price boards or by looking up prices along their route on a smartphone app.
On the LendingTree website, we do the same for mortgages. Every qualifying borrower receives up to five offers from our network of over 500 lenders, one of the largest in the industry. In 2017, we helped over 5 million borrowers search for lower rates.
So what have we found in our inaugural report?
Across all purchase loan requests on LendingTree (we looked at refinance loan requests separately) in 2017, we found an average Mortgage Rate Competition Index of 0.46 — this was the average spread between the lowest and highest APR offered by lenders.
It may not sound like much, but over 30 years translates to $21,000 in additional costs on a $300,000 loan.
The index was wider in the refinance market, averaging 0.55. Potential borrowers there could have saved an average of $26,000 had they shopped around to find the lowest rate.
Ringing in the new year, the index widened to 0.59 for potential purchase borrowers, translating to a potential savings of just over $27,000.
For potential refinance borrowers, again, the index was even higher at 0.63. That could result in a savings of almost $30,000. The savings increased because lenders are reacting differently to the overall uptick in rates.
The most recent data for the week ending 3/11/2018 showed potential savings of $26,780 for purchase and $27,616 for refinancing.
Mortgage Savings Tracker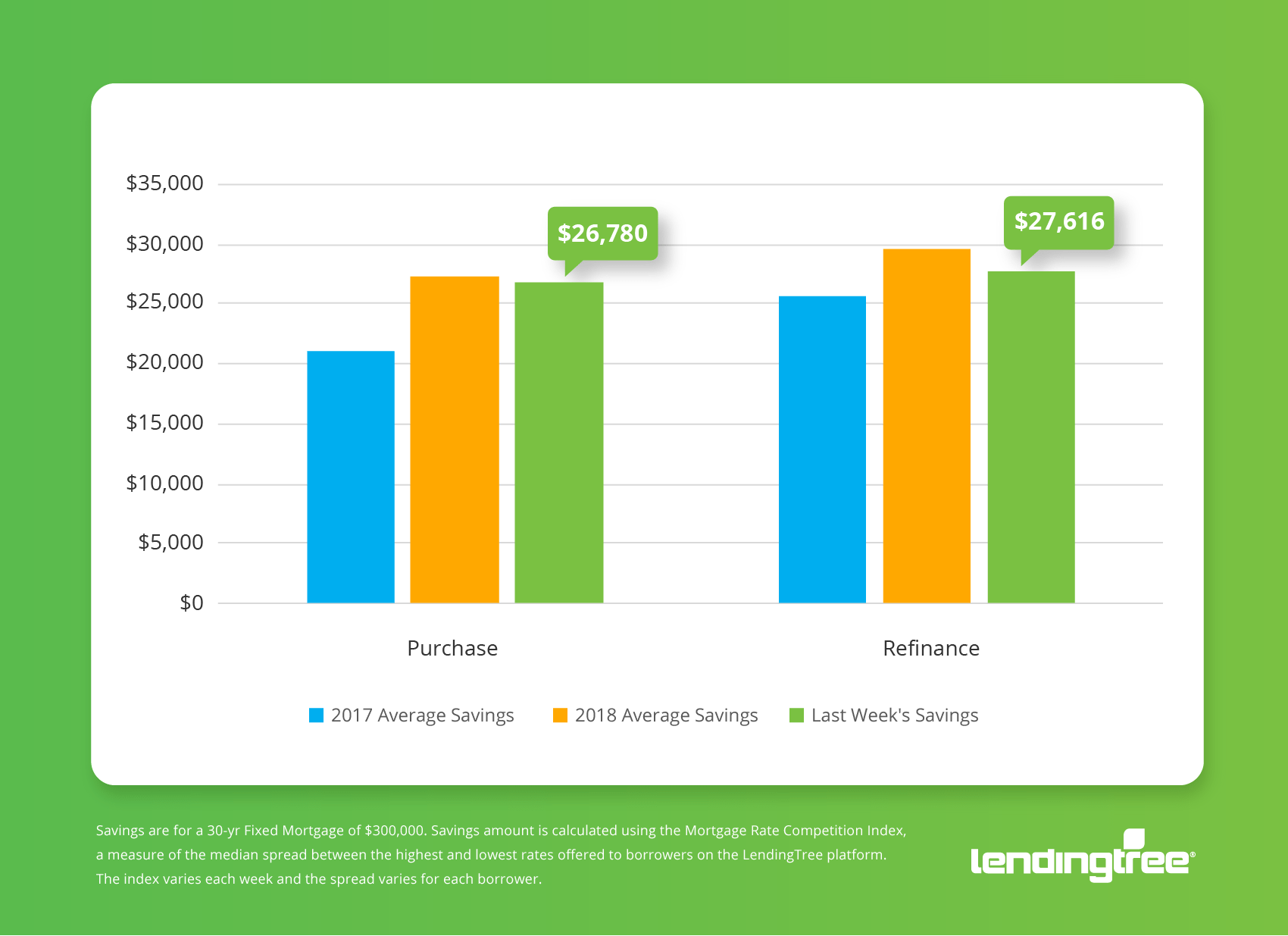 Mortgage Rate Competition Index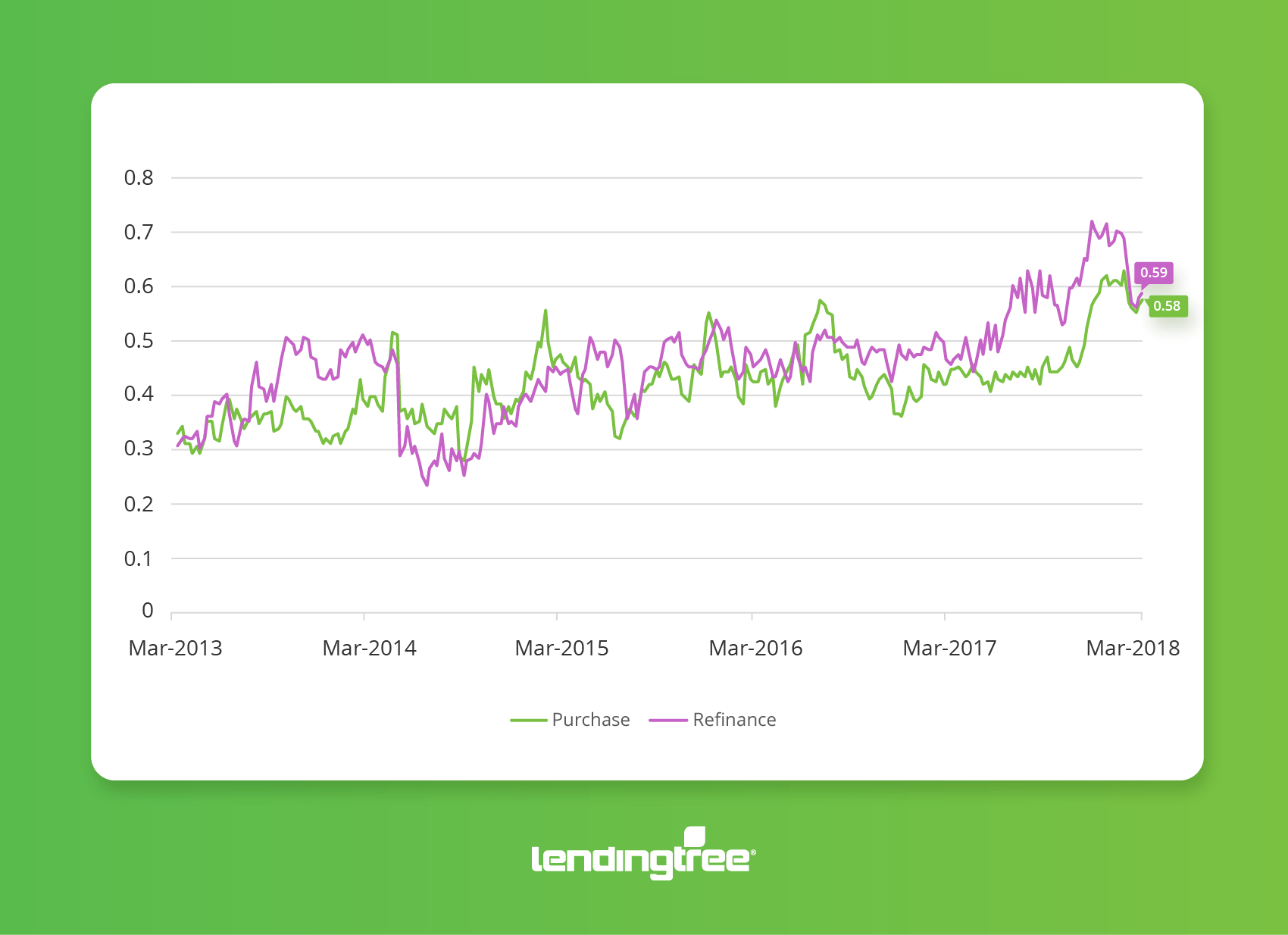 Looking back over the past five years, the Mortgage Rate Competition Index is close to the widest it has ever been. This is consistent with survey findings from Fannie Mae, one of the large government guarantors of mortgage loans. In their Q4 Mortgage Lender Sentiment Survey, Fannie Mae reported that 75% of lenders were citing "competition from other lenders" as a key business challenge, the highest since the survey began in 2014. More competition among lenders means there are more opportunities for potential borrowers to save by shopping around. The LendingTree Mortgage Savings Tracker helps borrowers stay informed of the potential savings in real time.
What is the Mortgage Rate Competition Index?
The LendingTree Mortgage Rate Competition Index is a new proprietary measure of the dispersion in mortgage pricing. It measures the spread in the APR of the best offers available on LendingTree relative to the least competitive. Our research shows that mortgage rate competition varies with financial and operational measures of activity in the mortgage markets. More details on the index are available in a white paper available at the LendingTree website.
How is the index formulated?
A mortgage shopper enters their information on the LendingTree website. They input loan variables including the proposed amount and down payment, property variables including property type and location, and personal information including income. LendingTree transmits this data, including a credit pull, to lenders who evaluate the borrower against their lending parameters in their pricing engines. Interested lenders return a rate and fee offer. For our index we combine the rate and fees into an APR and calculate the spread as follows:
Offers
APR
Lender 1
4.21
Lender 2
4.33
Lender 3
4.40
Lender 4
4.55
Lender 5
4.62

The spread is the difference between the highest and lowest offers, in this example 4.62-4.21 = 0.41. We repeat this calculation across 30-yr loans that week and then find the median of the individual spread which is our index value for that week. This is done separately for the population of purchase and refinance loan requests.
Download The LendingTree Mortgage Rate Competition Index White Paper
Tendayi Kapfidze is Chief Economist at LendingTree. He leads the company's analysis of the U.S. economy with a focus on housing and mortgage market trends. Read more about Tendayi.
If you're interested in receiving this weekly report and other relevant mortgage reports, please email: [email protected]