6 Reasons to Buy a Home Around the Holidays
Published on: December 5th, 2018
Editorial Note: The content of this article is based on the author's opinions and recommendations alone. It may not have been previewed, commissioned or otherwise endorsed by any of our network partners.
You've decided it's finally time to purchase a new home. But it's December, and you live somewhere cold. The thought of trudging through the snow looking at houses doesn't seem appealing. You determine that it's best to wait until spring to start looking for a new home.
But wait. Although spring and summer are when housing inventory is typically at its peak, they might not be the best seasons in which to buy a home. With more homes on the market comes more competition amongst buyers, and sellers who are more likely to hold firm on their prices.
October and December may be the best months to buy, when sellers typically receive the lowest premiums, according to ATTOM Data Solutions, a national firm that provides real estate and property data. A lower premium for sellers means buyers get a better bargain.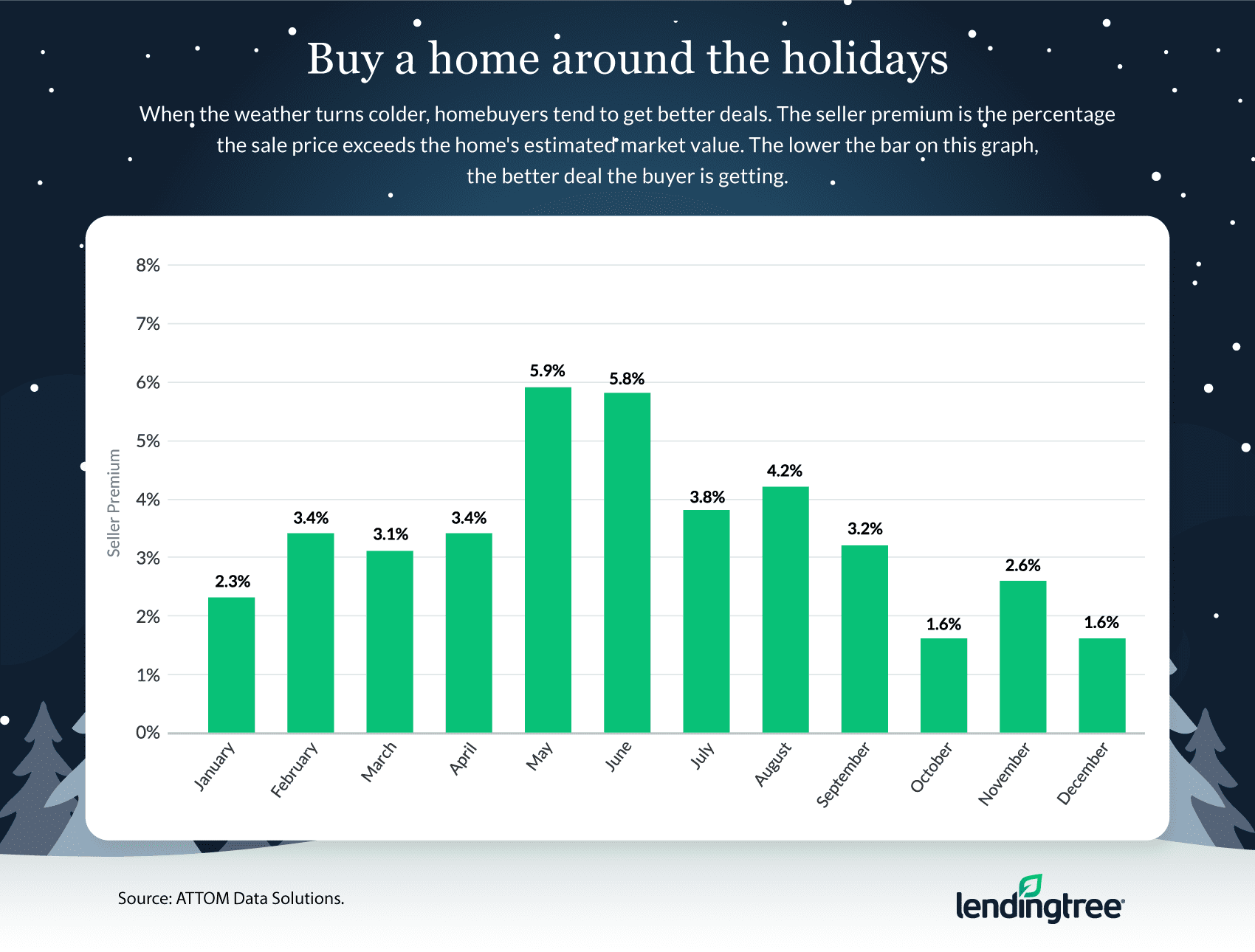 That said, location matters. December is the best month for sellers in sunny Panama City, Fla. who saw an average 2.5% premium between 2011 and 2017.
If you can afford to be flexible — and maybe a little less picky — purchasing a home during the holidays could be the right move for you. Here's everything you need to know about how seasonality affects the homebuying process.
6 reasons why the holidays might be the best time to buy a home
1. There's less competition.
Single-family homes and condos sold in the past six years did so at a higher pace in June, July and August, according to research from ATTOM. The fewest number of sales occurred in January and February. Here's a more detailed breakdown:
If you can wait until off-peak winter months, "You're not competing as much with multiple offers in this market," said Samantha Dardano, a real estate broker with Dardano Properties, Inc., based in Colorado. "And you're not competing as much with other buyers during that time."
2. Sellers are more motivated.
If a seller puts his or her home on the market during an off-peak season, it could be because of a time-sensitive issue, like a job relocation. "Some people with corporate relocations and things like that — they have no choice but to sell their house at Christmastime if they need to be somewhere by the beginning of the year," said Melissa Richards, a real estate broker with LIV Sotheby's International Realty in Colorado.
Because sellers often need to get their home sold quickly if they list it during an off-peak time, buyers could be positioned to get a better deal.
"They'll probably have a particular reason for wanting to sell at that time of year," said Tendayi Kapfidze, chief economist at LendingTree. "So I think there are potential advantages there."
3. You don't have children, or you don't mind moving your children in the middle of the school year.
Because many families like to move in the summer before a new school year begins, buyers without school-age children can take advantage of the off-peak months after school starts — September through February — to secure a better deal. Or, parents with children who don't mind moving during winter break could wait until this time to buy a home.
Richards said that where she lives in Colorado, the real estate marks begin to retract after the Fourth of July. "You can sometimes take advantage of that kind of retraction phase if you're willing to get your kids in school maybe a couple of weeks after school starts," she said.
4. It'll be easier to negotiate.
With less competition comes more negotiation power for buyers. Richards said that sellers have to be prepared for less negotiation power if they put their house on the market during an off-peak season like the holidays.
"The perception is going to be that [the buyer is] going to be getting a better deal because you have to sell during this off-season," she said.
Indeed, single-family homes and condos sold between 2011 and 2016 fetched a higher median sale price in warmer months, according to ATTOM. The lowest price? ATTOM can pinpoint to the day the best time of year to buy a home: Feb. 7. So if you miss your mark in December or January, just know that February has low prices, too.
5. You live in a cold city.
Because real estate seasonality primarily affects colder cities, you might secure an even better offer on a home if you purchase during the holidays in a city where it's likely to be cold and snowy outside.
"There is a seasonality to buying and selling," Richards said. "It will vary depending on where you are in the country. For example, here in Colorado, nobody really likes to move in the winter because of the snow. So that's probably our lull."
Seasonality is present in warmer areas, but it's not as evident as it is in colder cities, Kapfidze said. "In places where there's greater variances in the weather, the seasonality is greater," he said. "So in the Northeast, you'd see more seasonality that you'd see in say, the South. But even in the South, there's some seasonality."
In Chicago, for example, the median home sale price was $225,000 in Q2 and Q3 of 2017, and just $193,000 in Q1 and $205,000 in Q4, according to data from ATTOM. The Cleveland metro area saw a similar trend, with a median home sale price of $114,000 in Q1 of 2017, $133,000 in Q2, $135,000 in Q3 and $128,000 in Q4, according to data provided by ATTOM.
ATTOM notes that very hot cities, such as Phoenix and Miami, don't follow the typical seasonality trend in homebuying. In fact, their data showed that the median home sale prices in Phoenix in 2017 were $223,000 in Q1, $234,000 in Q2, $235,000 in Q3 and $238,000 in Q4.
Dardano said overall, she believes the weather has a significant impact on homebuying behavior. "I think the weather plays a lot on the attitude of buyers," she said. "It's always been my opinion that buyers and sellers are more active on good weather days. You don't see as much activity when it's not."
6. You're not super picky about what you want in a home, or you're searching for a starter home.
Although there is less competition for homes during off-peak months like December, January and February, that also means there are fewer homes for sale.
"There's less inventory, so there's less choice for a buyer," Kapfidze said. "The buyer might be offering less because they're compromising on something because they can't find their ideal property because there's less inventory."
If you're not super picky about what you want in a home or are purchasing a starter home that you might not live in five years down the road, purchasing during the off-season could potentially mean getting a better deal.
The best time to buy a house throughout the year
Although it depends on each individual housing market, the best time to purchase a home throughout the year is typically from late August until March. During this time, fewer homes are on the market and fewer buyers are shopping around.
"If you're looking to buy and you don't want to deal with the feeding frenzy, you're limited on funds or you can't compete because you can't cover appraisal costs or you can't bid up a property, if you can be patient and move during that off-season, it definitely will benefit you as a buyer," Richards said.
Dardano said that one time in particular that could be ideal for purchasing a home is from the middle or end of August through the end of the year. In many areas — including Colorado, where she lives — this is the time period right after school begins.
"There's a little bit of lull in activity then," she said. "So I think a buyer could essentially get a better deal as far as price on their offer from that time pretty much through the end of the year."
And with home prices appreciating in general, there's no reason to wait, assuming you're ready for homeownership. In fact, median existing home prices in October were 3.8% higher than the same period last year, according to the National Association of Realtors. October marked the 80th straight month of year-over-year gains.
Do your due diligence
Kapfidze said he can't stress enough the importance of a buyer doing his or her due diligence when home shopping.
"Try to understand the seasonality of your local market," he said. "If you look at the data — either the home sales data or the house price data — for your local market, you can see the seasonality in the data pretty clearly."