Understanding The HUD-1 Settlement Statement
Published on: November 15th, 2017
Editorial Note: The content of this article is based on the author's opinions and recommendations alone. It may not have been previewed, commissioned or otherwise endorsed by any of our network partners.
As you prepare to close on your reverse mortgage, home equity line of credit (HELOC) or manufactured-home loan, you can expect a lot of paperwork. But before you start signing, be sure to review your HUD-1 Settlement Statement. This important document summarizes the entire agreement between you and the bank. You can use it to avoid errors that could cost you time or money.
Table of Contents
HUD-1 Statement Settlement versus closing disclosure
The closing disclosure: What it is and what's on it
What is this document, anyway?
The Department of Housing and Urban Development (HUD) requires that all banks  provide a HUD-1 Settlement Statement (also called a settlement statement) to people taking out HELOCs, reverse mortgages or certain manufactured-home loans.
This statement details every charge associated with the loan. It also explains who's on the hook for the charge — buyer or seller. In addition to charges, the settlement statement spells out whether you'll receive any credits for having paid things like taxes, insurance or deposits in advance.
HUD-1 statement versus closing disclosure
In the past, most borrowers received a HUD-1 settlement statement before closing. However, since Oct. 3, 2015, borrowers of most mortgages now receive closing disclosures rather than settlement statements. The Consumer Financial Protection Bureau (CFPB) introduced these disclosures as a way to more clearly deliver information similar to what's in settlement statements, as part of a Know Before You Owe initiative.
Despite the change, not every borrower will get a closing disclosure. As mentioned above, borrowers taking out a reverse mortgage, a HELOC or certain manufactured-home loans will get HUD-1 settlement statements instead.
According to the CFPB, settlement statements aren't as easy to read as closing disclosures, and they don't contain as much information. But that's not the biggest problem with them: Lenders don't have to give you a settlement statement until the day of closing. If you want to see the document before closing, you have to to ask. In contrast, lenders must give you a closing disclosure three days before closing.
Everyone taking out a HELOC, reverse mortgage or manufactured-home loan should ask their lender for the HUD-1 document at least a day before closing, to allow time to review the contents, fix errors and raise questions with the lender.
Breaking down the HUD-1
The HUD-1 may seem overwhelming at first glance. The tiny print and weird jargon make it easy to ignore. However, it's worthwhile to learn the basics. At a high level, this document looks like this:
Page 1: Overview of all charges
Page 2: Detailed breakdown of every single charge
Page 3: Summary of changes between good faith estimate and settlement, and a loan summary.
We will explain the document backward (Page 3 to Page 1) because going through it in this counterintuitive fashion makes it easier to catch errors. The main thing you'll want to do when you receive your HUD-1 settlement statement is compare it to your good faith estimate (GFE), according to the CFPB. This happens on Page 3.
Page 3: Understanding your loan
Your final closing costs
Page 3 compares your actual settlement charges and the charges listed in your GFE. The settlement statement lists charges in three sections. The first section shows charges that cannot change. The next section outlines charges that cannot change by more than 10 percent in total, and the final section outlines charges that may change.
In general, HELOC and reverse mortgage borrowers should not see many changes compared with the data in their GFE. You'll want to ask your lender to explain any changes in this section.
Your loan terms
The bottom of Page 3 in the HUD-1 document explains the details of your loan. Talk with your lender about anything that doesn't make sense, and continue asking questions until any issues are cleared up.
This section includes crucial information — for instance, how much, how long and at what interest rate. It also notes your initial monthly payment, whether or not it can rise and the specifics of how your interest rate could rise. You'll also see boxes about prepayment penalty and balloon payment. These are all normal features of HELOC products and reverse mortgages, but you must take the time to understand them.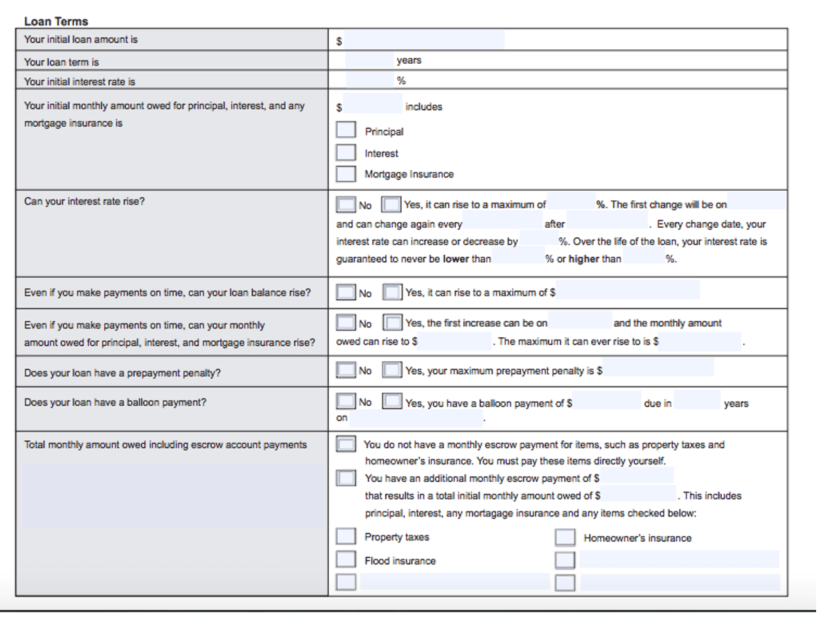 Page 2: Explaining specific costs
Page 2 spells out all the specific charges associated with your loan, and whether the buyer (you) or the seller will pay them. Manufactured-home buyers may see entries in the seller's section, but reverse mortgage and HELOC borrowers will only see data in the borrower's section — no seller.
Take time to review each section to catch common errors. In particular, you want to check that you're not paying fees that the seller or the lender agreed to pay.
Section 700. Total sales/brokers fees: If you had a real estate agent involved in the transaction, this is the fee he or she charged. The fee is often based on the price you paid for the property.
Section 800. Items payable in connection with loan: Most loans have origination fees, points paid in advance (to reduce your interest rate) and various other fees. You will probably pay most of these fees at closing. If you paid a fee in advance, it will be marked "P.O.C." meaning paid outside of closing. Some people finance their closing costs when they're taking out a reverse mortgage or HELOC. Even if you're financing these costs, they will be outlined here.
Section 900. Items required by lender to be paid in advance: Some borrowers have to pay upfront mortgage insurance premiums, and you'll see that cost here. In this section you'll also see upfront payments for interest or homeowner insurance before taking out a loan.
Section 1000. Reserves deposited with lender: If you're using an escrow account to pay for taxes or insurance, you'll see upfront deposits listed in this section. HELOC and reverse mortgage borrowers are responsible for their own insurance and tax payments, and shouldn't see escrow deposits.
Section 1100. Title charges: These are the costs of changing ownership, such as title examination fees and attorneys fees. If the property is not changing ownership, you should not see any charges.
Section 1200. Government recording and transfer charges: In general, you'll need to pay for a new deed and for your city to record a new mortgage. The city, county and state taxes for these fees are in this section.
Section 1300. Additional settlement charges: This section will have various charges related to pest inspections, lead-based paint test, home warranties and other charges that haven't been listed.
Section 1400. Total settlement charges: This section adds all the charges in Sections 700 through 1300. The total on this line should match line 103 for borrowers and line 502 for sellers (on Page 1).
Page 1: Loan overview
The first page of the settlement statement includes a transaction overview including the amount of cash you need to bring to closing.
Basic information
At the top of Page 1, you'll see basic information about the mortgage transaction, like what kind of loan you're getting and who's involved in the transaction. Double-check that everything is accurate — yes, right down to the spelling of your name.
Summary of transactions
This section summarizes the details from Page 2 of the settlement statement. You'll want to pay particular attention to Line 303, which explains how much money you need to bring to closing.
Section 100. Gross amount due from borrower: This section explains the amount you owe, including the property purchase price (if you're buying a home) and the associated fees. You'll find fee details on Page 2. Line 120 explains the total amount you owe.
Section 200. Amounts paid by or on behalf of borrower: This section details all the funds you're owed at closing. Line 201 shows the money you've already paid, and 202 explains the principal amount of the new loan. If you're taking out a HELOC and not drawing out funds immediately, Line 202 will equal zero dollars. Line 220 totals the amount that is due to you.
Section 300. Cash at settlement from/to borrower: This section explains if you need to bring cash to the settlement. Most people taking out reverse mortgages or HELOCs will not bring cash to settlement. On the other hand, manufactured-home buyers may need to bring cash to the table. Line 303 (the result of subtracting Line 220 from Line 120) explains the total cash you'll bring to closing.
Section 400. Gross amount due to seller: To the right of Section 100, you'll see section 400. This section details what you owe to the seller if you're purchasing a house from someone else.
Section 500. Reductions In amount due to seller: If you've made an excess deposit for the loan, that will reduce the amount due to the seller. Manufactured-home buyers may also see that the seller will pay certain settlement charges.
Section 600. Cash at settlement to/from seller: This is the total amount the seller will receive at closing. This section is only filled in when the transaction includes a home being sold.
Understanding the sections of the closing disclosure
The closing disclosure is an important document at most mortgage closings these days. Unlike the HUD-1, the disclosure that you get at most mortgage closings limits jargon, which makes it easier to read. Here's what you need to know about your Closing Disclosure.
Page 1: Mortgage basics
General information
The disclosure starts with general information about the transaction, like what kind of loan you're getting and the length of the mortgage term. Check that your name is spelled correctly. You should also verify that loan information in the top right corner matches your most recent loan estimate.
Loan terms
The loan terms explain the amount you're borrowing and your initial interest rate. You'll also see details about whether your initial principal and interest payment can increase. This section also details prepayment penalties and whether you'll owe a balloon payment.
Compare the loan terms with your most recent loan estimate to ensure accuracy. Ask your loan officer to explain anything that seems off-kilter.
Projected payments
When you're buying a house, you need to know your total monthly payment, not just your mortgage payment. This section shows your total monthly costs, including your mortgage payment, mortgage insurance and your monthly escrow costs (for taxes and insurance — many people elect to pay taxes and insurance out of an escrow account).
Costs at closing
This section provides the total cost to close your loan. These costs are explained in detail on Page 2. You'll also find the amount of cash you need to bring to closing. You can learn more about the cash required on the third page of the closing disclosure.
Page 2: Explaining total costs
The second page of the disclosure lists the total costs associated with closing your loan. You'll also see who pays each of the costs.
Loan costs
The first section explains costs directly connected to taking out the loan. This will include things like your underwriting fee, application fee and a prepaid points fee. Along with those, you'll see costs like title search fees and appraisal fees. You'll want to double check every cost matches your most recent loan estimate. If it doesn't, talk to your loan officer.
Other costs
The second section lays out "other costs." These will include taxes, fees, prepaid insurance, initial escrow deposits and real estate commissions. You'll want to confirm that the the right party pays for each cost.
Page 3: Understanding the final transaction
The third page of the closing disclosure can look intimidating at first. However, this page is just a deep dive into the transaction.
Calculating cash to close
To calculate the cash needed to close, you'll add the total costs from "total closing costs" section on the previous page. This amounts to total cost to close which includes the loan costs and the other costs. On top of that, this section applies deposits, your down payments, seller credits and other adjustments and credits. At the bottom, you'll see how much cash you need to bring to closing. You'll want to double check that the seller credits match your agreement with the seller. If they don't, you'll want to talk to your real estate agent.

Summary of transactions
The summary of transactions can looks complicated, but as the borrower, you'll want to look most closely at Section K, which shows the amounts you need to pay. Section L shows what has already been paid in your favor, including the total amount of your loan. The right side of this part of the form (Sections M and N) show details of the seller's transaction.
When you subtract the total amount of Section L from the total amount in Section K, you'll again find the cash due at closing. This will exactly match the number found in "calculating cash to close" but it provides more detail.
Page 4: Read the fine print
The fourth page of your closing disclosure may look like a lot of the dreaded fine print, but you need to read it. In particular, you should know when your lender will charge a late fee and how much it will charge. You'll also want to understand what happens when you make a partial payment. Some lenders will not apply a partial payment against the loan until you have contributed a full payment plus the late fee.
An escrow account allows you to contribute to large annual expenses (like property taxes and homeowners insurance) as part of your monthly mortgage payment. In this section you'll see estimated escrow and non-escrow costs associated with your property.
Anyone who declines to use an escrow account should check if he/she must assume an escrow waiver fee. This section also explains that you're responsible for paying those bills on your own.
Page 5: See how it all adds up
The final page of a closing disclosure has a customized loan calculation. It explains how much you'll actually pay if you make all your payments as agreed and how much of that is interest charges. You'll also see your calculated APR. This is the total interest and fees you'll pay on your loan expressed as an interest rate. (Your actual interest rate is less than this amount.)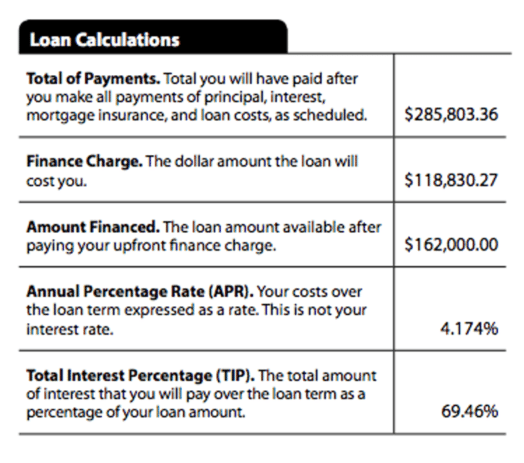 The final page of the disclosure also contains several warnings and recommendations. In particular, it's advised that you review your note for certain contract details. Rather than going through dozens or hundreds of pages, we recommend asking your lender these questions:
What happens if I fail to make my payments?
What does it mean to default on the loan?
Can you require early repayment of the loan? When?
Can I make early payments? What happens if I do?