8 Things to Never Hide from Your Mortgage Broker
Published on: December 5th, 2018
Editorial Note: The content of this article is based on the author's opinions and recommendations alone. It may not have been previewed, commissioned or otherwise endorsed by any of our network partners.
Shopping for a mortgage is typically the least exciting part of homebuying. A bank or credit union puts your finances under a microscope while you anxiously await keys to your home. What you might not know is that homebuyers do have some power over how the experience unfolds.
If you work with a mortgage broker, they can take care of tedious tasks, such as comparing mortgage products and getting your application together. Using a mortgage broker, however, might not be the best option for all homebuyers, especially when your can compare mortgages online yourself.
Learn about the pros and cons of mortgage brokers. If you decide against one, understand the DIY approach to choosing your mortgage lender.
What does a mortgage broker do?
A mortgage broker is someone who acts as a middleman between homebuyers and mortgage lenders. It's simple: You tell the mortgage broker what you need, they help you find mortgage products and prepare your mortgage application.
Shopping for a mortgage product with multiple mortgage brokers can help you land competitive rates and fees because both parties — brokers and lenders — compete for your business.
"Mortgage brokers have a lot of options because we're not stuck to one set of programs from a particular bank," said Jason Crigler, Certified Mortgage Consultant (CMC) at Crown Mortgage based in Charlottesville, Va. "We can work with dozens of national banks and lenders to see what programs are out there that work best for the borrower."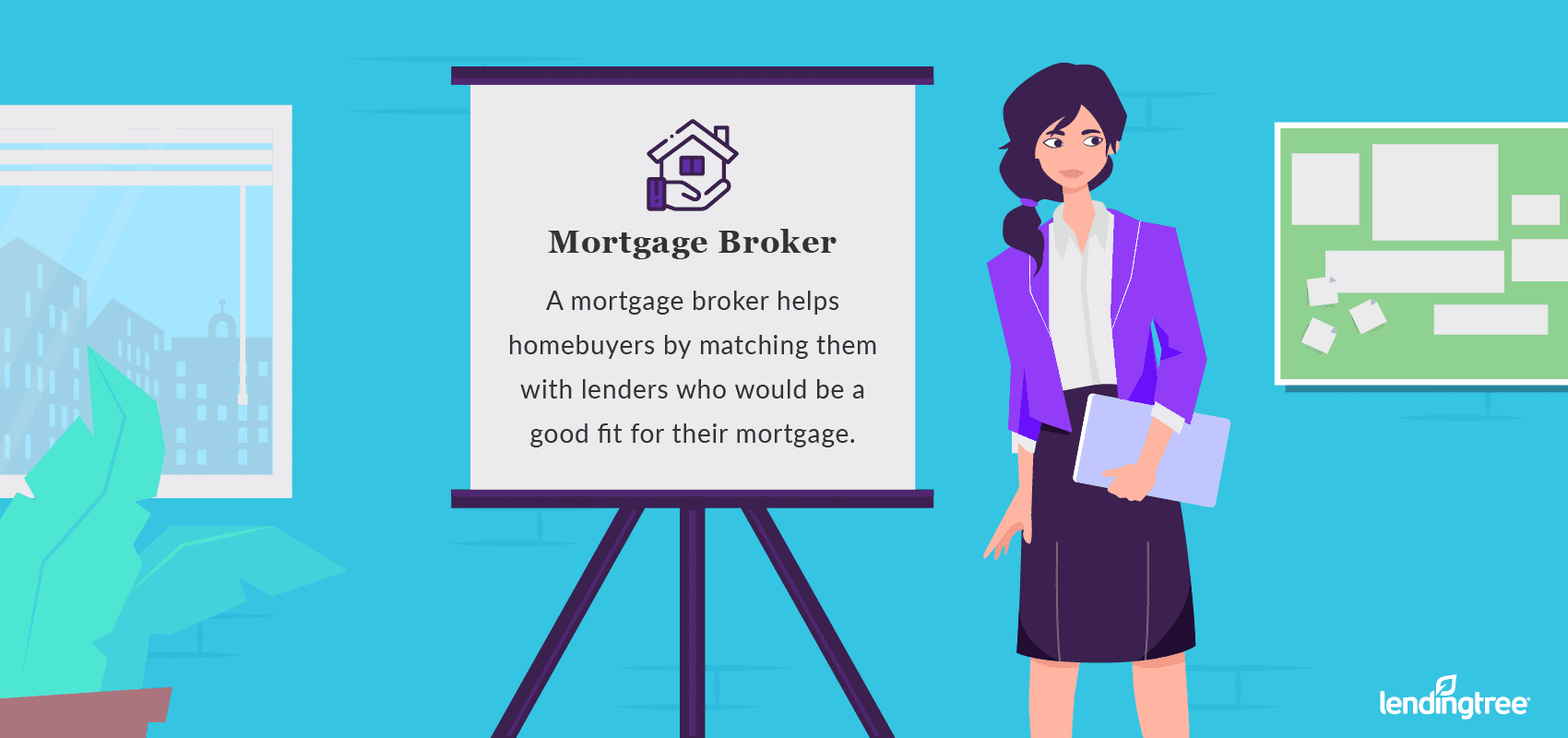 What do you need to provide to a mortgage broker?
A mortgage broker will ask for information, such as your income, assets and debt. They also collect identifying information, such as your Social Security number and address, so they can conduct a credit check.
The supporting financial documents you'll need to apply for your home loan will depend on your financial situation and the mortgage program. "For a refinance, sometimes it can be as simple as turning in pay stubs and a copy of your photo ID," Crigler said. If you're self-employed, a potential credit risk or someone who's made several recent large deposits, your financial institution might ask you to provide additional documents, such as W2s, tax returns and bank statements.
What not to hide from your broker
Hiding information from your mortgage broker — on purpose or by accident — because you're hoping to get a better deal will come back to bite you.
"We live in a time where technology has made it easier for underwriters to verify things in ways that they couldn't 15 or 20 years ago," Crigler said. "Facts will come out in the process even if you don't disclose them."
An incomplete or inaccurate application can prolong the mortgage process or cause the bank or credit union to throw out your application. Understand that falsifying information is called mortgage fraud — and it's a federal offense. Think of your mortgage broker as your ally during the process. If you think there's an issue with your application, lenders often work with you to find a solution.
As you now know, it's important to be completely honest with your mortgage broker. Here are eight things you should never hide from you mortgage broker:
Employment status changes
Be upfront about any changes to your employment status — or compensation structure — that might be on the horizon. For example, you might be taking a pay cut, switching jobs or decided to work as a freelancer.
Don't think you'll make it to loan closing without anyone finding out you're about to get laid off or you're taking on fewer hours at work. If a mortgage broker uncovers something that would cause a lender to deny the loan, they are obligated to inform the lender.
Money transfers you're expecting
Large money transfers that appear in your bank account without explanation can cause trouble, depending on how much the transfer is compared to your income. As a rule of thumb, you should mention unusual deposits if they are from $500 to $1,000 or more, according to Crigler.
A lender has no way of knowing if a large deposit in your account is a loan. Getting funds from an unnamed source can raise questions about your finances — and your ability to repay the mortgage. You must source any funds you receive, and sourcing deposits that show up late in the game cause a setback. In addition, financial institutions have a responsibility to report questionable deposits under The Patriot Act. Moving around large sums of money without disclosing it to a lender can set off alarms.
Other debt
If you're repaying student loans, don't panic. The national student loan debt now exceeds $1.5 trillion dollars, according to the Federal Reserve. Homeownership isn't out of reach if you're already saddled with debt, but you need to be transparent about it.
Your monthly debt payments impact your debt-to-income ratio. Your DTI ratio is a metric that compares your monthly debt payments to your monthly income and tells lenders how much of a mortgage payment you can afford.
There are two types of DTI ratios — front-end and back-end. The front-end DTI ratio compares only your potential housing payment to your income. The ideal number for front-end DTI is around the 31% mark, although limits vary depending on the mortgage product). The back-end ratio takes into account all of your debt — including the potential house payment — and compares it with your income. Your back-end DTI ratio should be less than 43%.
Debt you hide will come to light when the lender pulls your credit report. If a mortgage broker knows what you owe early on, they may be able to give you recommendations on ways to manage your debt so you can get approved for the home loan you need.
Your plan for a down payment
The mortgage broker needs to know how much of a down payment you have — and where the money is coming from, because that information will affect the loan products you qualify for and the rules you have to follow. If the amount of the down payment you have to bring to the table is small, don't be shy about it. The customary 20 percent down might not be necessary.
There are government-backed VA loans and USDA loans that offer 100% financing to eligible borrowers. There's also the popular FHA loan program, which allows you to put down as little as 3.5%. Some conventional loan products — home loans that are not government-backed — even allow you put less than 20 percent down, but you'll likely need private mortgage insurance.
If a portion of your down payment is a gift, you need to turn in a formal gift letter. The purpose of a gift letter is to show that the money you're receiving isn't a loan that you have to pay back, but that it's a gift. Remember, a lender might question any unusual money transfers in your bank account, so mention it to your mortgage broker if someone's going to wire you cash.
Ownership of another property
Be upfront about all the properties you own. "A lot of people think a house in another state is an asset, so they don't need to disclose it," Crigler said. Having a liability on that asset, however, can increase your DTI and serve as another drag on your homebuyer funds.
Tell your mortgage broker in advance about other properties you own and see if you have a qualifying DTI with the existing mortgage payment. If you don't, your broker might be able to give you suggestions on how to get your DTI to the point at which you meet guidelines.
Previous addresses
Financial institutions use your previous addresses to verify your identity when they pull your credit report. In some cases, they might review your rental history when making a decision on your creditworthiness. Tell your mortgage broker if you have any negative rental history — like missed payments — that could come up later when your application is under review.
Where your income is coming from
Extra income from part-time jobs or side hustles can be great for your personal finances, but it might not help you much on your mortgage application. And if you claim income you earn from overtime at your full-time job, an institution might question it if those overtime hours happen sporadically. During the initial interview, give your mortgage broker a thorough rundown of where your income is coming from so they get a realistic picture of your finances before shopping for loan products.
Divorce, child support and alimony
Divorce can change your financial situation — quickly. It might be an uncomfortable topic, but you need to mention it if you're going through it. If you currently receive alimony or child support, the money you're getting might be considered qualifying income. Lenders will want to make sure, however, that the income will be there for years to come and that the agreement you have with your ex is enforceable.
If you pay child support — or owe back child support — your mortgage broker needs to know as well. Financial obligations impact loan eligibility. Alimony and child support payments might be included in your DTI, depending on your situation.
A mortgage broker's job is to do the heavy lifting during the mortgage process. Transparency on your part during the application project will help it go smoothly. Whenever in doubt, err on the side of caution and disclose all details.