20 Types of Houses (With Pictures)
Updated on: January 31st, 2020
Editorial Note: The content of this article is based on the author's opinions and recommendations alone. It may not have been previewed, commissioned or otherwise endorsed by any of our network partners.
Do you know your ranches from your split-levels? How about your colonials from your Georgians? While it would be challenging to learn and memorize the exact details of all of the house styles that exist, learning about the various home and architectural styles could help you narrow your choices in the home search.
This house style guide includes the most popular house styles in America, complete with pictures, to help you make sense of all of the options.
Types of houses vs. property types
Types of houses vs. property types
In real estate, "house type" and "property type" have two distinct meanings, which can be helpful to know during your home search. Type of house refers to the architectural style and design of a home (like those listed below). However, property type refers to the kind of structure — for example, a single-family home, townhouse or a condominium. Narrowing your property type down is helpful when shopping for a mortgage.
The house styles featured in this guide are all types of single-family homes, although some of the styles can apply to other property types.
List of house styles
We've included traditional style houses, modern homes and everything in between in this listing of the most common home types in the country. Familiarize yourself with these popular home styles, and you'll never confuse a Craftsman with a Bungalow again.

Art Deco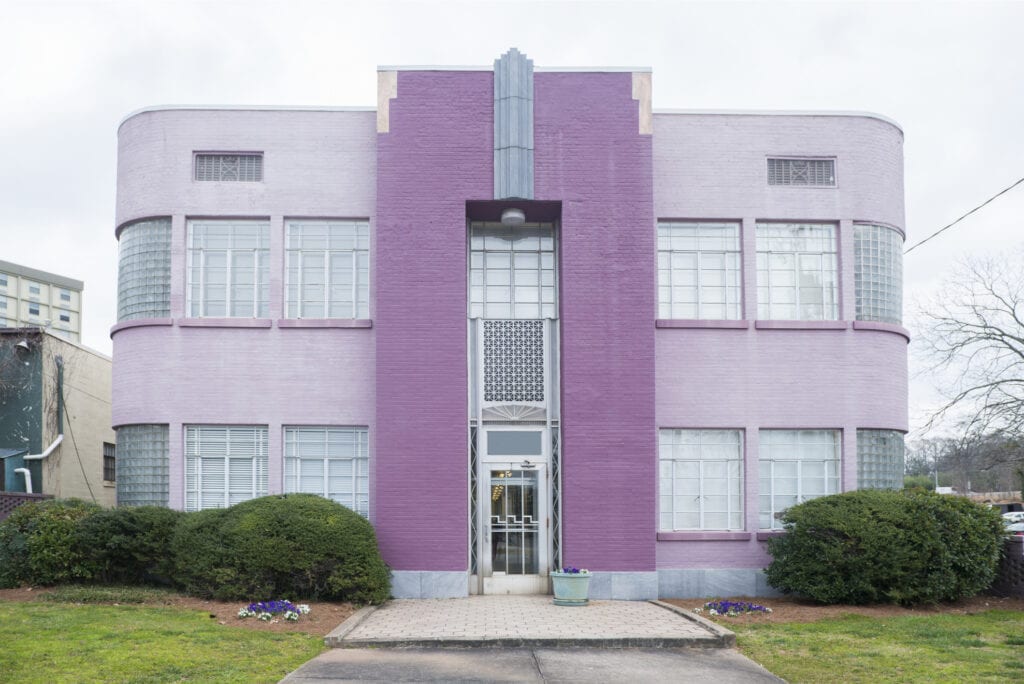 The Art Deco architecture style spanned from 1925 to 1940 and was popularized by the glamorous Hollywood movies of the 1930s. The style was used mostly for theaters, offices, apartments and public buildings in urban centers rather than for private homes. Eventually, though, residential Art Deco districts popped up in places like Miami Beach, Fla., Tulsa, Okla. and other pockets around the country. 
After fading away in the 1940s, the Art Deco house style experienced a resurgence in the 1980s when Miami's South Beach became en vogue and drew attention to the colorful and fanciful buildings along the beach's main strip.
Main features
Vertical emphasis

Flat roofs

Smooth stucco walls with rectangular cutouts

Sharp-edged elements

Zig-zag, geometric, chevron and floral details

Glass block, chrome, mirrors and glass panels in the interior 
Bungalow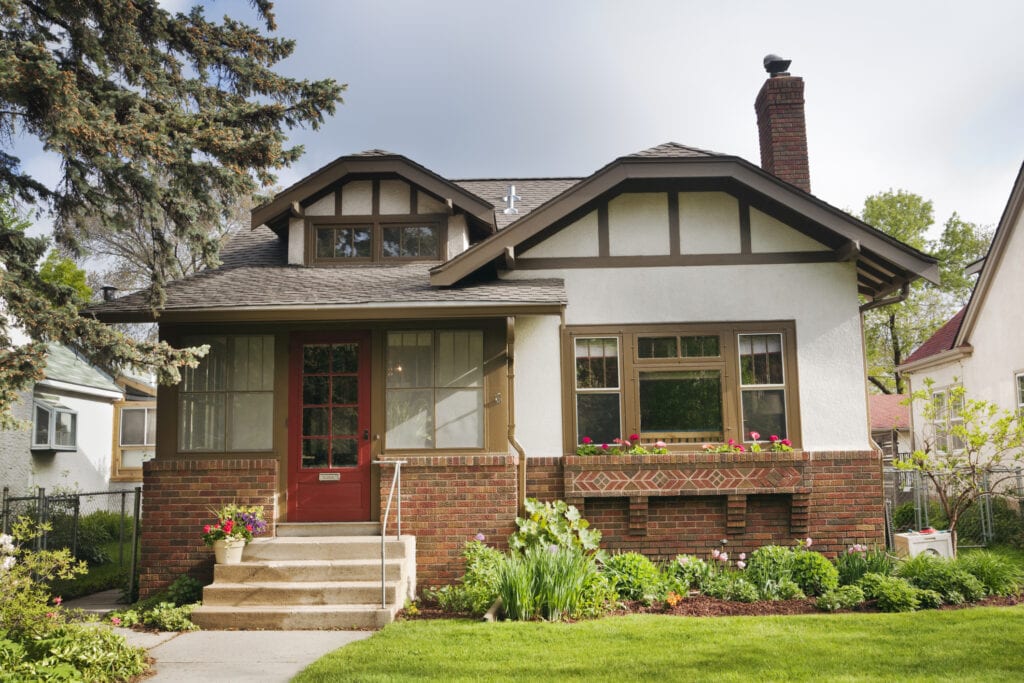 The bungalow house style first appeared during the 1880s in California and then gained popularity in the Midwest in the early 1920s and through to the Great Depression. During that period, the bungalow house style was so popular you could order your own bungalow kit from the Sears, Roebuck and Company catalog. Sometimes called a Craftsman Bungalow, this home style has roots in India, where bungalows were small, one-story huts with thatched roofs. 
Present-day bungalows are typically narrow, rectangular and are one or one and one-half stories. The Bungalow house style is still prevalent in California, where it originated, however, this charming house style can be found across the country. Some communities are known for their heavy concentration of bungalows such as "Bungalow Heaven" in Pasadena, Calif., and the "Bungalow Belt" in Chicago. 
Main features
Low-pitched gabled or hipped roofs

Charming, covered front porch

Open floor plan

Dormers

Fireplace

Built-in cabinets
Cape Cod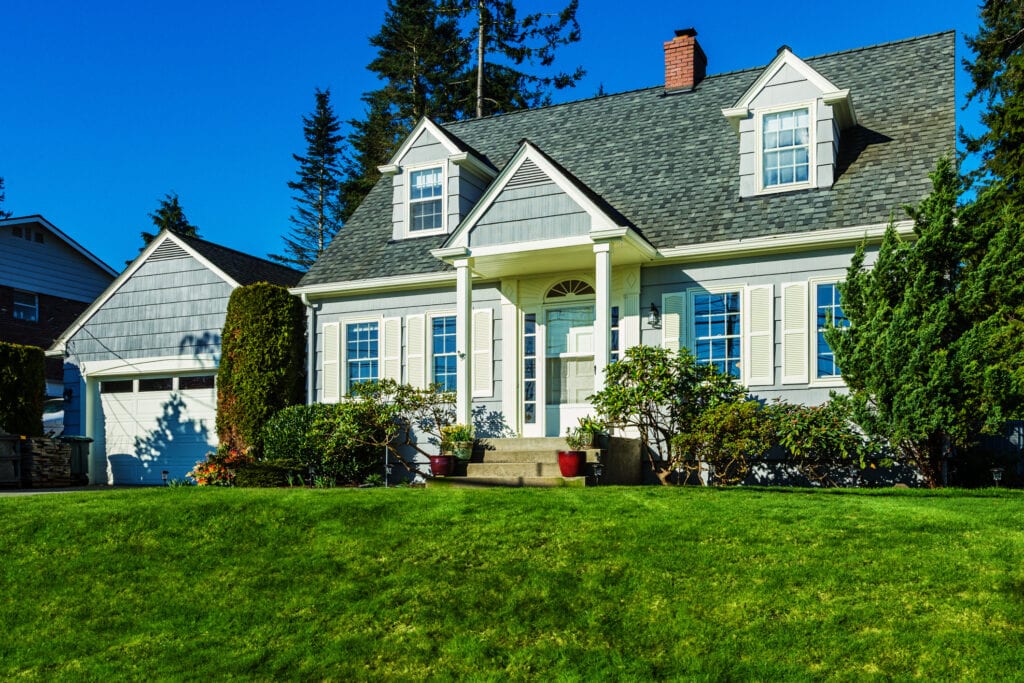 Sometimes referred to simply as Capes, this house style is as American as apple pie — some of the country's first homes were Cape Cods. Named after the charming vacation destination in Massachusetts, the first Cape Cods were built by English settlers in the 1600s, inspired in part by the simply-constructed thatched cottages in Great Britain. Naturally, this house style is common in New England but is found in other parts of the country, too. 
After dying down, Cape Cods experienced a resurgence in the 1920s and again after World War II, as many were built to provide modest-sized, affordable homes for returning soldiers and their families. 
Main features
Single or one-and-a-half stories

Modest size and simple design

Square or rectangular facade 

Steeply-pitched gabled roofs

Dormers and shutters

Large central chimney
Colonial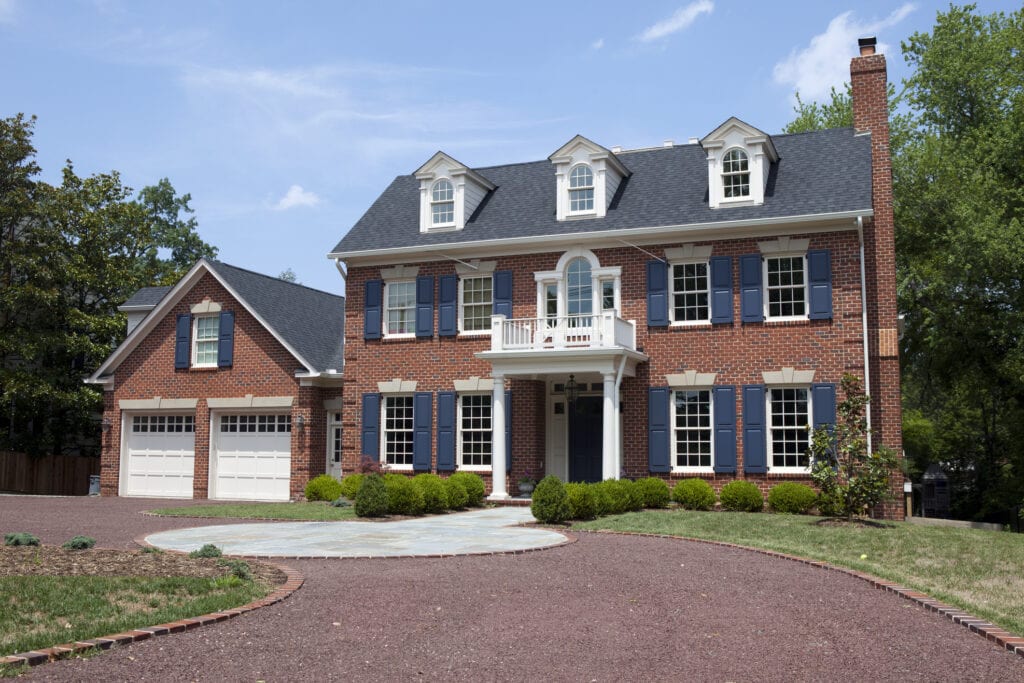 Colonial architecture encompasses various types of homes built during America's Colonial period. In fact, multiple house styles are considered colonials. But when most people refer to the colonial house style, they're referencing a rectangular, symmetrical two-story (or more) home with double-hung windows, shutters and a central front door. After early settlers built the first colonials, this traditional American house style was revived during the late 1800s through the present day and is seen in suburbs across the country. 
The colonial house style is influenced by multiple architectural styles, including English, Spanish, Italian, Grecian, Roman, French and Dutch. Depending on when and where a colonial home was built, some details and building materials vary. For example, colonials in the South were commonly made of brick and had a chimney on the side, but in New England, where brick was less common and winters harsher, colonials were constructed of wood and had a central chimney.
A home may be considered a Spanish colonial or French colonial, to reference its architecture style. (See entries for Cape Cod and Georgian in this guide for other colonial homes.)
Main features
Two (or more) stories 

Rectangular with symmetrical details

Side-gabled roof

Bedrooms on the second floor

Shutters

Fireplace
Contemporary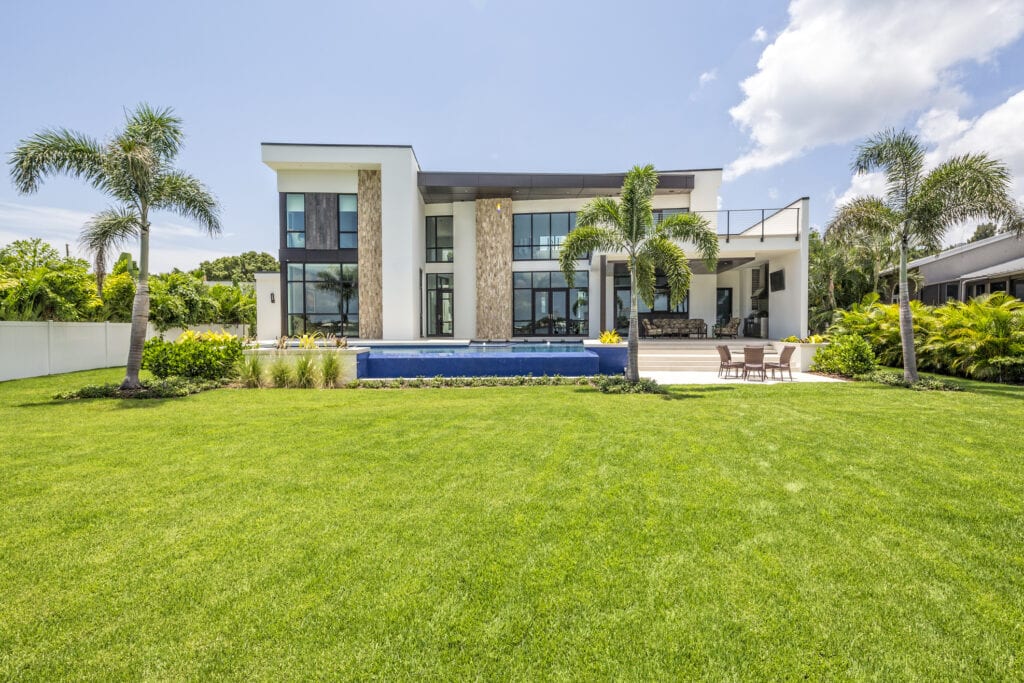 A contemporary style house is a general term for newer construction and can include a variety of styles and influences. Contemporary homes fall under the umbrella of modern architecture because they're built in current times, but they're not to be confused with modern house styles, or homes built during the mid-20th century. (See midcentury modern in this guide.)
Common elements in contemporary homes include unconventional shapes, a simple design, a combination of building materials and an emphasis on incorporating the outdoors into the home's design, often with large, tall windows. 
Main features
Unconventional shape and size

Large, tall windows and skylights

Non-traditional details and features

Natural and sustainable materials

Plain facade

Energy-efficient
Cottage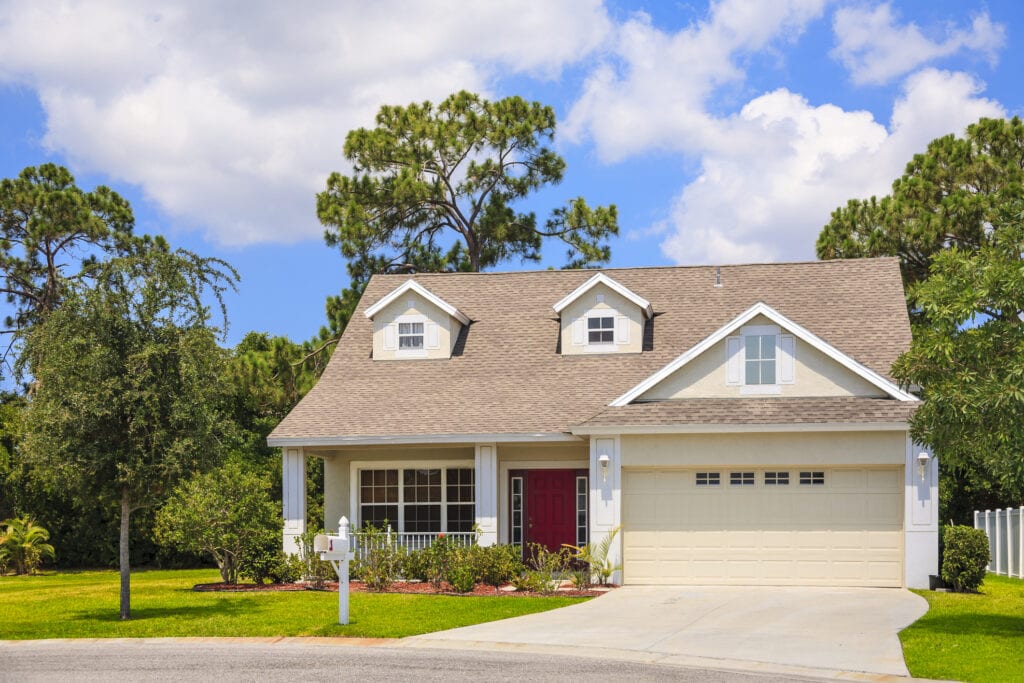 The cottage home style refers to houses made to resemble traditional cottages in the English countryside. Cottage style homes are usually modest in size and boast quaint and charming details throughout. Cottages built today can skew either traditional or modern.
Main features
Cross gables

Steeply-pitched roof

Smooth, arched doorways

Quaint and often modest in size
Craftsman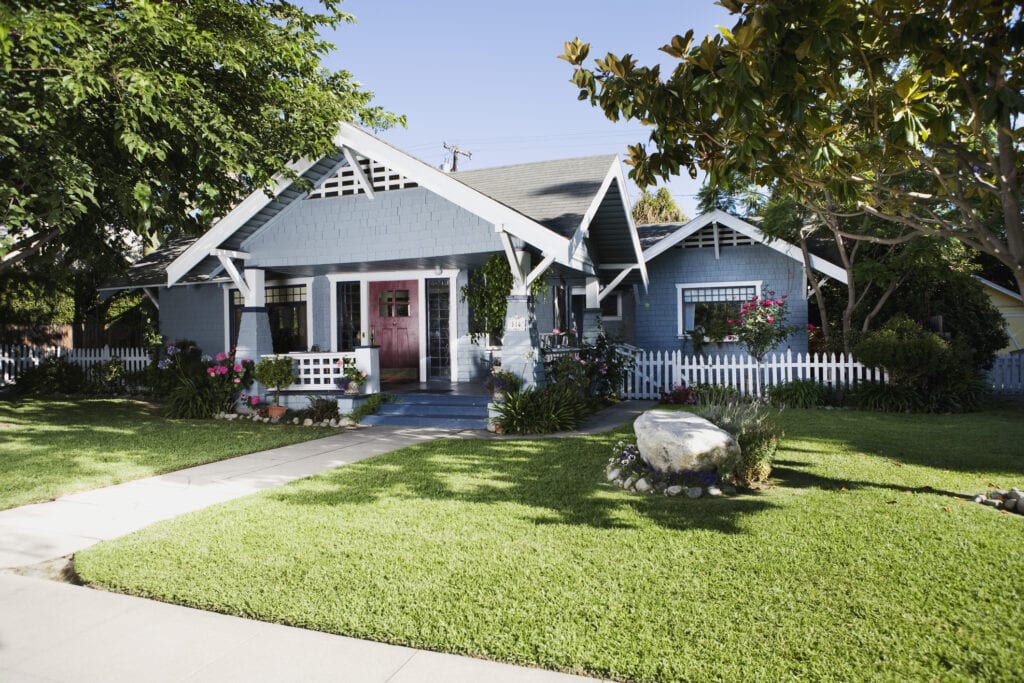 The craftsman house style became popular in America in the early 1900s during the Arts and Crafts movement. This house style provided a simple design with a natural character that was a stark contrast to the elaborate Victorians of the late 1800s. The Craftsman house style first appeared in the West and moved east to the rest of the country. It remained popular through WWII but has since regained popularity. 
The Craftsman (also called a Craftsman bungalow or California bungalow) remains a traditional California-style house but can be found in other parts of the country, especially in neighborhoods that were established between 1900 and 1930. 
Main features
Overhanging eaves

Low-pitched gabled roof

Wide front porch with columns

Built-in cabinets and light fixtures

Statement fireplace and large chimney

Exposed beams

Open floor plan

Combination of materials including stone, wood, stucco and brick
Farmhouse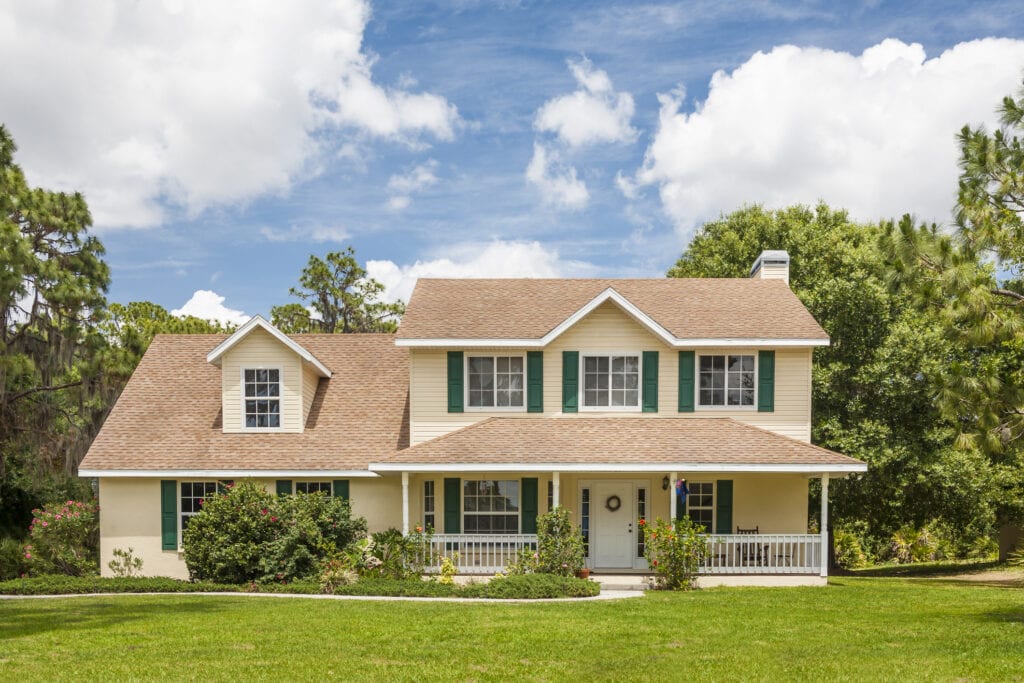 While farmhouse style and decor are trendy today (thanks to Joanna Gaines, who co-hosted HGTV's "Fixer Upper"), an authentic farmhouse is a home built on a farm. Thus, the farmhouse references a location and function of a home more than it does a specific design or architecture style. Original farmhouses in America were built in the 1700s, typically by the homeowners themselves. They were initially made of mud, stone or log — whatever materials were readily available in the region where the home was built. That changed during the 1800s when building materials could be transported across the country via railroad. Mud and stone gave way to lumber, brick and quarried stones. 
Also called folk houses, farmhouses were meant to be practical with large functional front porches that often wrapped around the entire house. Some farmhouses incorporate Victorian style or Greek Revival style architecture. Modern-day homes built in a farmhouse style emulate the common attributes found in traditional farmhouses.
Main features
Large, front porch

Large kitchen

Rear staircase

Functional and practical layout, often with formal areas in the front and bedrooms in the back

True farmhouses are built in rural locations 
French Provincial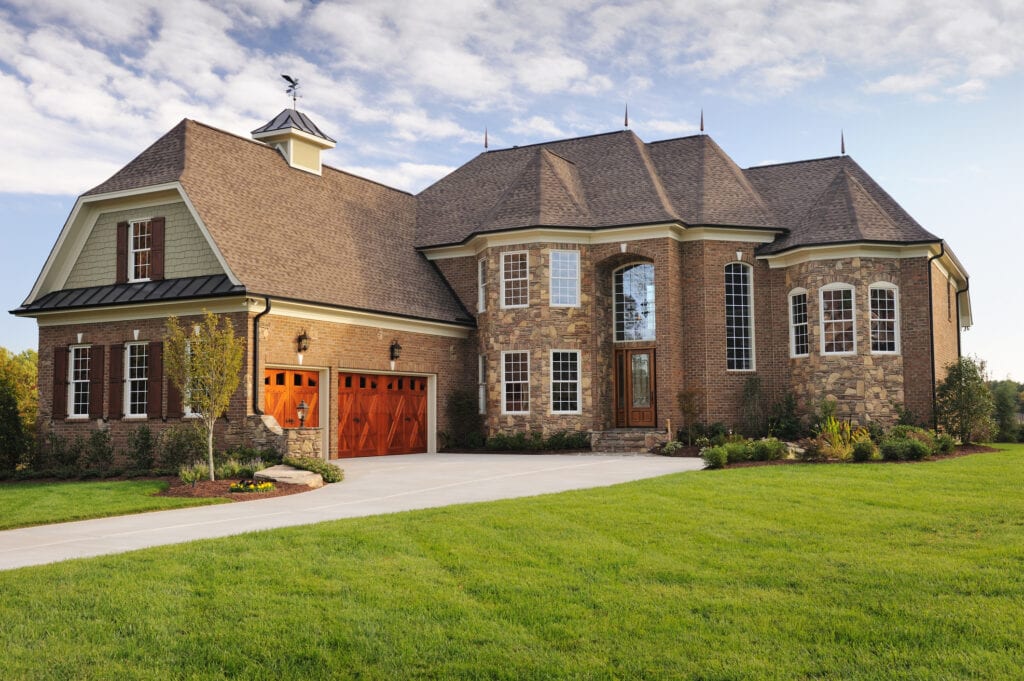 American soldiers who came home from World War I were enamored with the style of the country manor homes, or chateaus, in the French countryside. Thus, the French Provincial house style was born. These are typically large-scaled homes found in upscale neighborhoods, and have a distinct, elegant country house vibe.
These homes have tons of curb appeal and are marked by a steeply-pitched roof, often made of slate. The French Provincial house style is found across the U.S., especially in suburbs that were established between WWI and WWII, during the postwar housing boom.
Main features
Balanced and symmetrical features

Large-scaled

Brick exterior

Steep, high-hip roof

Balcony and porch with balustrades (a row of small columns topped by a rail)

Tall second-story windows

Arches above doors

Copper and slate elements
Georgian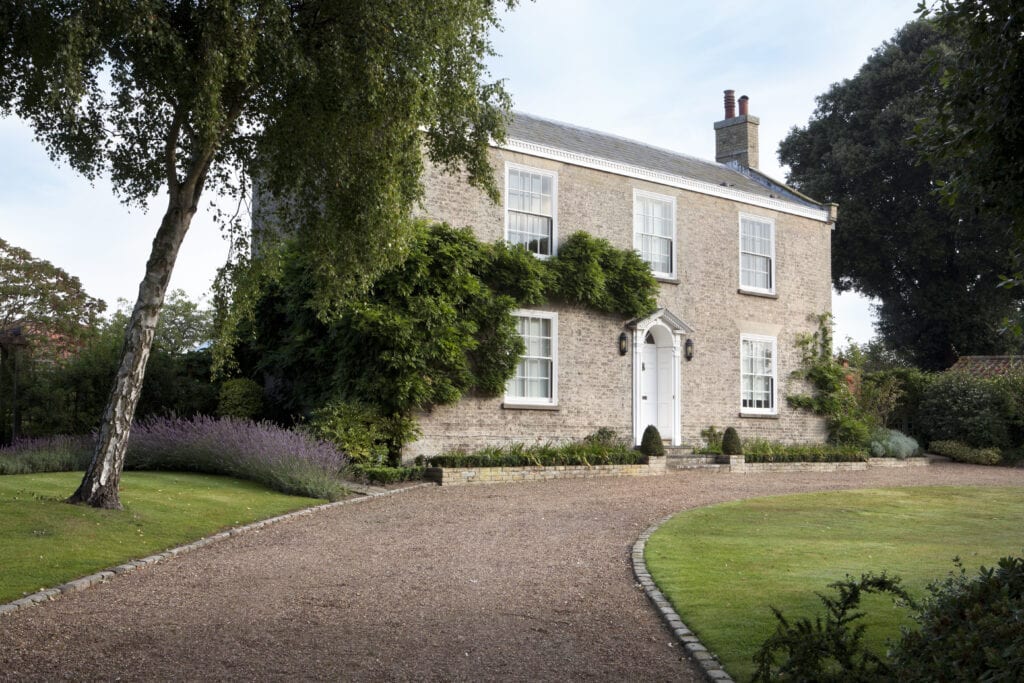 The Georgian home is a type of colonial, known for its refined and stately appearance. Like other colonials, Georgian style homes are symmetrical and rectangular. Unlike other colonial house styles, Georgian homes typically have a row of five symmetrical windows across the second floor. 
Named after the four King Georges of England, the Georgian house style includes elements from Italian, Grecian and Roman architectural styles. Built by British settlers along the East Coast throughout the 1700s, these homes emulated the formal and elaborate homes in England. Now, Georgian colonials can be found across the country.
Main features
Symmetrical outside and inside

Two to three stories

Brick or wood-frame

Typically a row of five double-hung windows across the second story

Side-gabled roofs

Centrally-located front door with decorative crown

Central front hallway and staircase

Decorative roofline

Dormers

Flattened columns
Greek Revival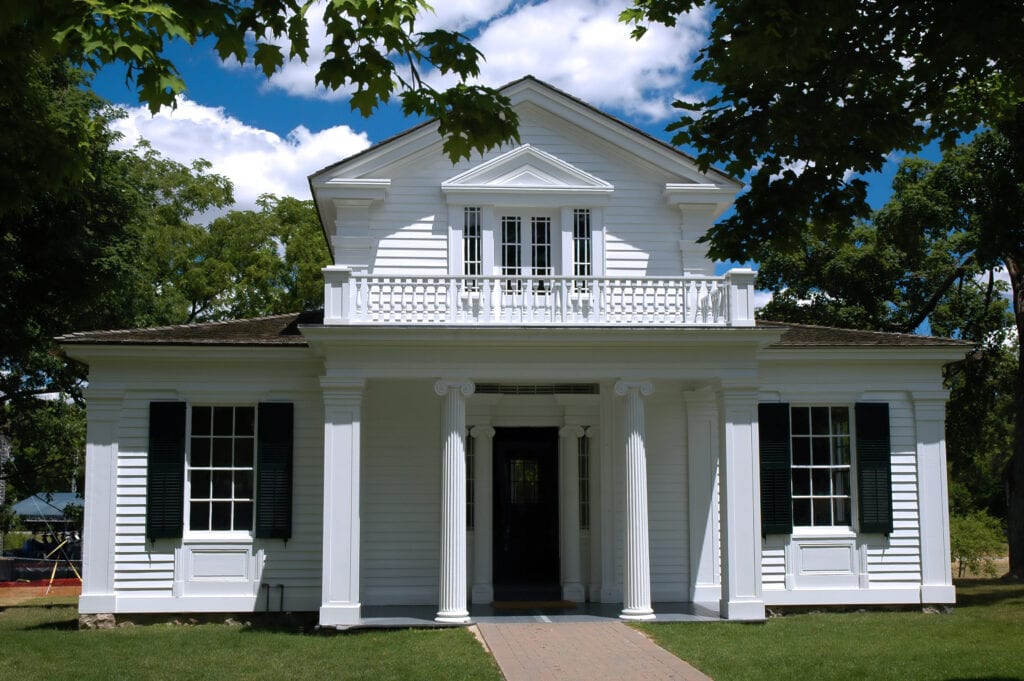 Homes built in the 1800s borrowed heavily from Greek architecture, reflecting the American interest in Greek archaeological findings of the time. Greek Revival homes were built in most of the country except for the West Coast, although some are found in California. These are large formal homes — think Antebellum South — with grand entryways and tall columns. Look for these homes in Richmond, Va. or Savannah, Ga. Some townhouses found in Boston, New York and Philadelphia can also be considered Greek Revival-style. 
Main features
Full-height entryway

Full-width front porch

Large, stately columns

Gabled or hipped roof

Bold crown molding on the exterior and interior
Mediterranean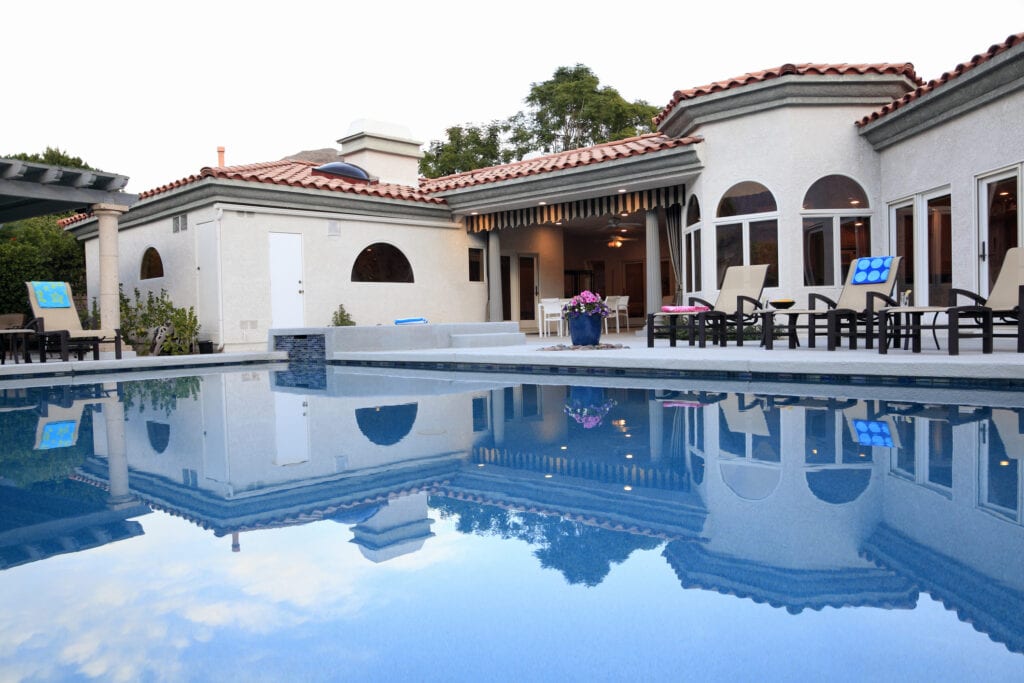 Mediterranean homes are built with Spanish, Greek and Italian architectural flair. These homes, made to resemble Mediterranean villas, were built during the 1920s, mostly in warm-weather states like California and Florida. Mediterranean style homes are elegant but simple, and many incorporate indoor-outdoor living.
Mediterranean homes based on Italian architecture feature columns and rounded arches, while those based on Spanish architecture feature clean lines and a low-pitched roof. Modern day Mediterranean style homes have open floor plans.
Main features
Red-tiled roofs, often made of terra cotta

Brick or stucco exterior, typically painted white

Carved doors

Stone details

Wrought iron and metalwork incorporated in windows, balconies and outdoors
Midcentury modern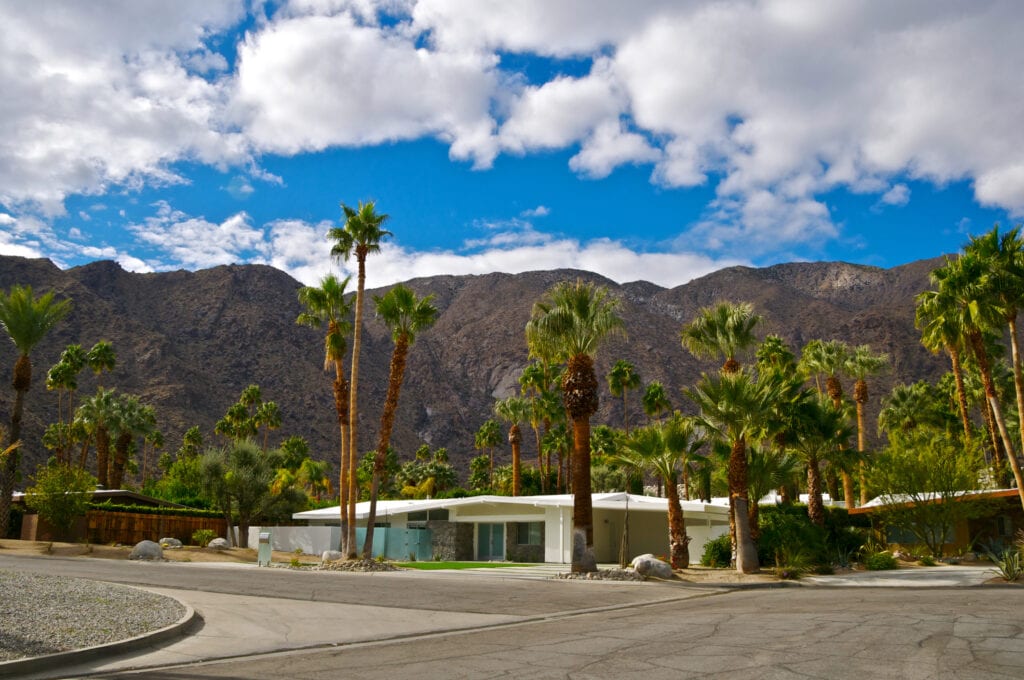 Midcentury modern homes were built between 1945 and the 1980s. This architecture style reflects simple and understated design and encompasses multiple home styles, including ranch homes and split-levels. Midcentury modern style homes emphasized a connection between the outdoors and indoors. 
Main features
Open space

Large windows

Large, sliding glass doors and other walls of glass

Flat roof or gabled roofs

Geometric lines

Often small steps between rooms to create depth
Neoclassical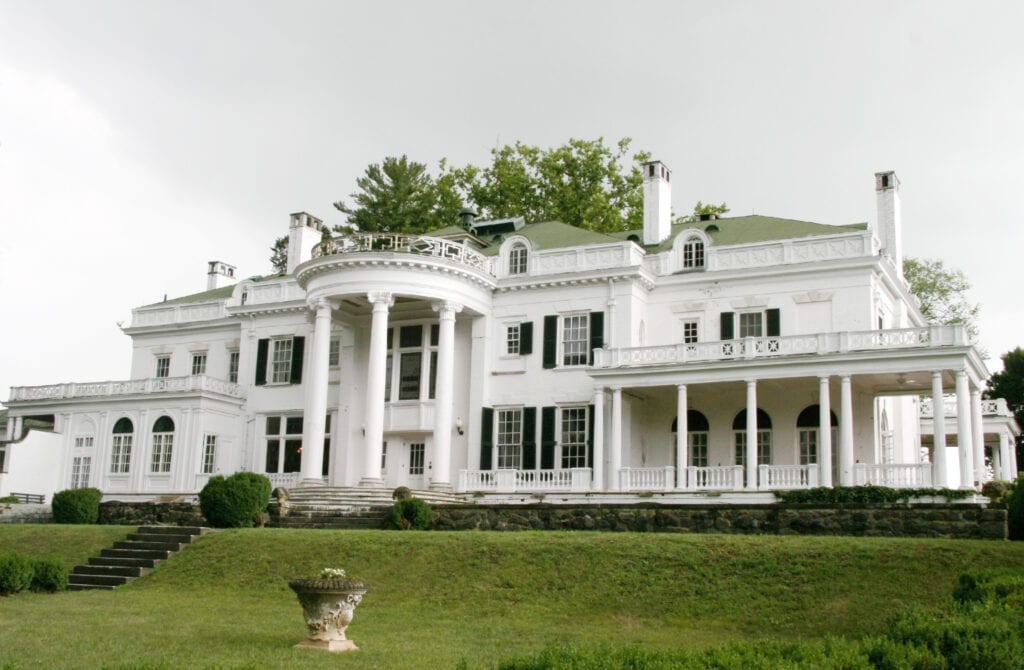 This style was born in the 1920s and remained popular throughout the 1950s. Neoclassical homes were emulated the homes of the wealthy European upper classes. Neoclassical style homes can be found mostly along the East Coast. These homes are large and formal, and they demonstrate timeless details based on the classical architecture of ancient Greece and Rome.
Main features
Symmetrical design

Elaborate designs around doorways

Porches with tall, full-length columns

Evenly-spaced, double-hung windows with shutters
Queen Anne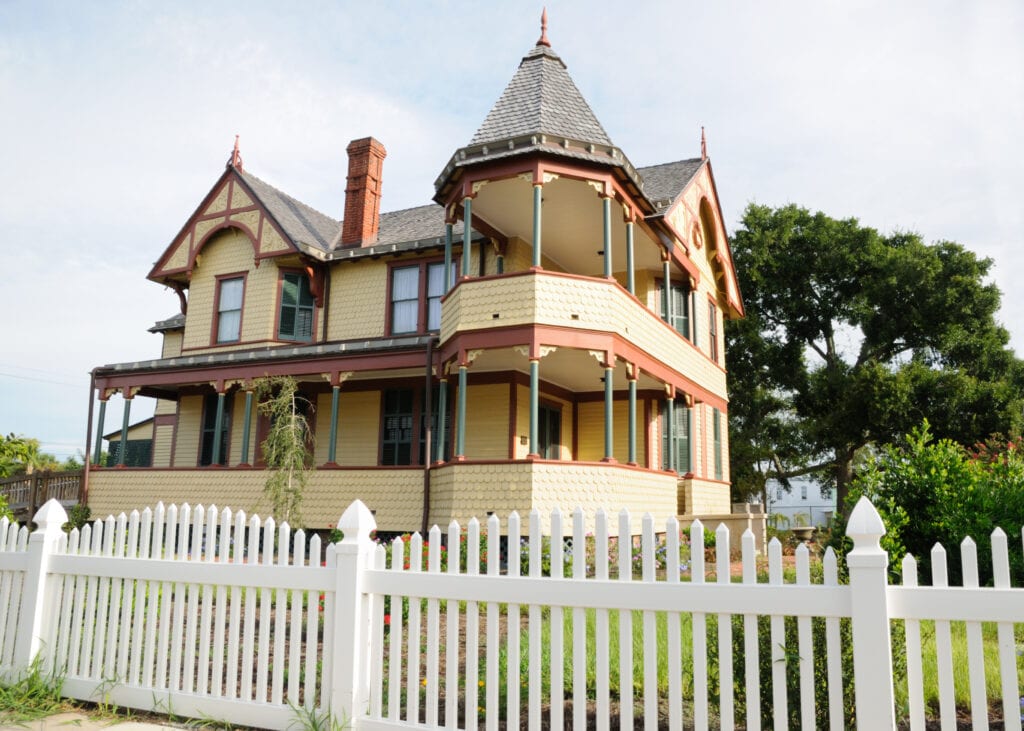 The Queen Anne house style is a type of Victorian home. These homes, built in the 1880s, were especially popular in the South and West. Queen Annes, also called Painted Ladies, are an easily identifiable house style known for elaborate, brightly-colored eclectic elements. 
The popularity of Queen Anne Victorians died down in the early 1900s with the rise of the Arts and Crafts movement, which favored a handcrafted, more streamlined home and less clutter. However, in pockets in the Midwest, the homes were still built into the 1940s. Today, Queen Anne Victorians are found in suburbs and historic districts across the country. Several communities across the U.S. are known for their concentration of Queen Anne style homes, including San Francisco, New Orleans and Cape May, N.J. 
Main features
Two to three stories 

Steep cross-gabled roofs

Wood or stone exteriors

Asymmetrical shape, complicated design

Colorful decorative trim 

Scalloped shingles

Towers with steep roofs

Vertical windows 

Wooden "gingerbread" trim across porches and gables

Large wraparound porch
Ranch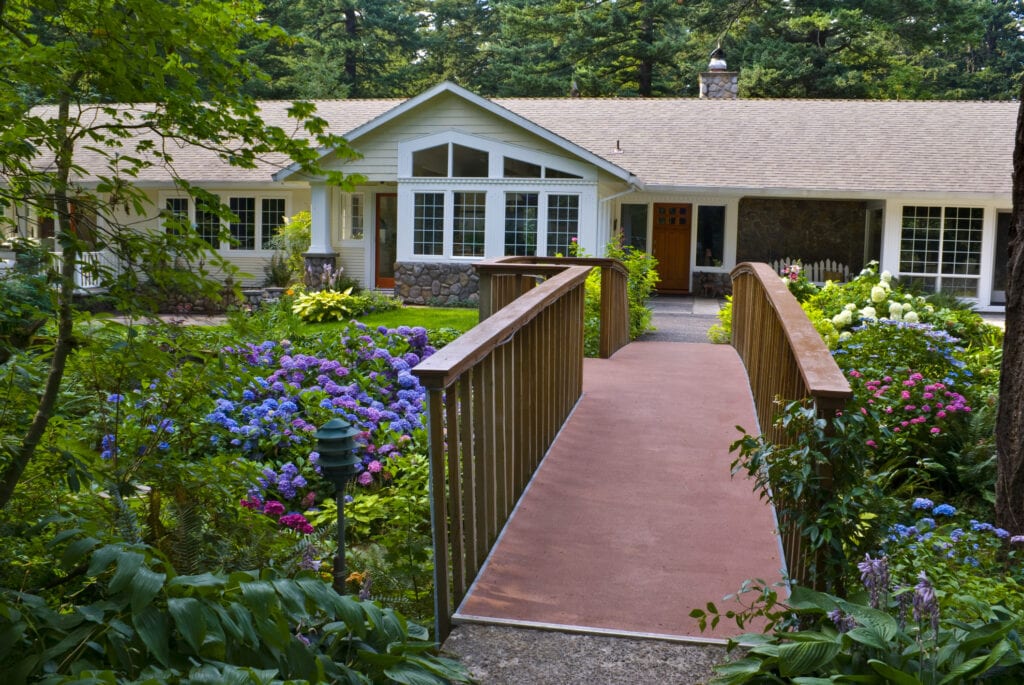 The ranch style home falls under the classification of modern homes. This casual style home originated in the West in the 1930s and became a traditional house style in the 1950s and 1960s. Although the ranch started as a California house style, it's found in most suburbs across America. 
The ranch borrows elements from Spanish colonial homes as well as Craftsman homes and is known for its one-story living and open layouts. Ranch homes were built to emulate the laid-back style and function of houses on Western ranches. 
Raised ranches are a subset of the ranch style home that houses the living quarters on one level and a finished basement with a walk-out partially below ground.  
Main features
One-story

Asymmetrical design, sometimes L- or U-shaped

Wood or brick exterior

Pitched roof

Typically has a built-in garage

Sliding and picture windows

Sliding doors open up to patios

Emphasis on the backyard
Split-level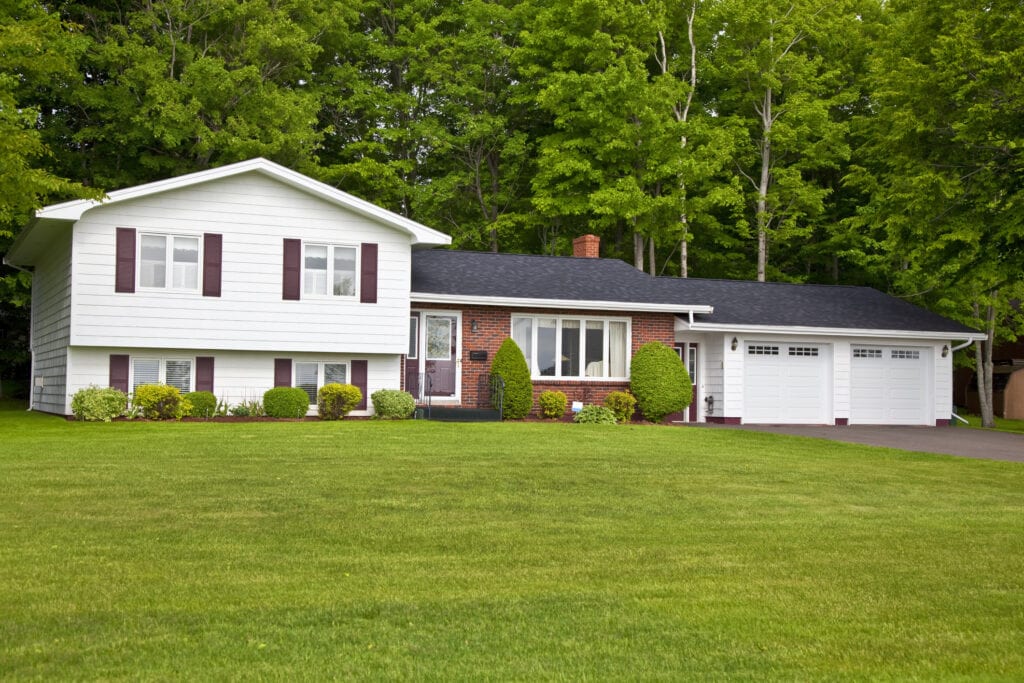 Common mostly in the East and Midwest, split-levels are classified as a midcentury modern house style. Split-level homes have multiple levels connected by small flights of stairs. The design — popular in the 1950s — was meant to section off homes according to the function of each area. 
One part of a split-level home is two- or three-stories, consisting of the bedrooms on the top level, a family room and garage underneath and a basement below the family room, in some cases. The living room, kitchen and dining room are in a different, one-story section of the home connected to the multi-level part of the house. 
This style evolved from ranch homes and provided a spacious alternative for the baby boom of the time. Split-levels were typically built in family-friendly suburbs.
Main features
Segmented appearance 

Constructed of various materials  

Plain design
Stick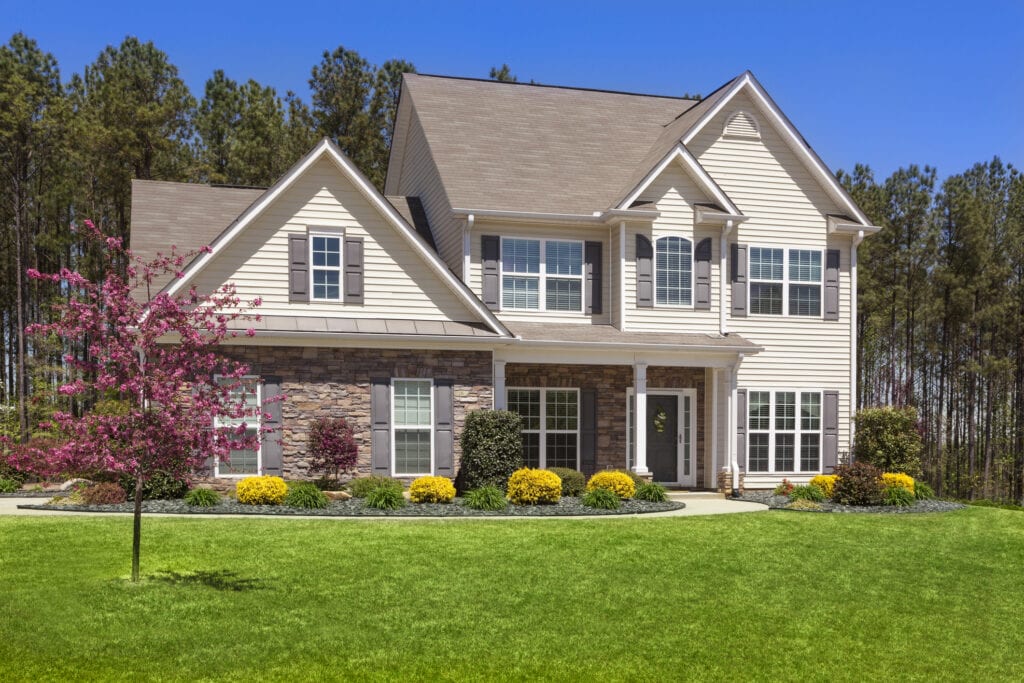 Stick homes fall under the umbrella of Victorian homes and are commonly found in the Northeast. This house style gets its name from the wooden boards that typically adorn the cladding and shingles. An offshoot is the Western Stick, common in California, which takes on a more rectangular shape and usually has large panes of glass, sliding glass doors and a chimney.
Main features
Gabled, steeply pitched roofs with overhangs

Wooden shingles covering the exterior walls and roof

Horizontal, vertical or diagonal boards around the cladding and porch
Tudor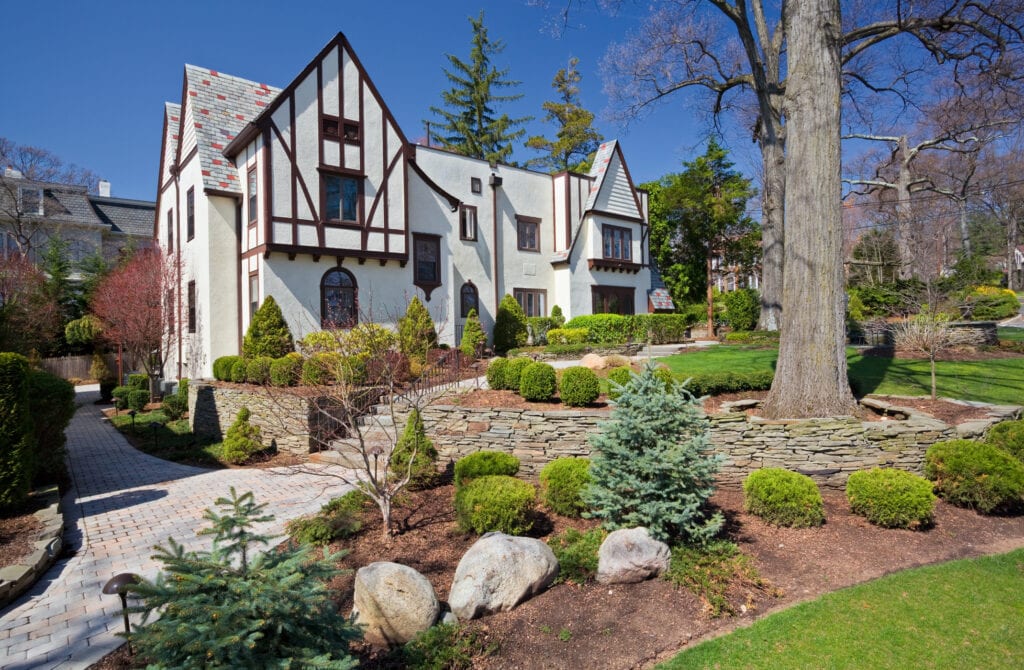 An easily recognizable house style, Tudors were popular in the 1920s and 1930s. The style is a revival of English architecture from Medieval and post-Medieval times. 
While Tudor style homes are found in most communities throughout the country, a heavier concentration of Tudors were built along the East Coast and in the Midwest, where the style's steeply pitched roof provided protection in snowy and rainy climates.
Main features
Half-timbering on bay windows and upper floors

Steeply pitched, multi-gabled roof

Stone walls or patterned brick

Rounded decorative doorways  

Large chimneys, often of brick or stone

Windows are often grouped or arranged in a pattern

Dark wood paneling

Exposed timbers

Stained-glass windows
Victorian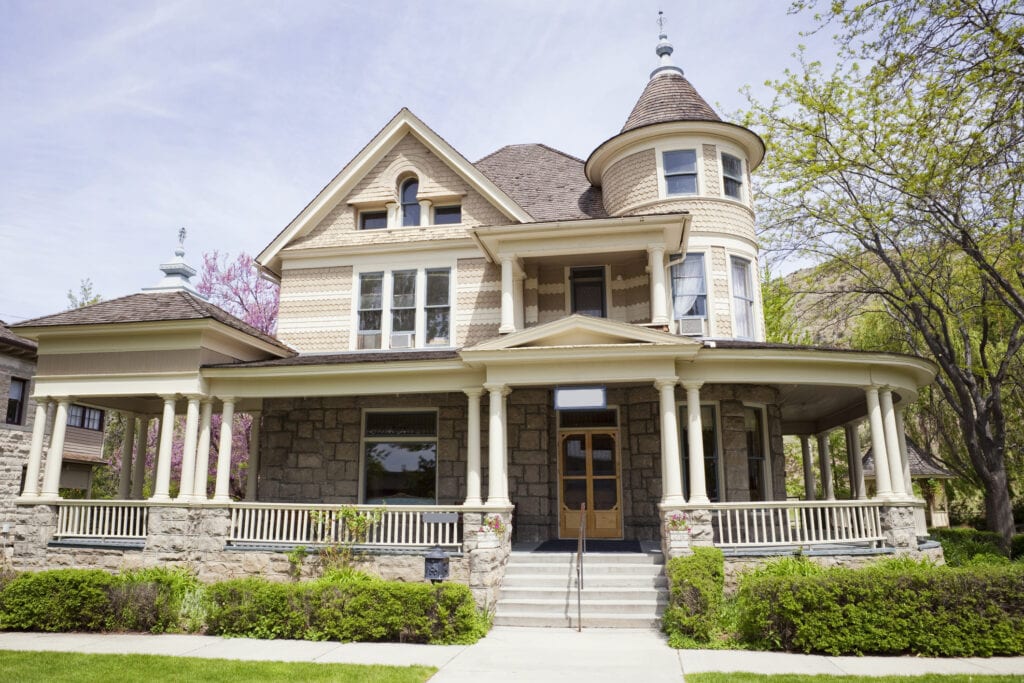 Another classic home, Victorians were built in the latter half of the 1800s into the early 1900s during Queen Victoria's reign. The design included a variety of styles and was made during a time when the country was experiencing an advancement in machine technology and could incorporate a mix of details and materials into home construction. 
The Victorian house style is eclectic and is typically large and elaborate. These homes reflect features from multiple architectural styles, including Gothic, French, Italian, Tudor and Egyptian. While there are common characteristics and elements of Victorian homes, each one is truly unique. Queen Anne style homes fall under the umbrella of Victorian.
Main features
Two or three stories

Wood or stone facade

Complex, asymmetrical shapes

Decorative trim

Large wraparound porch

Curved towers

Spindled porches