Use This New Program to Crowdfund Your Home Down Payment
Published on: January 17th, 2018
Editorial Note: The content of this article is based on the author's opinions and recommendations alone. It may not have been previewed, commissioned or otherwise endorsed by any of our network partners.
It can be tough to find the funds to save the recommended 20% down payment for a home mortgage in a market where both rent and home prices are on the rise. It's even more difficult when you're just starting out on your career and may be saddled with student loan debt like many millennials are.
In 2016, 48% of non-homeowners said the main reason they don't currently own a home is because they can't afford to buy one, according to the National Association of Realtors. Unsurprisingly, some 39% of non-owners had student loan debt.
Now, some borrowers might be able to get some help buying a home from an unusual source: an employer. Mortgage lender CMG Financial recently launched a down payment crowdfunding platform called HomeFundMe.
To participate in HomeFundMe, potential homebuyers working with CMG can ask friends, family, and others to contribute to their down payment goal.
In a new move to help employers retain debt-saddled millennial employees in a competitive job market, the company has added an extra avenue for crowdsourcing: from borrowers' employers. The new benefits portal lets employers make contributions towards a CMG financial borrower's fundraising campaign for a home down payment.
"The underwriting process determines if someone can afford [a mortgage]. That's generally not the issue with a lot of people. The big challenge these days is the down payment," said Doug Nesbit, director of Affinity Partnerships at CMG Financial.
He notes many employees have a hard time saving for a down payment because they struggle with big issues, like student loan debt and high rent. "It's tough to save money enough to the point to get to a down payment. You could end up draining your bank accounts," said Nesbit.
What to know before you crowdfund your home down payment
You don't always need 20% down. The 20% down payment rule of thumb isn't a hard and fast rule at all. In fact, the average down payment today is less than 10%. But you can avoid things like private mortgage insurance if you save up at least 20%.
Income taxes. You may be required to count the money you receive from contributors as gifted income for tax purposes. For 2018, you can get up to $15,000 as a gift and be exempt from the gift tax. Nesbit recommends homebuyers consult with a tax professional to make sure they are paying the proper amount in taxes if they are gifted funds through HomeFundMe.
There are other down payment assistance programs. If you're overwhelmed at the idea of saving for a down payment, look into local or national assistance programs that can help.
The HomeFundMe program is certainly intriguing, so we took a closer look at how it works.
How HomeFundMe Works
What it is, in a nutshell: HomeFundMe is a crowdfunding platform to help CMG Financial borrowers who are saving money for a home mortgage down payment. The HomeFundMe program has been backed by Fannie Mae and Freddie Mac, which own the lion's share of mortgages in the U.S., as a sort of test case to see whether such a down payment assistance tactic might spur homeownership rates.
According to Nesbit, HomeFundMe currently has more than 300 active campaigns and has already completed nearly 100 campaigns.
Eligibility
To use HomeFundMe, you must first complete an underwriting process and be pre-qualified for a mortgage product through CMG Financial. Yes, that means you have to use CMG Financial as your mortgage lender.
We always recommend comparing more than one mortgage loan offer before choosing a lender, and we're not sure this HomeFundMe platform would give anyone enough reason to pick CMG Financial over another lender that might offer you better terms. It's a "nice to have" option, rather than a "need to have."
Does HomeFundMe cost anything?
HomeFundMe users aren't charged any taxes, fees, or fundraising commissions on the down payment. The down payment will be held in escrow until you close on a home. The money can be used toward the down payment and closing costs.
How to get your employer to contribute
Employers have to add HomeFundMe to their employee benefits package in order to contribute to their HomeFundMe account.
Once added, their employees can gain access to a special portal where they can launch their HomeFundMe campaigns. Employers can elect to match donations made to the employees' campaign in any amount. Nesbit says CMG is currently seeking approval for its Affinity portal with roughly 100 companies.
Outside of the portal, HomeFundMe works for employee benefits just as it does for common users. They can ask friends and family to contribute as well.
How to sign up
First thing's first — you'll have to create HomeFundMe user account. HomeFundMe recommends signing up using your Facebook account to make it easier to share your campaign on social media.
After you sign up, you'll go through the normal loan underwriting process to get pre-approved for a mortgage through CMG. At that point, they will tell you how much house you can afford, and, in turn, what down payment you'll need.
You can adjust your down payment amount to whatever you think you need, but the underwriting process gives you a starting point. If you don't prequalify for a loan, you won't be allowed to launch a campaign.
Set up a campaign
When you have your down payment goal, you can set up a campaign to start fundraising. As part of your campaign, HomeFundMe will give you access to a fundraising coach who can help you with all the details that go into promoting a successful fundraising campaign.
Like other crowdfunding platforms, you can add images, video, and a summary of what your goals are to encourage donors to give. To get the word out, you can promote the campaign to friends and family on your social media accounts.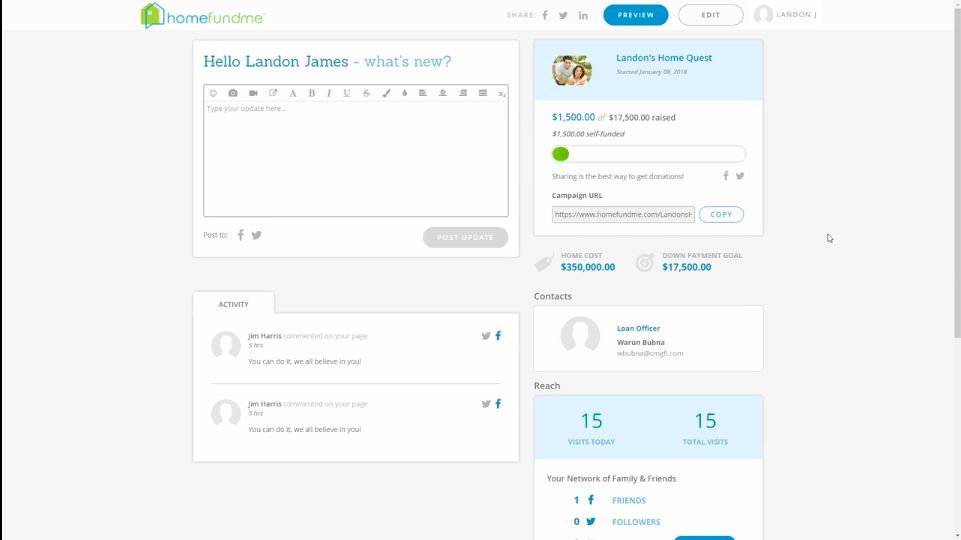 Collect donations within 12 months
Time starts ticking after you receive your first donation. When that happens, you will have 12 months to close on a new home.
Friends, family, and even strangers can all contribute money toward your fundraising campaign online. CMG Financial can match contributions toward a campaign, with limitation.
And yes, you can make contributions to your campaign, too.  Individuals who contribute have the option to make their contribution conditional or unconditional. Conditional means they get their money back if it won't go toward a home down payment. You get to keep non-conditional (or extra) contributions even if you don't end up using the funds to buy a home.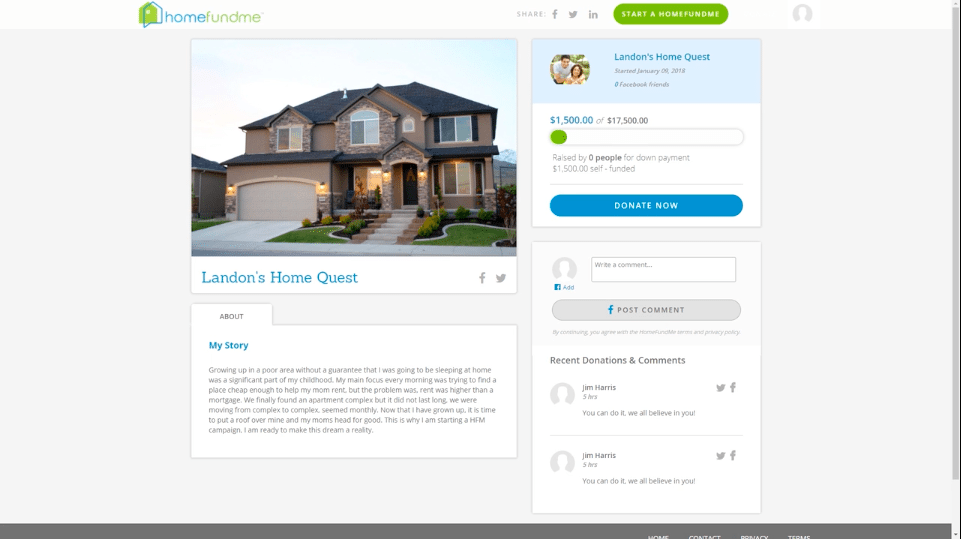 Funds matching
HomeFundMe is backed by the mortgage lender and brokerage firm CMG Financial, which can contribute to your campaign, too. CMG can double the amount you crowdfund, up to either $2,500 or $1,000, or 1% of the purchase price of the home.
The amount lenders can match depends on where the buyer's income falls in relation the Average Median Income (AMI) in their area. CMG can match contributions to fundraisers or home buyers who earn higher than their area's AMI up to $1,000; those who earn less than the AMI can receive up to $2,500 from CMG Financial.
Funds-matching is available only to users who complete a free homebuyer education course or free pre-purchase counseling.
Find a home
While your campaign is working for you on the interwebs, you'll need to find a home that fits your prequalification. You can enlist the help of a housing counseling coach and loan officer through HomeFundMe to navigate the mortgage process. The coach helps with the campaign strategy and home buying process overall; the loan officer helps with the mortgage financing process.
You'll need to find the house you want to buy on your own or, you could hire a realtor to help you. HomeFundMe can connect you with a realtor in your area, but you'll pay out of pocket for their service. You also get access to an appraiser, housing inspector, and title company as part of your campaign package.
Cash out
Once you reach your down payment goal, the money can be applied to your new home purchase.
What happens to the money if…
You don't reach the goal?
If you don't reach your goal within 12 months, your fundraising coach will determine if you are eligible for an extension. If not, you'll be awarded any money that was contributed without a condition that the money must be used to purchase a home.
You pass your goal?
If you raise more money than your goal, congratulations, you may save more money on mortgage insurance or future interest payments. You get to keep the extra money and use it to put down a larger down payment which, in turn, can lower your overall monthly payment.