What Is House Hacking?
Published on: December 18th, 2018
Editorial Note: The content of this article is based on the author's opinions and recommendations alone. It may not have been previewed, commissioned or otherwise endorsed by any of our network partners.
With U.S. wages stagnant and another recession reportedly on the horizon, now is a good time to think about diversifying your income sources. If you have a spare room in your house or a bit of property to spare, renting out the extra space could pad your earnings and enable you to test the waters of property management as a landlord.
What is house hacking?
House hacking refers to renting out parts of your home or property while you are living there. There are several variations of house hacking, which we'll cover in the next section. But the key element is that you reside at the property while also effectively serving as landlord and property manager.
House hacking 101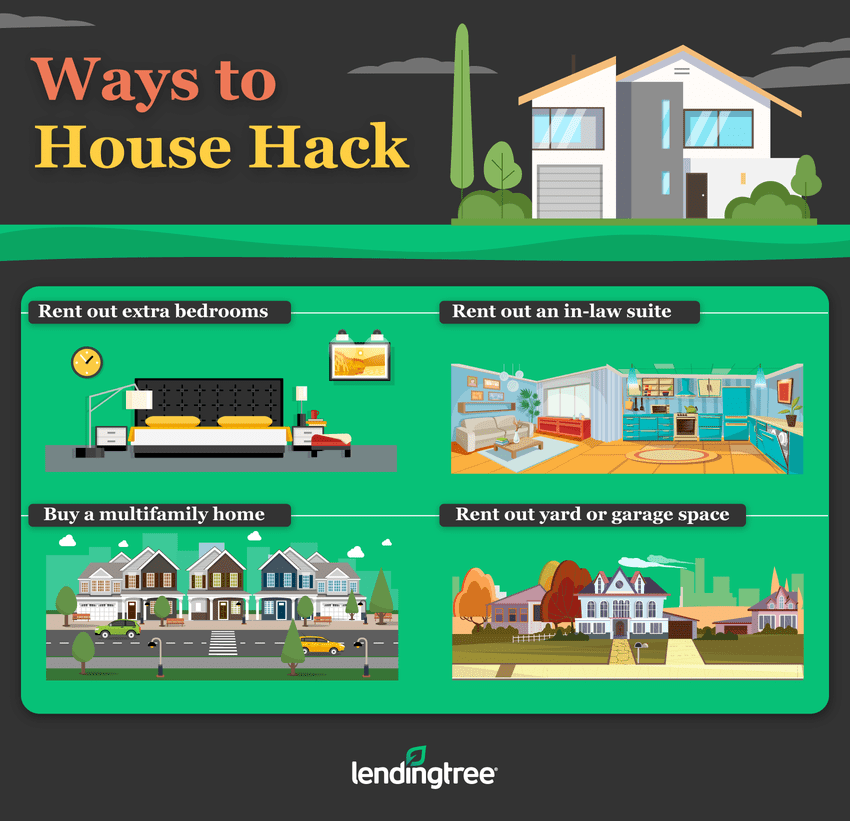 Once you begin looking at your home as a potential income generator, you may begin to see each room and common area in a new way. Your half-empty basement becomes a rentable storage unit, while your large backyard becomes a lot you can rent to tiny-house enthusiasts.
Depending on the type of home you have and how much space you're willing to rent, you can get pretty creative in your house-hacking endeavors. Here are some ways you can do it:
Rent out extra bedrooms: Taking on a roommate or two is likely the most straightforward path you'll find to house hacking. If you have a guest bedroom or office you barely use, you can set it up as a rental. How much you can charge in rent will depend on the housing demand in your area, but you can at least offset some of your own monthly rent or mortgage payments.
Rent out an in-law suite: If your house has an in-law suite or another separate apartment or structure, that can be a great income-generating property, particularly if it's equipped with its own kitchen and bathroom. The advantage here is that you won't need to share those spaces while still earning passive monthly income.
Buy a multifamily home: Perhaps you're in the market for a new home and are considering how you might make it pay for itself, at least in part. A multifamily home, such as duplex or fourplex, enables you to set up your own space while renting out the other units. As with the in-law suite, you'll have more separation and privacy than with a roommate.
Rent out yard or garage space: Chandler Crouch, a real estate agent in the Dallas-Fort Worth area, said there are plenty of other ways to house hack if you're willing to get creative — and a little uncomfortable. House hackers who are willing to forgo personal space for the sake of income can rent out all the bedrooms in their homes and sleep on the couch. Others might rent storage space in their garage.
If you have a large backyard or substantial piece of land, you might rent space to tiny house owners who need a place to park their homes. Crouch said anyone considering this option should research city ordinances associated with putting other structures on the property, as well as homeowners association guidelines. He said this would likely only be an option for property owners who live outside city limits.
What you need to know about buying a multi-unit home or house-hacking property
One of the key things to consider when buying a home you plan to live in and rent out is the layout. Be brutally honest about what you need in terms of personal space and privacy. A multi-unit property or a home with an in-law suite affords you greater separation from your tenants, and you're less likely to cross paths at meal time and during late-night trips to the bathroom. Remember, though, that the units in a multifamily home are part of the same building.
But if you plan to rent out bedrooms in your house, understand that you will be living in close quarters with someone you may not know very well. If you enjoy socializing and don't mind a communal atmosphere, you might be fine with spontaneously seeing your roommates at all hours of the day. However, if you prefer to live as separately as possible, you'll likely want a home in which the bedrooms aren't right next door to each other and you and your roommates will have separate bathrooms.
The good news about purchasing a single- or multifamily home is that you can use low down payment loans, such as FHA loans, to purchase them. When you buy stand-alone rental properties, you may be subject to higher down payments and more stringent lending standards surrounding your credit score and cash-reserve requirements. But if you intend to live in the home as well as use it as an investment property, you may find more affordable mortgage options.
When looking at a property, consider how much it will cost to maintain, just as you would with a single-family home. Questions to ask include:
How old is the roof?
When were the hot water heaters installed or replaced?
When was the HVAC system last updated?
Remember that as a landlord, you are responsible for the maintenance of your tenant's home. When you are all living in the same building, you are easily accessible and, therefore, on call when things go wrong. You might be comfortable handling small fixes later, but your tenants may not — and you can expect them to knock on your door until you have addressed the problem. Unless you are comfortable making frequent, costly repairs, you may want to look for newer or more recently upgraded buildings.
How to prepare your finances for house hacking
If you plan to purchase a home for the purpose of house hacking, you'll need to organize your finances as you would with any mortgage. Steps to take will include boosting your credit score as much as possible, paying off debts and saving for your down payment, appraisal and closing costs.
Then factor in additional expenses associated with rental properties. You should have at least three months' worth of rent in reserves, said Casey Fleming, a mortgage advisor at C2 Financial Corp. in San Jose, Calif. He also advised having savings in place to cover repairs and other expenses that occur when you're managing a rental.
Mihal Gartenberg, a New York City-based licensed real estate salesperson and adviser to real estate investors, suggested calculating how much you expect to earn from your rental, along with your expected turnover rate and costs. Whenever a tenant leaves, you will need to go through the process of advertising and vetting new tenants. You will also need to have the space repainted, repaired and cleaned.
Other expenses to budget for include landscaping, replacements for major appliances and vacancies between tenants. Crouch suggested budgeting for the bedroom or unit being vacant for 10% of the year, though the actual number will vary based on demand in your local rental market.
How to avoid house-hacking pitfalls
House hacking can be a savvy strategy for earning money, offsetting your mortgage costs and wading into real estate investment. If you thrive on managing your tenant relationships and maximizing your property, you may find that you'd like to delve more fully into property rentals. Whatever your goals, it's important to approach house hacking strategically and with full knowledge of your obligations.
Here's how to avoid potential pitfalls:
Know the laws
Before deciding to rent out part of your property, find out what laws apply to your circumstances. The Fair Housing Act, which prohibits discrimination in tenant selection, does not apply to roommates but it does apply when renting out separate units. However, if you're acting as a landlord, you will be held to strict standards regarding how you advertise the property and how you evaluate potential tenants. You'll also carry responsibilities for maintaining the property.
Some state laws may come into effect depending on how long a person rents from you. If you offer short-term rentals through sites such as Airbnb, find out at what point those become subject to tenant-landlord laws so you can structure your rental terms accordingly.
Understand your rights as well as your tenant's rights
For example, if they fail to pay rent and you wish to evict them, you need to understand the eviction process and court procedures.  The laws in some states, such as New York, favor tenants, according to Gartenberg. It is important to protect yourself legally as much as possible from the outset.
"Most people do these things without ever consulting the policies, but if your goal is to make a smart financial decision, you've got to consider your longer-term goals," Crouch said.
Research your city's housing classifications to find out the types of rental properties it allows and what your responsibilities and liabilities are as a landlord. "Work within the rules to make sure you're not being governed out of your side hustle," Crouch said.
Vet your tenants
Whether you take on a roommate or rent out a multifamily unit, you are going to live in close quarters with them. You want to know who will be living in your home, whether you have compatible lifestyles and whether they have strong employment and credit records.
Gartenberg recommends hiring an experienced broker or property manager to handle tenant searches and relations. They will know the appropriate process for conducting credit and background checks, and will be versed in signs that someone is likely to be a good tenant. She offered the example of someone who has excellent credit but gaps in their employment history. Even with those gaps, they fulfilled their financial obligations, indicating that they are responsible and live within their means.
Still, there are always risks associated with allowing a stranger to live on your property. "You have to have very thick skin if you're going to become a landlord," Fleming said.
Problem tenants cannot only cause headaches through inconsiderate behavior and not paying rent, but they may also damage the unit. Fleming, who is a landlord, said that after evicting a couple who had failed to pay rent, he spent several thousand dollars repairing damage they had done. After the repairs were made, the pair broke back into the unit and continued living there until Fleming called the police and had them removed.
Obviously, not all tenant relationships become horror stories. But it's essential you do your due diligence and prepare yourself to take action if the relationship deteriorates.
Prepare for the worst-case scenario
Even when you've done your best to find high-quality tenants and a well-built house, problems will eventually arise. Expect that processes such as moving tenants in, collecting rent and having repairs done will take longer than you anticipated. Budget for more than you think you need. And if you aren't confident that you can cope financially with those circumstances, you may want to rethink house hacking until your situation improves.
"Being a landlord when you have little or no reserves is a terrible idea," Fleming said.
Assess the market
Don't guess at what people will pay to rent your room, apartment or unit. Look at rental sites such as Craigslist.com to see the prices on similar properties. Fleming suggested visiting other rentals in person to get a sense of what else is on the market.
Doing this before you buy a house is especially prudent since you'll be able to gauge whether the investment is worth it. If it seems you'll just break even, renting out part of the house may not be worth it, especially with the lifestyle cost of sharing your space with strangers and being responsible for other people's quality of life on the property.
Is house hacking worth it?
House hacking requires both a financial and lifestyle commitment, and you should consider whether you're prepared to make those. If you're interested in real estate investments and property management, house hacking may serve as a gateway into those areas. Even if you're simply looking to make extra money, renting out part of your property may become a lucrative way to pad your income.
However, if you're squeamish about dealing with conflict, highly value your privacy or aren't certain you can handle the responsibilities financially, you may want to consider other income-generating strategies instead.