What You Need to Know about Commercial Mortgage Refinance
Published on: August 9th, 2018
Editorial Note: The content of this article is based on the author's opinions and recommendations alone. It may not have been previewed, commissioned or otherwise endorsed by any of our network partners.
Experienced commercial property investors use refinancing as a tool to unlock equity in their holdings while saving money through lower interest rates on a new loan. Savings also typically increase when multiple properties are refinanced into a single portfolio.
Lenders say there are several good reasons to pursue refinancing of commercial property. The potential downsides are minimal. While there are fees and costs that come with underwriting and refinancing a new loan on commercial property, these expenses may be completely offset over time by improved cash flow and lower monthly mortgage payments that refinancing allows.

Reasons to refinance a commercial property mortgage
The main reason investors refinance commercial property is to take advantage of the savings from a lower interest rate and longer loan terms, which simultaneously reduces long-term debt as well as monthly payments, said Vickie Noel, business relationship manager at 1st Advantage Federal Credit Union.
"The goal of refinancing a commercial property should always be to get you a lower interest rate," she said. "You can also take out tax-free cash to renovate or improve the property, or buy more property for expansion."
Taking cash out on refinancing gives the owner funds to make improvements on the property that they can then justify an increase in tenant rents, Noel said. So refinancing becomes a way to generate greater cash flow from commercial property.
Refinancing also lets the borrower get out from under an adjustable-rate commercial property mortgage, Noel said. The benefit here is a consistent payment on debt that does not fluctuate.
Additionally, refinancing lets the borrower dodge what could be a hefty balloon payment near the end of the existing mortgage, Noel said. "Balloon payments can run into the thousands of dollars," she said. "Some commercial property owners aren't prepared for that."
Common commercial mortgage refinance requirements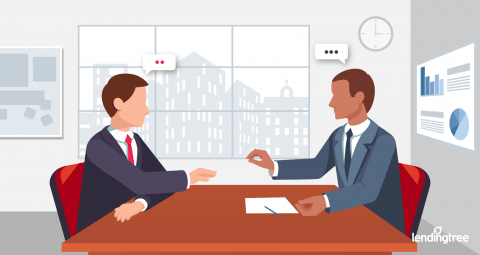 A lender starts the process of refinancing a commercial mortgage by checking the property owner's business credit, Noel said. A check of personal credit scores may also be necessary if the borrower is personally guaranteeing the refinanced loan, she added.
Some lenders may use business credit scores as part of the decision-making process, said Tracy Becker, president of North Shore Advisory, a business-credit consulting firm. The three main scoring agencies are FICO LiquidCredit Small Business Scoring Service (FICO SBSS score), Experian and Dun & Bradstreet, which refers to theirs as a PAYDEX score. A minimum FICO score of 140 is currently required by the Small Business Administration, Becker said, although 160 is generally preferred by lenders. For Dun & Bradstreet, a score of at least 80 out of a possible 100 is considered good. With Experian, a score of 60 out of 100 classifies the business as "low to medium risk." The higher the number, the better. Dun & Bradstreet offers business owners a free credit report.
When refinancing through a bank, the lender reviews the available collateral in the property, as well as the net operating income (NOI) of the investor or the underlying business that owns the property, Noel explained. NOI is one of the most important factors lenders evaluate in deciding whether to refinance a commercial property, she said, because the NOI will show whether the property generates sufficient and consistent income to cover the loan payments.
"Cash is king, so having good net income on the business, the guarantor is solid on good liquidity, has low leverage — those are the things a lender is going to look at when working on a refi," Noel said. What a lender considers a good NOI depends on the business and the size of the property, she added.
Commercial property refinance loans and terms vary by lender, she said, although the typical range is up to 10 years followed by a balloon payment, or full amortization up to 25 years. Lenders also have refinance products with lower fixed rates during the first three to five years of the loan, followed by an adjustable rate or a balloon payment.
"We require at least 12 months of ownership in the property before we can even consider a refi," Noel said. "We love owner-occupied properties," she added, explaining that when owners run their own business out of the commercial property they have more skin in the game. It's a greater incentive to stay current on the loan, and that's what lenders are looking for.
Types of commercial loan refinances
Another option is commercial mortgage refinancing through the Small Business Administration's 504 Debt Refinancing Program. The SBA reduces the commercial lender's risk by covering a large percentage of the loan amount if the borrower defaults.
Through the SBA's 504 program, the borrower can refinance up to 90% of the property's current appraised value. The maximum amount drops to 85% if eligible business expenses are being refinanced along with property. Another option the SBA offers is cashing out up to 25% of the property's value for business expenses, including operating costs, employee wages and inventory.
The U.S. Small Business Administration uses the FICO score to prescreen all loans. With FICO, the minimum score to clear the SBA's pre-screen process is 140.
A cash-out/build-out is another alternative for property owners who want to extract equity, Noel explained. With this option, if the commercial property's value is significantly greater than the current mortgage balance, the property owner could tap that equity with a cash-out loan. This type of loan is useful for commercial real estate owners who want to build out a property with additions, to help with unit improvements to reduce tenant turnover, or to use for working capital, Noel said, all at a lower interest rate on a refinanced commercial mortgage.
Here's how a commercial cash-out refinance works:
Income (the rent that tenants pay to the property owner) on a commercial property minus the expenses of managing the property is the Net Operating Income. NOI is measured on an annual basis. Next, the property owner needs to know the cap rate, which is a measure of the property's valuation as a profitable business. To determine the cap rate, divide the NOI at the time of purchase by the original sales price.
An example: If the property cost $1 million and produced $100,000 annually in NOI at the time of sale, then the cap rate is 10 percent. This means that a tenth of the building's cost is covered by the NOI each year.
Over time, property owners routinely increase their revenue (such as raising rents) or streamline management to reduce expenses.
As a result, now the owner's property has a better NOI. Say, $175,000 per year. With a cap rate of 10 percent, that gives the property a better valuation because it's producing more net operating income relative to its original price. Using the improved NOI, now the property is considered to have a commercial valuation of $1.75 million.
Commercial real estate lenders allow property owners to refinance 75 percent of the current valuation. So in this example, 75 percent of $1.75 is $1.32 million. That's how much the lender is willing to refinance. Subtract the refinance amount from the original loan on the property ($1 million) and the remainder is $320,000. This is the potential return to the owner on a cash-out refinance.
If the owner originally made a 20 percent ($200,000) down payment on that $1 million property, a refinance in this example would repay the owner's initial cash investment plus $120,000 left over that could be used to buy more property or upgrade an existing building ($320,000 left over at refinancing minus the original $200,000 down payment equals $120,000).
Noel said there are at least two reasons a cash-out refinance is a valuable tool for investors in commercial property. First, the cash-out is tax-free, and second, the refinancing is done at a lower interest rate than the original commercial mortgage, potentially saving the property owner thousands over the life of the new loan.
How does a commercial refinance differ from a home loan refinance?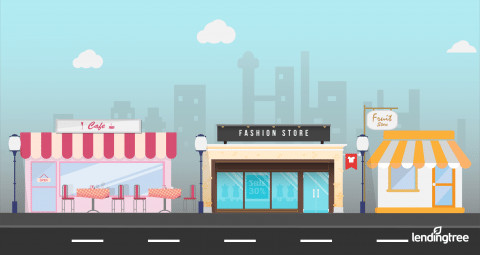 "If you're looking at a commercial deal, you're looking at the NOI, rent rules and things like that," Noel said.
Rent rules are the terms of the contract between tenants and landlords. They set out the rent amounts, payment deadlines, penalties for late payments, the responsibility for repairs and maintenance — all factors that can impact the cash flow of a commercial property, explained Noel. Lenders want to see that there is contract language and protections in place that helps ensure the NOI keeps flowing, she said.
"You want to know that the income from tenants can pay back the loan," Noel said. "With a home loan, mortgages and refinancing are really based on that individual person on the application. In commercial, generally we're dealing with an LLC (limited liability company) and partners, and they need to be able to show that their tenant income is enough to cover that loan."
Commercial refinances depend to a large degree on the property's NOI, but home loans depend on the homeowner's personal credit scores, payment history and equity in the property, Noel explained. So for a commercial refinance, the higher the NOI you can show, the better loan terms you can get, and the more cash you can pull out. If the NOI is deemed too low or unstable, your commercial refi loan will probably be denied, Noel said.
What to look for when choosing a commercial mortgage refinance lender
"If you're looking only to refi, hopefully you already have a good banking relationship," Noel said. "If not, network with people. Find out who they work with on their refinancings. You definitely want someone who's knowledgeable. Someone who can get the best deal for you. Good commercial loan officers generally have good reputations in their community."
Fees and fine print
At minimum, a refi will require a new appraisal of the property, said Noel. Appraisal fees currently start at about $2,000 for a commercial property and average $4,000 she said.
Processing fees will vary by lender but will be part of the final cost of refinancing. Noel recommended the borrower compare these fees between lenders. Some, she said, will charge an origination fee based on a percentage of the refinancing package. Look for lenders that set a maximum cap on that fee regardless of the refinanced amount to ensure you're not overpaying.
Closing costs
Knowing the closing costs is a major concern of most commercial property investors, Noel said, understandably so. That's partly because many lenders also expect the borrower to pay the processing fee upfront, she said. This can vary from 1-2 percent of the refinanced amount, Noel said, so the borrower could be looking at a hefty chunk of cash to come up with before even sitting down at the closing table. Experienced commercial property lenders should know the prevailing closing costs in your area for different types of commercial property, she said.
The borrower can also expect to pay standard expenses, such as surveys and inspections to satisfy local government or state requirements, title insurance, protection and indemnity (P&I) insurance and attorney fees at closing. Other potential costs include proof of environmental insurance, which depends on the nature of the business, said Noel.
"Long before you get to closing, you'll want to ask your lender about these costs," she said. "Most lenders familiar with their markets should be able to give you a pretty reliable figure. Even an educated estimate is better than a surprise."