Should You Use a Mortgage to Refinance Student Loans?
Published on: August 16th, 2019
Editorial Note: The content of this article is based on the author's opinions and recommendations alone. It may not have been previewed, commissioned or otherwise endorsed by any of our network partners.
As college tuition costs continue to rise, many are racking up student loan debt. Homeowners may be able to reduce the borrowed cost of higher education by taking advantage of home value increases the past five years and tapping some of that equity.
Whether you're a recent graduate or a grandparent who cosigned on a loan, there are pros and cons to using a mortgage to refinance student loans.
How to roll your student loan into your mortgage
There are different ways to add your student loan balance to your mortgage. Some are easier than others, so we'll discuss the process and potential costs of each option.
Cash-out refinance
With a cash-out refinance, you borrow more than you owe on your current mortgage and pocket the difference. Because you can choose a loan term as long as 30 years, the payment is often lower than the terms typically offered by private student loan lenders.
The approval process is the same as getting a mortgage to buy a home. The lender will review your proof of income and credit history, and an appraiser will inspect your home to determine its current value.
Closing costs are tied to the size of your loan amount. They tend to be the highest on a cash-out refinance because you are taking out a very large loan. Refinance closing costs range from 3-6% depending on your location and lender.
How much you can borrow depends on the loan-to-value (LTV) limits allowed by each type of loan. LTV is based on the borrowed percentage of your home's value.
For example, if your home is worth $200,000 and the lender doesn't allow more than an 80% LTV for a cash-out refinance, the most you can potentially borrow is $160,000 ($200,000 x .80).
The maximum LTVs for each cash-out refinancing loan program are provided below:
Home equity loan
Another way to tap the equity in your home to pay off a student loan is to take out a home equity loan. You receive a lump sum and make fixed monthly payments at a fixed interest rate.
The advantage of a home equity loan over a cash-out refinance is your loan amount is smaller because you aren't rolling in the cost of paying off your current mortgage. Your costs are also lower because they are based on a percentage of a much lower loan amount than a cash-out refinance.
The process is also a little easier, often requiring less documentation and a streamlined home appraisal that may not require an inspection inside your home. Most home equity loan lenders will limit you to an 85% LTV, but you may be able to shop around for one that will lend you more.
Home equity line of credit
A home equity line of credit (HELOC) works like a credit card against the equity in your home. You can charge and pay off balances during a draw period that usually lasts 10 years. Your monthly payment is based on the balance you've charged.
After the 10-year period, you'll pay off the balance over the remaining term of the loan at a fixed rate — usually another 20 years. If you want to focus on paying off smaller, high-rate student loans, a HELOC gives you the option to pick and choose how much you charge.
Because HELOC interest rates are variable, it's best to use them as a short-term solution for clearing out smaller student loan balances, and then paying them off as soon as possible. One other caveat: If you choose the interest-only payment option, you aren't paying down the loan at all. Once the draw period is over, your monthly payment could rise substantially.
The process is often much easier than a home equity loan or cash-out refinance, and your local bank may be able to approve a HELOC with very little documentation and little to no closing costs. HELOC lenders usually won't allow you to borrow more than 85% LTV, but you may find exceptions when you start shopping around.
Pros of using a mortgage to refinance student loans
Is it bad to add your student loan balance to your mortgage? Whether it's paying off the entire balance or paying the balance down so you can get a better deal on a student loan refinance, there are advantages to putting your home equity to work to clear out student loan balances.
You can lower your total monthly payments
College students graduate with an average of $29,800 in student loan debt at an average monthly payment of $393, according to Student Loan Hero, which is owned by LendingTree. If you purchased your home in the past five years, chances are you've built up some equity you can use to reduce your student loan debt burden.
Let's look at a before-and-after example of refinancing using a cash-out refinance to pay off a $30,000 student loan. We'll assume you have a 30-year, fixed-rate mortgage for $150,000 with a 4.5% rate. Say you can get the same rate on a new 30-year, fixed-rate loan for $180,000.
Current Total Monthly Payment*
New Total Monthly Payment*
Mortgage: $760
Mortgage: $912
Student Loan: $393
Student Loan: $0
Total Savings: $241
*Mortgage payments reflect principal and interest only
Even though your new mortgage payment is higher, paying off the student loan reduces your combined monthly payments by $241.
You'll qualify for a higher mortgage balance in the future
One of the major challenges when qualifying for a mortgage is having too much debt compared with pretax income. This is known as your debt-to-income (DTI) ratio.
Let's assume you make $65,000 a year and are getting ready to buy a home in Charlotte, N.C. If you haven't paid off your $393-a-month student loan, you'll be capped at a sales price just over $310,700 to keep your DTI at the calculator-suggested limit of 36% of your before-tax income.
If you use your mortgage to pay off student loans, you'll be able to look at homes up to a $393,000 sales price. The student loan payment takes away more than $82,000 of home purchasing power.
You'll pay off a debt that's hard to get rid of
When the government lends money, it wants to be paid back. Unlike most other types of loans, student loan debt is very hard to discharge in a bankruptcy. While forgiveness programs are available for special circumstances, a student loan default can make it difficult to get loans in the future.
A delinquent student loan could also put you on the Credit Alert Interactive Verification Reporting System (CAIVRS) list. CAIVRS is a special database that tracks defaulted government loans. If you're on the list because of an unpaid student loan, you may be ineligible for government mortgage programs offered by the FHA or VA.
You'll prevent damage to your credit
If you cosigned on a student loan for a child or grandchild, how they pay will have a direct effect on your credit scores. You may not even know they are having trouble making the payments until you try applying for a new credit account, only to learn your scores have plummeted.
You may need to work out a payment plan with the relative you cosigned to hold them accountable for paying the student loan balance you financed into your mortgage. It's worth the peace of mind that comes with knowing damage won't be done to your credit score without your knowledge.
Cons of using a mortgage to refinance student loans
The decision to use your home equity to pay off other debt is never simple, and it can have long-term consequences that aren't worth the risk.
You'll end up with a bigger mortgage payment and pay more in long-term interest
Using the $180,000 cash-out refinance option above, you'll pay an extra $24,722 in interest over the life of the loan. Even if you don't stay in the home for the full 30 years, you'll still spend more than $800 in interest annually.
You won't be able to write off the extra mortgage interest
The new tax laws changed some of the mortgage interest deductions for cash-out refinances. Unless the funds from a home equity loan, HELOC or cash-out refinance are used for home improvement, there is no tax benefit for extra mortgage interest paid.
It will reduce the profit when you sell your home
If you borrow $30,000 of your equity, you'll net $30,000 less in your pocket when you sell. If you suddenly need to move for a career opportunity, you might end up paying money to cover real estate commissions.
There is a way to offset the losses — use some of your monthly payment savings to pay your mortgage balance down. For example, if you apply $100 of the $241/month savings in the monthly savings example above after three years, you'll have an extra $3,846.61 worth of equity.
You could lose your home
Mortgage debt is backstopped by your home. If you can't make the payments, you could end up losing your home.
You'll lose student loan forgiveness options
If your student loan balances are paid off, you won't be able to apply for student loan forgiveness programs. That includes income-driven repayment programs that allow you to adjust based on your earnings.
Mortgage lenders don't automatically offer any flexibility in payment schedules due to changes in income. You can request a modification if you have a sudden drop in income, but there could be negative credit consequences.
Questions you should ask before you roll your student loan into your mortgage
Before you apply for a mortgage to consolidate your student loan debts, you should ask yourself some questions — such as whether your income is stable, how long you'll be living in your home and whether you can increase your income to cover payments — and take time to honestly answer them.
Here are some things to think about before you add education loans to your mortgage loan balance: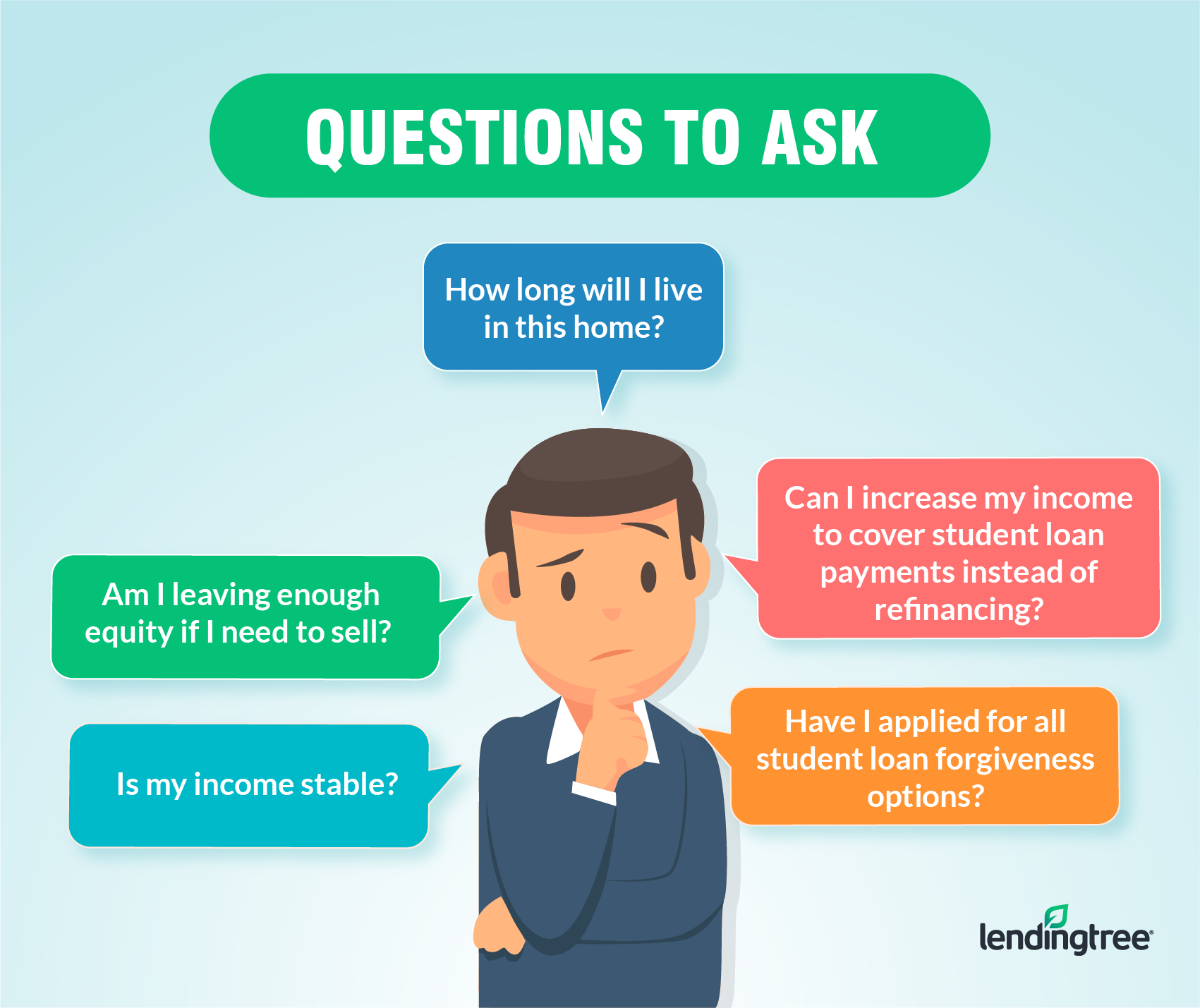 Once you've answered the questions, go back and review the pros and cons to figure out your best plan of action.
Final thoughts about using a mortgage to refinance a student loan
Refinancing a student loan into your mortgage is a short-term fix with long-term consequences that puts your home at risk of foreclosure if you fall behind on payments. However, defaulting on a student loan can have more long-term negative impact on your credit than filing for bankruptcy.
Before you make a final decision, consult with a trusted financial advisor. If rolling a student loan into your mortgage is your best option, be sure you shop around for your best terms for any home equity loan, HELOC or cash-out refinance you may be considering.