Top 10 Candidates for a Mortgage Refinance: Are You One of Them?
Published on: December 4th, 2018
Editorial Note: The content of this article is based on the author's opinions and recommendations alone. It may not have been previewed, commissioned or otherwise endorsed by any of our network partners.
Mortgage interest rates are on the rise, so is refinancing a bad idea? Not necessarily. the answer depends on how long you plan to stay in your house and the amount of equity you have built up so far. Refinancing isn't always about a better rate — perhaps you want to make improvements to your home, finance an education or boost your retirement income. Refinancing your mortgage could provide you with the additional funds you need.
What you need to know about refinancing
There are typically two reasons to refinance your mortgage. One is to lower your interest rate, and the other is to extract equity from your home. A cash-out refinance will replace your existing mortgage loan with a new larger mortgage loan, but you will receive an amount in cash that is the difference between the two loans.
There are upfront costs to refinancing, and you should make sure that if you refinance, you will be in your home long enough to gain from the savings to cover the refinancing costs. The LendingTree refinance calculator will tell you how long you will need to stay in your home after refinancing to break even.
Rising home values are encouraging refinancing
Homes have been going up in value in recent years, which gives people confidence that if they borrow against their equity it will not put them at undue risk because their properties will continue to increase in value.
In fact, refinanced property appreciation rose in the U.S. from 9% in 2016 to 14% in 2017, according to Freddie Mac. In the West, the median appreciation increased from 17% in 2016 to 23% in 2017, 8% to 12% in the South, 5% to 8% in the Northeast, and from 6% to 10% in the Midwest.
According to a report last year from the Joint Center for Housing Studies at Harvard University, "With national house prices rising sufficiently to help owners rebuild home equity lost during the downturn, and with both household incomes and existing home sales on the rise, we expect to see continued growth in the home improvement market."
Terms Apply. NMLS ID#1136
The 10 top candidates for refinancing
That brings us to our first candidates for refinancing: home fixer-uppers. But updating the kitchen is just one reason why you might be a good fit. LendingTree determined the top 10 candidates for mortgage refinancing in 2018 based on expert insights from LendingTree Chief Economist Tendayi Kapfidze. Are you one of them?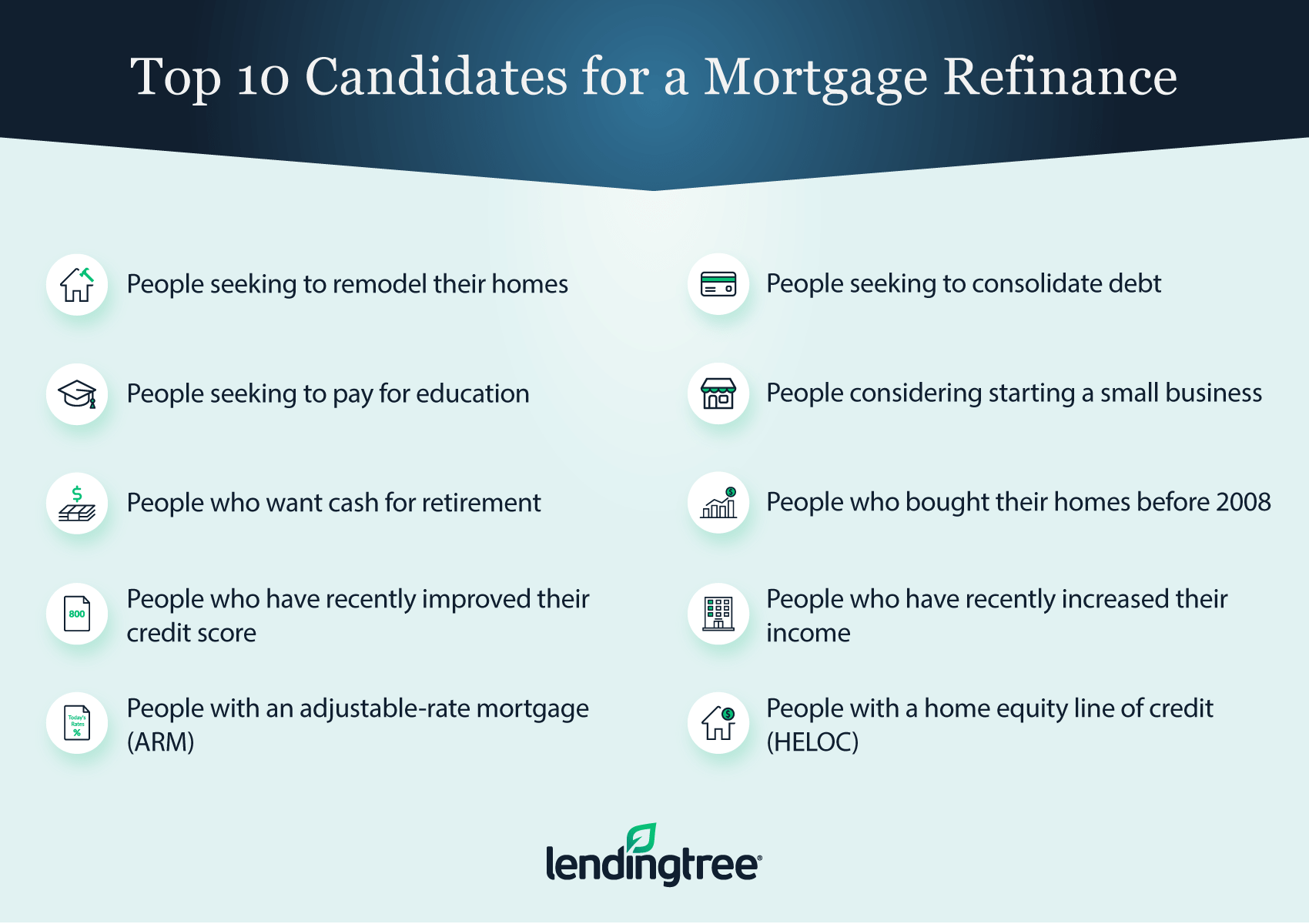 #1: People seeking to remodel their homes
Home improvements can be a wise investment; they have the potential to boost both your standard of living and the value of your home. But they require cash. If you have owned your home for a number of years, you have most likely built up a significant amount of equity, and a cash-out refinance might be a sensible way to obtain the funds to pay for supplies and contractors.
According to Kapfidze, "Right now, refinancing might leave you with a higher interest rate, but you can take take some money out from the value of your home and use that money for home renovations or home improvements."
#2. People seeking to consolidate debt
Are you finding it hard to pay off credit card debt? According to the U.S. Securities and Exchange Commission, credit card debt carries high interest rates, up to 18% in some cases. Refinancing your mortgage might help you to pay off your higher interest debt. It is true that refinancing now when interest rates are on the rise might leave you with a higher interest rate on your mortgage, but using cash from your home equity to pay off credit card debt could be a smart move to reduce your debt load overall.
Just be sure that your spending habits get back on course once the refinancing removes your current debt, otherwise you might find yourself in an even worse position – with a higher rate on your mortgage and increasing credit card debt.
#3. People seeking to pay for education
Unsecured debt, such as credit card debt, often has a high interest rate because there is no collateral to back it. By refinancing, you can consolidate your unsecured debt. This might improve your credit score making it easier for you to obtain other loans. Cash-out refinancing might give you enough funds to pay for an education rather than taking out a student loan for yourself or your children.
#4. People considering starting a small business
Have you been longing to become an entrepreneur? Now might be the time to cash out some equity from your home and live your dream. Starting a business could pay high dividends in the future. Depending on when you bought your home, according to Kapfidze, "Refinancing might leave you with a slightly higher interest rate, but you'll be able to take some money out from the value of your home and use that money for other purposes like investing in a small business."
#5. People who want cash for retirement
Perhaps your retirement income is a little less than you had planned, or you would like to enjoy yourself a little more now that you are retired. If you have been in your house for a significant amount of time, refinancing might give you a little more spending money in your pocket. "A cash-out refinance can be a good option because you get cash. With that cash, you can pay down your high interest debt and borrow money at a lower rate for many other types of loans." said Kapfidze.
One word of caution, however. If you refinance with a 30-year loan, depending on your age, you could be extending payments well into retirement, which would affect how much money you have to spend later in life.
#6. People who bought their homes before 2008
Interest rates have been on the rise recently. That means that there are fewer people who might be able to lock into a lower rate. However, if you bought your home prior to 2008 when interest rates were higher, you could find a lower rate in today's market. "There are a significant number of borrowers who could refinance and get lower rates," Kapfidze said. "A lot of these people are basically people who just haven't taken advantage of the opportunity to refinance over the past couple of years."
#7. People who have recently improved their credit score
If you bought your home when you had a lower credit score, you might have bought it on an FHA mortgage and are paying a mortgage insurance premium (MIP) to insure against default. But if your credit score has improved and your home has increased in value, you might be able to eliminate mortgage insurance via refinancing to a conventional loan.
#8. People who have recently increased their income
If you have strong cash flow, you might be able to afford a higher monthly payment on a mortgage. By refinancing to a short-term loan, you could pay down your mortgage quicker by tolerating a higher monthly payment. You might also qualify for a lower interest rate because of your stronger financial position.
#9. People with an adjustable-rate mortgage (ARM)
An ARM is a mortgage that will cost more each month as interest rates creep up. If you plan to stay in your home, consider a fixed-rate mortgage instead. "If you have an adjustable rate mortgage, you're exposing yourself to the risk that rates could move higher and your payments will reset at a higher amount," said Kapfidze. "If you want to remove risk and have the certainty of fixed payments, then refinance into a fixed loan."
#10. People with a home equity line of credit (HELOC)
While many people are taking advantage of HELOCs for debt consolidation, they do come with significant risk. HELOCs are attractive options because the money can be used for any purpose. However, HELOCs typically have adjustable interest rates that will rise. Some have caps, and some banks may offer the option to convert to a fixed-rate loan, but unless the money borrowed is used to make significant improvements in the home, the interest paid is not tax-deductible. Think about paying off a HELOC while interest rates are relatively low.
Options for refinancing
According to Freddie Mac, there are three ways to refinance:
No cash-out refinance. This option is a good idea if current mortgage rates are lower than the rate on your existing mortgage. This is unlikely unless you bought your home prior to 2008. If current rates are lower than your interest rate, refinancing could reduce your monthly payments and the total amount of interest that you'll pay over the life of the loan. Remember to factor in closing costs and consider how long it will take you to break even on those costs.
Cash-out refinance. This option allows you to swap one mortgage for another but to net cash if you have significant equity in your home.
Home Affordable Refinance Program (HARP). If you don't have much equity in your home, you may not qualify for a no cash-out refinance. However, according to Freddie Mac, HARP could help. Since 2009, Freddie Mac has funded $1.8 trillion of refinance mortgages and saved homeowners an average of $2,500 per year, or around $200 per month. The deadline to get a HARP refinance is Dec. 31.
Will interest rates continue to rise?
Interest rates are on the rise, and Kapfidze explains that this trend is expected to continue. "There is a bias toward rising rates for a couple of reasons. One is that the unemployment rate is particularly low, the economy is reasonably strong, and we had this huge stimulus from the tax bill," said Kapfidze.
Additionally, expected increased government spending this year is creating fiscal stimulus, which increases rates in two ways, according to Kapfidze. "The real economy is going fast, so you tend to see interest rates increase," he said. "The other way is there's going to be an increase in the level of government debt. So, the government is going to have to borrow more money and, typically, that means rising interest rates."
Kapfidze also notes a third factor that is putting pressure on interest rates, and that is inflation. There has been an increase in the price of oil over the past year, and price increases are expected in consumer products, from cars to lumber to washing machines, for example.
The government has been keen on tariffs, which are really taxes. "Anytime you add a tax to something, you make it more expensive. So, there is some upward pressure on prices that typically will translate into high interest rates as well." said Kapfidze.
Terms Apply. NMLS ID#1136
An aggressive refinancing market is good for the borrower
If you still are doubting the wisdom of refinancing consider this:  Because interest rates are rising and fewer people recognize the value in refinancing, the refinancing market is more competitive.
"It's more rewarding than ever to shop around because lenders are competing for business," said Kapfidze. "This aggressive market means that lenders are looking for volume, and borrowers can still get a better rate even more so now than when business was booming for the lenders."
In the current climate, interest rates and prices are expected to increase, but many homeowners can benefit from refinancing. By doing so, they might gain financially from an entrepreneurial venture, fund an education, update their home or enjoy a more comfortable retirement.