LendingTree Ranks Cities With the Highest Use of Reverse Mortgages
Published on: February 15th, 2018
Editorial Note: The content of this article is based on the author's opinions and recommendations alone. It may not have been previewed, commissioned or otherwise endorsed by any of our network partners.
Borrowers took out an average of $140,000 on reverse mortgages over the past five years.
Areas with high home prices originate more reverse mortgages. The bottom 10 have an average home price of $172,000 compared with $391,000 for the top 10 cities.
There is an opportunity for homeowners to meet their financial goals by utilizing reverse mortgages as current utilization is low.
Most people experience a mortgage as the largest outflow of money from their bank account each month.
What if your mortgage put money into your account instead?
A reverse mortgage does just that. By allowing homeowners to access the equity in their homes that they've built over years of ownership, reverse mortgages have become an increasingly popular way for Americans to supplement their retirement funds. The borrower does not need to repay the loan until he or she dies or moves from the home as long as he or she lives in the home, maintains the home in good repair, and pays real estate taxes and homeowners insurance, according to the Consumer Financial Protection Bureau.
In areas of the country where home values are rising, thus increasing the amount of equity for homeowners, reverse mortgages may be a viable option for homeowners looking for an additional income stream. That being said, reverse mortgages have also become something of a controversial topic, as they carry additional costs that can potentially outweigh the financial benefits.
To find out where in the U.S. reverse mortgages are most popular, LendingTree looked at reverse mortgage data for the past five years (2012-2017) from the Federal Housing Authority's Home Equity Conversion Mortgage (HECM) — the primary way that homeowners access reverse mortgages that also have government insurance.
We compared the number of HECM to the number of homeowners more than 60 years old and calculated a ratio of how many reverse mortgages originated per 1,000 homeowners in the 100 largest cities. Eligibility for the HECM reverse mortgage begins at age 62.
Before digging into the study results, there are two important dollar values associated with a reverse mortgage that we also looked at:
The Maximum Claim Amount is the highest value the FHA will insure for a reverse mortgage balance. It is the lower of the appraised home value or the FHA lending limit, currently $679,650.
The Initial Principal Amount is the proceeds the borrower receives from the loan. It is set by the amount of equity the homeowner has and rises to the maximum claim amount as interest charges are added over the life of the loan.
Here's what we found out:
We found that HECMs originated in our 100 cities at an average rate of 7.1 loans per 1,000 homeowners over 60 years old. There was wide variation among the cities, from a high of 13.8 in Virginia Beach to a low of 0.3 loans per 1,000 in Pittsfield, Mass.
The initial principal amount averaged $140,000 and ranged from a high of $359,000 in San Jose to $70,000 in Youngstown, Ohio.
The maximum claim amount averaged $232,000 and ranged from a high of $577,000 in San Jose to $117,000 in Wichita Falls, Texas.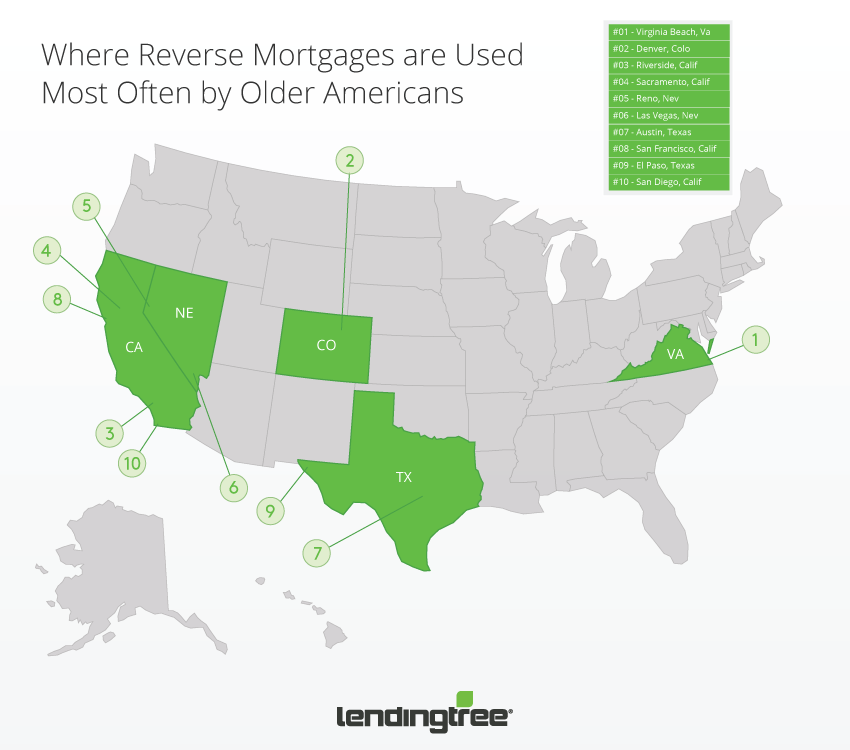 Our top city is a surprise.
Virginia Beach topped the ranking with 13.8 loans per 1,000 homeowners over age 60. Having available home equity is a basic requirement for a reverse mortgage and Virginia Beach's median home value of $224,000 is below the national average.
California markets dominate the top 10.
Four of the top 10 were in California, where homeowners typically experience high rates of home price appreciation. Prices in the four California cities – Riverside, Sacramento, San Francisco and San Diego – increased 9% in the third quarter in 2017 from the same time last year, well above the national average of 6%. Over the years, sustained appreciation has left these homeowners with ample equity to access in retirement years.
Other western cities complete the top 10.
Denver plus two Nevada cities, Las Vegas and Reno, contribute to the western bias at the top of the rankings. Like the California cities, Denver has higher prices, with a median value of $418,100.
Regional clusters are evident through the data as Texas also had a strong showing.
Two Texas cities, Austin and El Paso round out the top 10 with Dallas and Houston not far behind at 17 and 24. From Dallas and below, all the cities had originations of under 10 reverse mortgages per 1,000 homeowners. Since we are looking at five years of data, most cities (63) have reverse mortgage utilization of under two loans per 1,000 per year.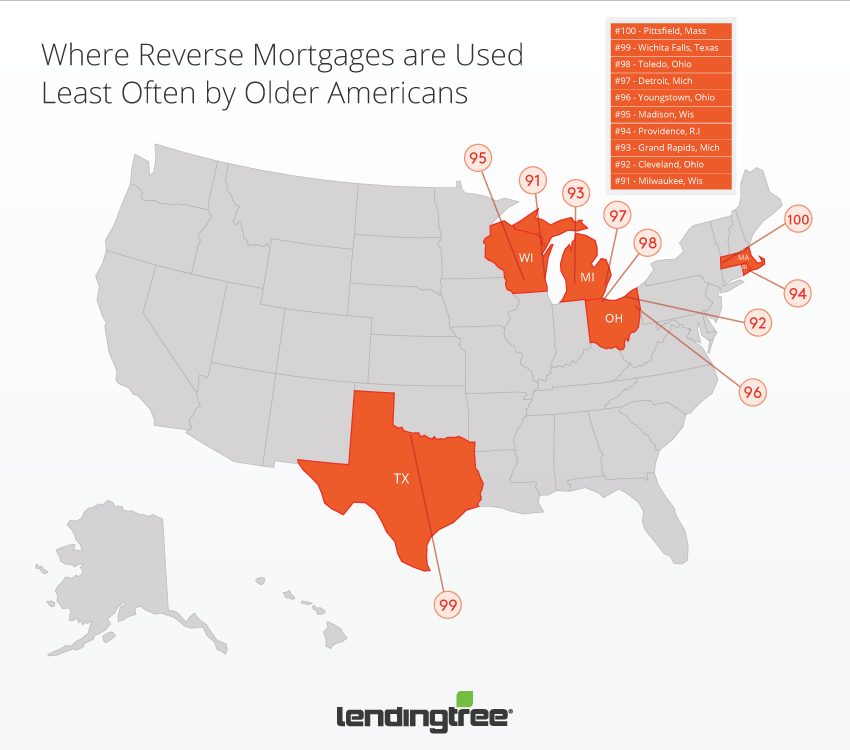 Rust Belt lags in reverse mortgage use.
At the other end of our list, three states battled it out for the title of fewest reverse mortgages. Ohio, with three cities (Cleveland, Youngstown and Toledo) beat out Michigan and Wisconsin with two cities each. These Rust Belt locales have not experienced sustained periods of robust home price appreciation and homeowners may not have accumulated a level of home equity to take out reverse mortgages. The colder weather in these states could also mean homeowners are more likely to move to warmer climates for retirement, whereas in a state like California, homeowners who have accumulated equity may be inclined to stay for the quality of life.
Home prices matter.
The bottom 10 have an average home price of $172,000 compared with $391,000 for the top ten cities. A higher home value means homeowners are more likely to have sufficient equity to access a reverse mortgage.
28 cities originated less than one reverse mortgage per 1,000 homeowners per year.
Albuquerque, ranked 73, originated 4.9 reverse mortgages per 1,000 homeowners over 60 each year over our five-year sample. Thus, those in the bottom 28 cities were taking out less than one reverse mortgage per year.
Our findings show that there is an opportunity for homeowners to meet their financial goals by utilizing reverse mortgages. Even the cities at the top of our rankings have quite low HECM volumes. Let's look at the topic in a little more detail.
What common concerns lower the utilization rate and how can borrowers navigate them?
There are several reasons reverse mortgage uptake is low.
Risk aversion: Many older Americans are concerned about losing their house or would like to ensure they have assets to bequeath to their heirs. At death, an HECM is closed out either by the lender taking possession of the property (if the value owed is greater than the home value) or the heirs paying off what's due on the mortgage. In both cases, the borrower or their heirs receive the full value of the property.
High delinquencies: The default rate on reverse mortgages has been historically high. Defaults were driven by borrowers missing out on paying their insurance and taxes, a weakness in the design of the product. Reforms in 2015 now require better underwriting of HECMs to ensure that borrowers can meet their insurance and tax obligations. If a borrower does not have enough income to do so, part of the loan proceeds are placed in a Life Expectancy Set Aside (LESA) account, which will be used to meet these expenses. While the borrower receives less proceeds, he or she is protected from the risk of falling behind on insurance and taxes.
Scams: Reverse mortgages have a bad reputation as being more prone to scams than the typical forward mortgage. This is in part because they are a poorly understood complex product that is used by a small proportion of the population. Borrowers should make sure that their lender is listed by HUD and their loan officer is registered.
Jumbos could carry more risk: Our study considered the FHA's HECM product, but there are also less regulated jumbo reverse mortgages (above the HECM limit of $679,650). This segment of the market is more prone to abuse and riskier for borrowers. Disadvantages of jumbo reverse mortgages include:
Counseling not required (so applicants are expected to already understand what they are doing)
Fees not restricted
Market is highly-fragmented, so shopping and comparing may be more difficult
Rates and fees may be higher
Creative features like equity sharing may be costly if not understood
Fewer protections from foreclosure
Still, even with jumbos, borrowers can check the status of their loan officer and lender to ensure they are dealing with reputable parties.
For homeowners considering a reverse mortgage, it is imperative to fully understand the product and consider the pros and cons.
How do you get a good deal on a reverse mortgage?
A reverse mortgage is a significant financial transaction so it's important to search for the best possible loan. The first thing to consider is the amount you can borrow. The initial principal limit is calculated using the appraised value of the home, age of the youngest spouse (even if not the borrower) and the interest rate. The older you are and the lower the interest rate, the greater the initial principal limit will be.
There is special consideration for lines of credit. A reverse mortgage line of credit will increase in an amount of the interest rate multiplied by the unused credit. Some borrowers may want a higher interest rate if they do not anticipate using the line of credit for a number of years. This can be a tricky calculation as the break-even point (when the balance grows enough to offset the lower initial principal limit) on the higher interest rate can come many years in the future. The conservative option is to always target the lowest interest rate.
The other consideration is the fees and other costs to borrow (such as an appraisal fee). These can be substantial, so borrowers should shop around. Ultimately, borrowers should look for the lowest rate and fees they can find.
Why should older homeowners consider a reverse mortgage?
The timing is good. In areas of the country where home values are rising, thus increasing the amount of equity for homeowners, reverse mortgages may be a viable option for those looking for an additional income stream.
Seniors are also more likely to own homes today, meaning they're also more likely to have enough equity to make a reverse mortgage a feasible option.
The homeownership rate for seniors ages 65 and older was 79% in the third quarter of 2017, according to the U.S. Census, compared with an overall rate of 63.9%.
You need an alternative income stream as you reach retirement. Despite nearly two-thirds of American households owning their primary residences, just over half (52%) had retirement accounts.  A reverse mortgage could help homeowners meet their financial goals and improve their quality of life given trends like rising health care costs, and the precarious status of many pension and social assistance programs.
You like increased financial flexibility. An HECM can be helpful in timing different financial flows, such as when to access retirement investment funds or social security. For example, a borrower could use HECM funds to wait out a decline in the stock market or delay Social Security benefits to maximize their value. A borrower can also eliminate their forward mortgage payments and increase their disposable income. Thus, taking out an HECM as a line of credit can be a prudent financial move, including for borrowers who do not have an immediate need to use the cash.
The costs don't outweigh the benefits. Any decision around a reverse mortgage should all lead back to the math. If it will cost you more to complete a reverse mortgage than the financial benefits, then it's not worth the trouble. Consult a trusted financial planner or adviser before you make any decisions about a reverse mortgage.