How Much Does an African Safari Cost?
Updated on: December 13th, 2019
Editorial Note: The content of this article is based on the author's opinions and recommendations alone. It may not have been previewed, commissioned or otherwise endorsed by any of our network partners.
If you have an appetite for adventure, an African safari can be a thrilling way to see exotic animals up close. But the cost of an African safari could run you anywhere from $4,930 to $42,750 per person for an all-inclusive 10-day trip — and there's really no ceiling to the cost of a safari, according to safari planners.
Your African safari cost breakdown
The cost of going on an African safari, 10 days
Flights
$670 to $1,750+ per person
Accommodations
$400 to $4,000 per night
Visas
N/A to $150 per person, per country
Vaccinations
$10 to $350 per person (or more in certain circumstances)
Tipping
$25-$50+ per person, per day
Total:
$4,930- $42,750 per person
Flights: $670 to $1,750+
Flights to Africa are long and pricey. Depending on your travel dates, you'll spend close to $1,000 or more, and you'll likely spend an entire day in the air.
Travelers flying from the U.S. to safari destinations in Africa might consider traveling through Nairobi, Kenya or Johannesburg, South Africa, two popular airport hubs for safari vacationers. If you want to see primates in Uganda, you could fly into Nairobi's Jomo Kenyatta International Airport. To glimpse the Big Five game animals in Botswana, Johannesburg's OR Tambo International Airport may be your ideal gateway.
The flight prices in the table above are sourced from major hubs like Chicago, Los Angeles and New York, the latter of which has multiple airports, making flight prices competitive. If you need to fly out of another airport, you'll likely have to budget for higher flight costs.
Accommodations: $400 to $4,000 per night
Many safari excursions are offered on an all-inclusive basis. While it's possible to book your own hotel, rent a car, pay park fees and pay for a private guide, it's hard to say how much that would cost. So for the purpose of this analysis, we'll stick with all-inclusive safari excursions.
When you go through a safari outfitter, you don't have to do all the research, preparation and groundwork that's required to properly plan a safari. All-inclusive safaris cover the costs of park fees, food, drinks, local transportation and more.
If you think that $400 to $4,000 per night is an exceptionally wide range, you're right. There are many factors that go into the cost of a safari, including:
The number of countries on your itinerary
The infrastructure within those countries
Whether you go during peak season or off season
The level of privacy and exclusivity you prefer
Some of the most desirable safari locations have the least amount of infrastructure. For example, it's more difficult to get around in a sparsely populated country like Botswana, but you have the benefit of being able to immerse yourself in the local ecosystem.
When you pay more for a safari, you're paying for privacy and exclusivity. And when you pay less for a safari, you might have to compete with other tourists to get around, which can take away from the untamed allure of safaris.
Plus, safari tourism is good for the local economy, and many outfitters focus on conservation of the regional wildlife. You'll have peace of mind that you're not having a negative impact on the natural beauty of the place you traveled so far to see.
Visas: Up to $150 for a single visa
When you're planning your safari, keep the cost of visas in mind, particularly if you plan to visit multiple countries. Since you have to pay for visas on a per-person visa, this cost can easily add up for big families.
Some countries, like South Africa and Botswana, don't require visas. You can use the U.S. Department of State's website to determine if you'll need a visa and view any other relevant travel notices.
You can also get an East Africa Tourist Visa for $100, which allows travel to Kenya, Uganda and Rwanda. Be careful when planning while using this visa, because you must enter the country that issued the visa first. For example, if you buy an East Africa visa through Kenya, you must enter Kenya first on your trip.
Vaccinations: $10 to $350 for required vaccines
While some vaccines may be recommended, one is required. According to the World Health Organization, several African countries ー including the Democratic Republic of the Congo, Uganda and others ー require that you show proof of a yellow fever vaccination before you're allowed entry.
To determine if you need any other vaccines before your trip, you'll have to consult with your doctor. For an estimate, you can use the CDC's travel tool to see which vaccines are recommended for your itinerary.
The cost of your vaccines will vary widely and will depend on:
If you have health insurance
Which countries in Africa you are visiting
If you have had some of the recommended routine vaccinations already
Vaccines are considered preventive medicine, so most will be covered by your insurance. According to the Centers for Disease Control and Prevention, you might need to get one or more of these vaccines before you embark on your safari:
You should also be up-to-date on all other vaccinations, including:
Measles-mumps-rubella (MMR) vaccine
Diphtheria-tetanus-pertussis vaccine
Varicella (chickenpox) vaccine
Polio vaccine
Yearly flu shot
Don't wait until the last minute to get vaccinated for your trip. The CDC recommends that you get vaccinated at least a month before your trip to build immunity, and because some vaccines require several rounds of shots.
Tipping: $25 to $50+ per day
Just like in the U.S., tipping in Africa is customary. However, it's also a personal decision based on the level of service you've received. Elizabeth Gordon, co-founder of travel agency Extraordinary Journeys, recommends budgeting up to $1,000 for tipping alone when planning your trip, depending on the accommodation you choose and the amount of people in your party.
Here are some basic tipping guidelines that her company distributes to clients:
At your lodge …
Safari guide: $15 per day. If you have a guide and a tracker, then the guide should be given about twice as much as the tracker ($10 and $5 per day, respectively).
Safari camp staff: $10 per traveler per day.
While you're out and about …
Wait staff: 10% of the total bill.
Hotel staff: $5 per person per day, with an additional $5-$10 per day if you have butlers.
Drivers (intra-city transportation): $5-$10 for short transfers, or $10-$20 for long rides/large groups.
Drivers (day tours): $10 per person for a full day.
You can tip in U.S. dollars in most countries, but the rand is preferred in South Africa. According to Gordon, many service workers prefer tips in U.S. currency because it's less likely to fluctuate and lose value than local currencies. You may be able to tip on a credit card in some camps, as well.
How to cut down on costs without sacrificing quality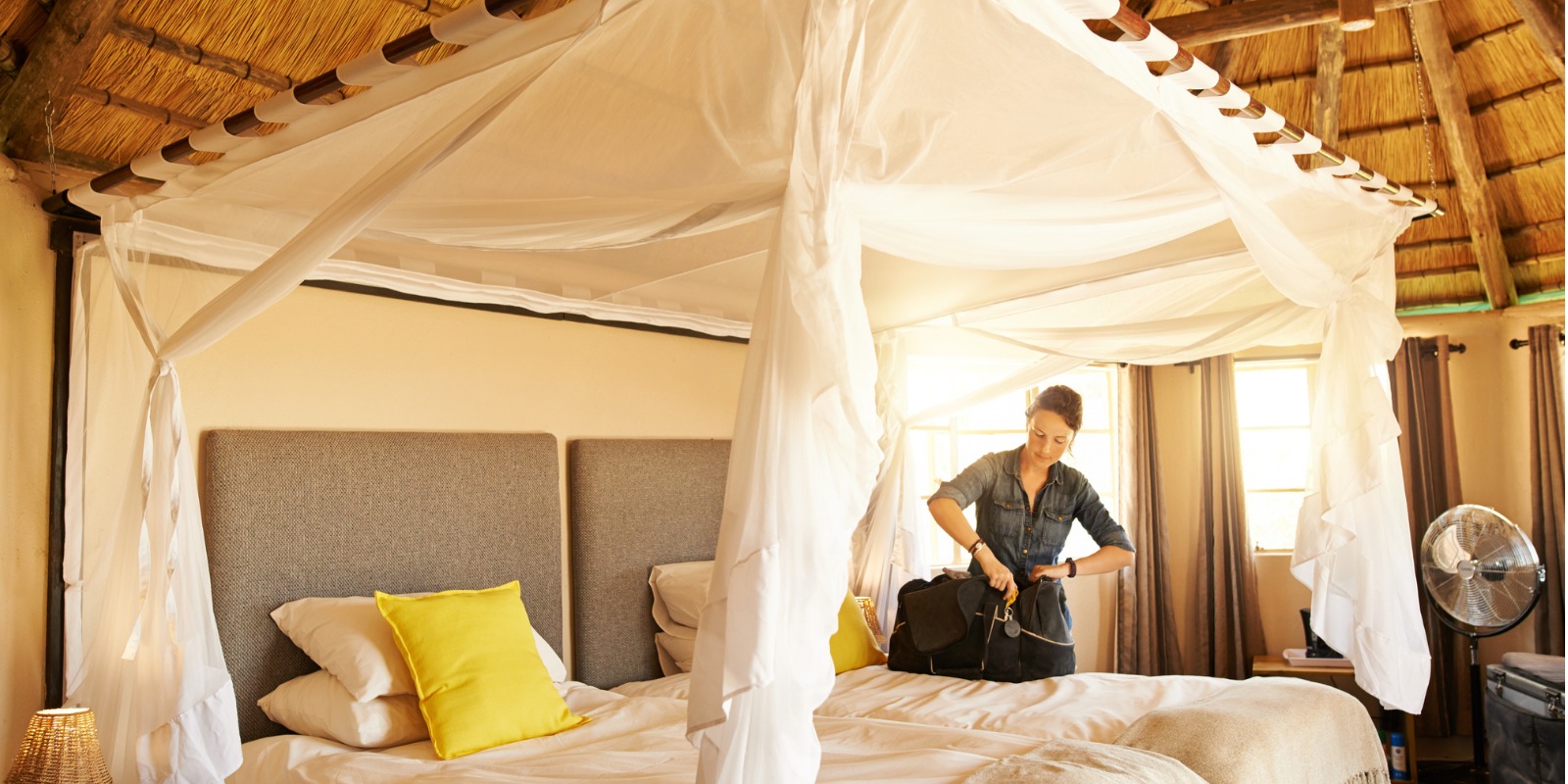 Go during the low or green season
This tip is a no-brainer. If you're flexible with your dates, you could pay up to 60% less if you plan your trip during the off-season (November through May) than you would during peak season (June through October).
If you go in the low season, you also might find it easier to secure accommodations. The national parks and private reserves might also be less crowded — however, the weather is generally hotter and rainier.
Choose one destination you really want to explore
Some travelers might scoff at the idea of traveling all the way to Africa just to stay in one country. But according to Gordon, it's not like travelling to Europe, where it's simple to hit many capital cities in one trip. When traveling for a safari, you might be better off getting acclimated to one location.
If you want to go to the beach, you don't change beaches every two days," Gordon said. "My mom likes to say, 'the sand won't change that much.'"
There are a few upsides to this:
You'll save money on expensive regional travel.
You'll get to settle in and become acclimated with an area's culture and wildlife.
You might have a better chance at seeing the diversity of an ecosystem if you stay longer.
When you're enjoying your safari, it's advised to slow down and soak in the environment around you.
Book multiple locations through one safari outfitter, and look for deals
Some safari companies own camps in multiple countries across Africa. If you book through that outfitter exclusively, they might cut you a deal for your loyalty.
You'll also want to shop around for any specials that particular outfitters might be offering. "Some camps have honeymoon specials, like 50% off for the bride. So you're essentially saving 25% of the total cost," said Kota Tabuchi, managing director at Travel Beyond, a travel agency.
Paying for an African safari trip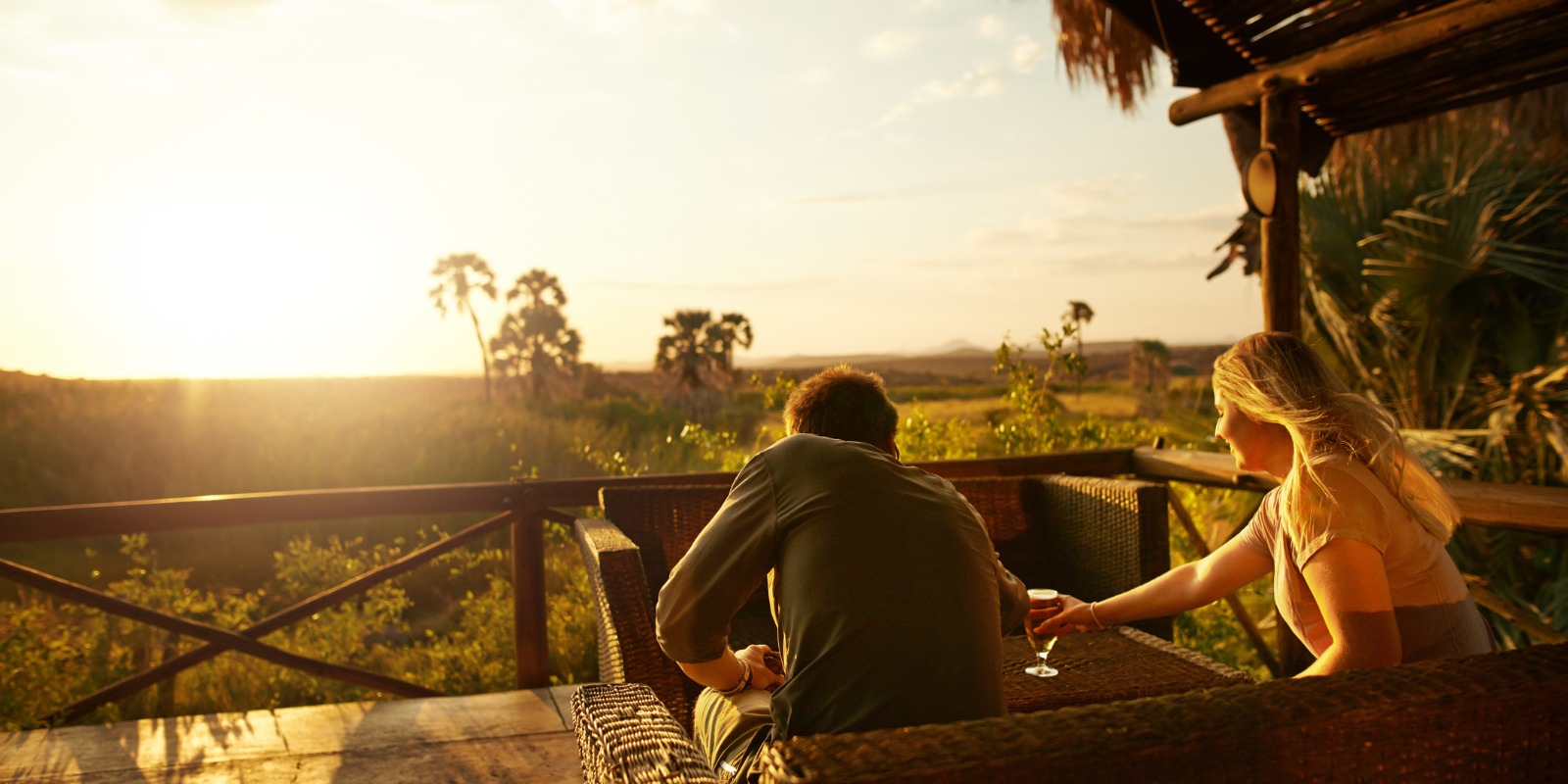 Make room for a vacation fund in your budget
By now, you likely realize that a safari isn't exactly a budget trip, but a bucket-list vacation. To make sure it's everything that you've dreamed of, you'll need to start budgeting well in advance to ensure you have the funds to go on the safari that you really want.
If you haven't started budgeting your finances, now is the time to start. Figure out how much money you'll need for your safari, and put aside a set amount of money over a period of time until you've reached that goal.
It's never advised to take out debt for something non-essential like travel, so creating a vacation fund is the best way to pay for a safari.
Use a credit card that rewards travelers
Responsible credit card users, listen up: You could earn points, travel miles and cash back by using your credit card the right way (meaning that you don't carry a balance, so you don't pay interest charges). And if you maximize your rewards with a travel credit card, you could end up paying for a portion of your vacation with points and airline miles.
Many rewards cards also have a 0% introductory APR period and no annual fees. If you fail to repay your balance before the introductory period ends, though, you'll be slapped with interest charges from the original purchase date.
Keep in mind that this option is best left for those with strong credit, because those with low to no credit will have a hard time qualifying for rewards credit cards. It would take you a lot of credit card spending to rack up enough rewards to make a dent in your safari budget, so be wary of overspending just to get points. Only take out debt that you can afford to pay back on time, or else you could be left with sky-high interest rates on credit card debt.
Shop for a travel loan
If you feel confident in your ability to repay a loan over a set period of time, you could consider taking out a travel loan to finance your safari. Read on to see the pros and cons of using a personal loan for your vacation:
At the end of the day, it's still not advised to take out debt for unnecessary expenses like vacations. And you should never take out debt you can't repay. But now that you know exactly how much it costs to go on an African safari, you're a little closer to seeing the Big Five up close.