Costs to Repair Damaged Car Paint
Published on: July 18th, 2019
Editorial Note: The content of this article is based on the author's opinions and recommendations alone. It may not have been previewed, commissioned or otherwise endorsed by any of our network partners.
Fixing your car can put a major dent in your finances, especially if you have few or zero savings for emergencies. While insurance can cover many regular repairs, the cost to fix a scratch on a car or similar damage may not necessarily fall under insurance coverage. Depending on the damage, you might be required to make payments out of pocket, from as little as $50 to  thousands of dollars. In fact, estimates for car paint repair costs can range from $150 for minor scratches to $7,500 or more for showroom-quality paint jobs.
There are many things that can influence the cost of damaged car paint. Car paint repairs vary based on a number of factors, including the type of car you have and the extent of the damage. Before you settle on repairs, make sure you know what's included in determining the cost.
4 factors that can affect car paint repair costs
While a dollar amount or range can help you determine if you should get paint repairs for your car, it's not that easy to calculate.
In general, a car painting job takes about five coats of paint. There are usually two coats of primer or base paint, two coats of color, and a final clear coat. Each coat requires prep work and drying time before the next step can begin.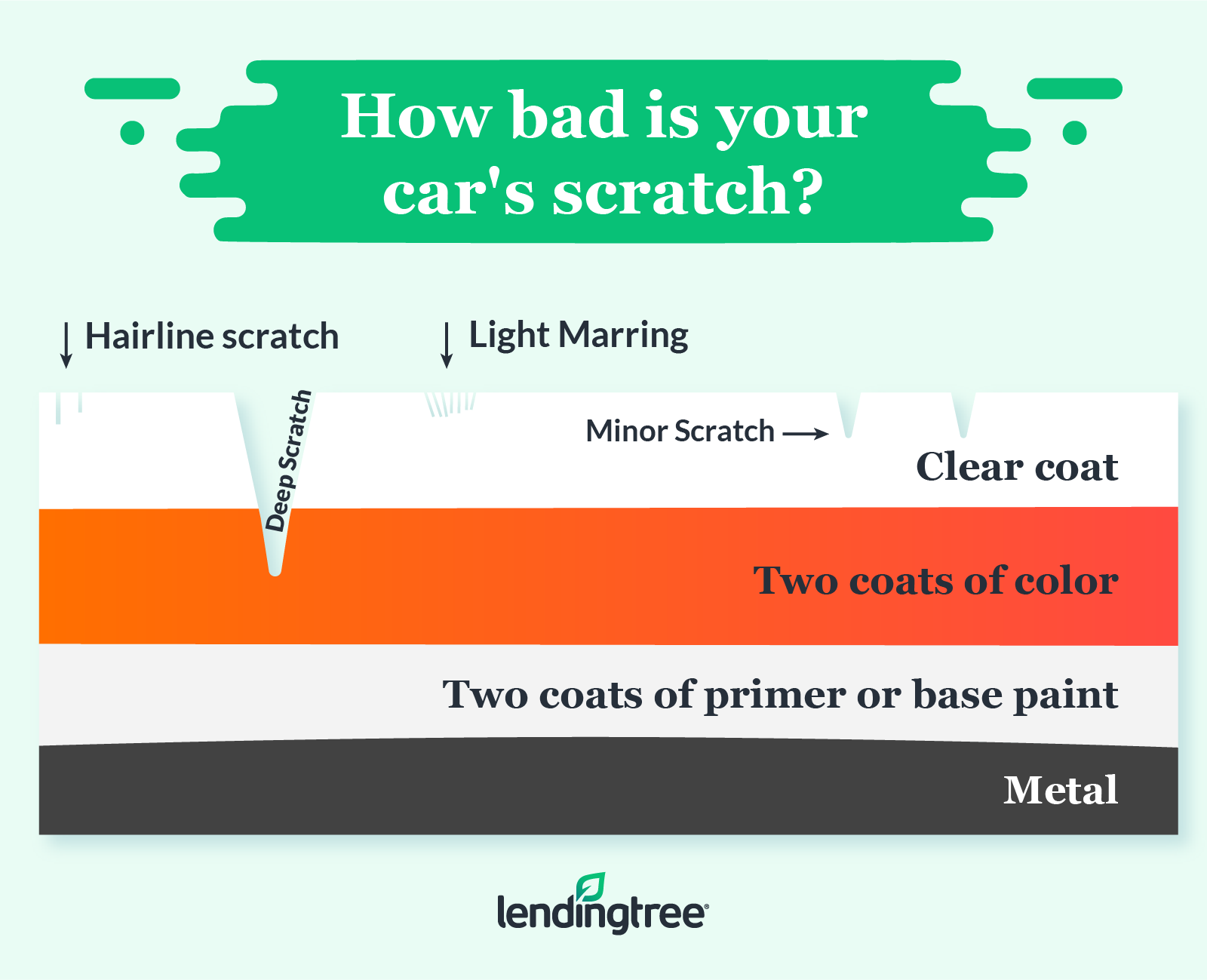 Jake Shuffstall, store manager for the Carolina Auto Body location in Fort Lauderdale, Fla., says that many different factors go into pricing out repairing damaged car paint. "The clear coat is peeling, someone keyed your car, or even sun damage can affect the paint," Shuffstall says. "Maybe the car is old or the paint is cracked from a previous paint job."
The more extreme or deep the paint damage is, the more you can expect to have to pay to repair it. There are a few things that auto body shops consider when fixing the paint on your car:
1. The car: It's no secret that different kinds of cars come with different car repair costs. And that holds true when it comes to car paint repair jobs. "The price to fix a fender on a sedan like a Toyota Corolla versus a truck like a Tundra are completely different," Shuffstall says. The bigger your car, the more surface area that may need to be repaired.
2. The color: Like it or not, the color of your car can affect its repair costs. For example, Shuffstall says pearl paint requires an extra step in paint mixing, which can add more to the overall cost. Additionally, if your car is a luxury brand like a BMW or a Mercedes-Benz, the paint job will likely cost more. That's because many of the colors that cost more from the factory have added metallic flake or a pearl finish that makes them more costly to produce, and more difficult to apply.
In some cases, even for non-luxury models, some colors are so specialized that they can only be found at the manufacturer. That means that the cost of the raw materials to make your car look great again will be higher.
3. Previous paint jobs: If you've had paint work done on your car before, it might be causing damage to your car. "Some places use tape to cover parts instead of removing them," Shuffstall says. "This gives dirt and residue a chance to get inside and damage the paint from underneath."
Some mechanics, however, may remove the handles, mirrors and moldings prior to painting to ensure the clear coat is secure. It may cost more money up front but keeps the car from needing extensive paint work in the future.
4. The damage: A light scratch is vastly different from dents and serious body damage. Where the damage is on the car matters, too. A little scratch could take as little as a couple of hours to repair. A big scratch could be half a day. Major damage could keep you out of your car for weeks. Special paint or fixes may mean a higher price tag when it comes time to pay.
There are different depths of paint damage to consider, too. Some scratches only go through the very top level of the clear coat, while others go all the way down to the metal. The depth of the scratch determines how much work a body shop will need to do to repair it.
Ways to cover the cost of a car paint job
Insurance
Having car insurance can save you a bundle when you're getting paint repaired. Some repairs are covered by insurance and regardless of cost, means it's less money out of pocket for you.
When it comes to repairing car paint, some things are covered under insurance while others are not. In general, if you have comprehensive insurance coverage, it's likely that the repair will be covered. You'll need to meet your deductible first, however.
Some of the common types of paint damage that are covered under comprehensive insurance coverage include:
Vandalism
Paint damage as a result of theft
Fire
Natural disasters
Water damage
Falling objects
Damage from striking an animal
Civil disturbances such as riots
Insurance does not cover regular wear and tear, sun damage, rust or peeling paint.
You'll need to read your insurance documents closely if you are seeking to repair your paint as a result of an accident. The party at fault is generally responsible for the cost to repair paint damage, but it makes sense to check with the insurance company to be sure.
Remember you can always negotiate with your car insurance company to reduce your out-of-pocket costs as well.
Is this a good option for you? Remember that not all insurances cover paint repair, or the same level of severity, as others. So, you may be on the hook for the repair cost of a minor car paint scratch. Review your insurance policy or talk to your agent to see what's covered.
Paying with cash
Paying cash is relatively easy but you may want to check with your auto body shop before deciding if that's the right way to go.
Shuffstall says that for security purposes, body shops don't prefer cash payments. And it makes sense, since debit or credit card payments have a transaction history to prove payment.
Is this a good option for you? Unless you're in a predicament such as not having a bank, avoid paying with cash. A paper trail is important for both you and the auto body shop.
Credit card
Paying with a credit card is a simple way of getting your repairs completed and paid for without coming up with the money beforehand. In case of an emergency, credit cards are a helpful way to pay when you wouldn't otherwise be able to afford it and need access to fast cash.
But make sure you can make timely payments. A low-interest credit card means you can make charges to your card without interest adding up. If you have extensive paint damage done, the less interest you tack on, the better.
If you don't have a credit card with a 0% interest payment, or your sign-up offer has passed, you should still make sure you can afford the minimum monthly payments due on the card. Falling behind on credit card payments can cause your credit score to plummet. If you can't afford the monthly expense, you may want to skip using a credit card.
Is this a good option for you? Paying with a low-rate credit card is one of the best ways to pay for an emergency, including car repairs. This assumes, however, that you can repay the balance in full before the promotional period ends. If you need a longer repayment period, a personal loan may be an option to consider. Depending on your credit score, you could land a lower rate than you would pay on a credit card.
Personal loan
Taking out a personal loan is another option to cover the cost of repairs without using your credit card. Credit card interest rates tend to be higher than personal loan interest rates, which could mean you'd be saving much more when you repay your loan.
Not everyone qualifies for personal loans, which could hold you back from getting one to pay for paint repairs. However, if you qualify, compare the interest rate to your credit card's. If it's lower, consider taking advantage of the offer. Be mindful that you'll need to pay back your loan by the end of the repayment period laid out in your terms. If that's not doable, you may want to consider finding other payment options.
Is this a good option for you? Paying with a personal loan is a good option if you can afford it. Many times, car repairs come up without notice and it can be hard to consider alternative payment options if you don't have much money. But if you have the time, see if you can take out a personal loan to cover your car paint costs.
Bottom line
Paying for damaged car paint isn't on anyone's list of fun things to do. But it could be necessary. If you're trying to pay for a new paint job — whether it's a little scratch or a big dent — the expense could be huge.
As you're researching where to get paint work done for your car, remember to keep tabs on how you'll pay for it. It's easy to get overwhelmed by the change in your routine, but keeping a level head and making sure you can afford to pay the costs is important.
This article contains links to CompareCards, an affiliate of LendingTree.