Hiking the A.T. Costs About $1,000 Per Month: Here's How to Do It For Less
Published on: August 16th, 2019
Editorial Note: The content of this article is based on the author's opinions and recommendations alone. It may not have been previewed, commissioned or otherwise endorsed by any of our network partners.
You'll need about $6,000 to cover costs to hike the Appalachian Trail (A.T.). This is just an estimate, however, because the cost to hike the Appalachian Trail depends a lot on how long it takes you.
According to conventional wisdom and the Appalachian Trail Conservancy, it costs about $1,000 a month and typically takes about six months to through-hike (hike the trail from end to end) all 2,190 miles of the Appalachian Trail, which extends from Spring Mountain in Georgia to Mount Katahdin in Maine. Here's how you can save money on your hike, as well as how to fund it.
How much it costs to hike the Appalachian Trail
There is an adage, "hike your own hike," which means go at your own pace and accomplish what you came out to do. Some people hike the Appalachian Trail as an athletic feat, while others treat it as an outdoor vacation or a way to find mental peace.
Depending on what you already own and what you set out to do, how much you spend on your hike can differ greatly. To help you create a budget, though, here is an overview of what costs to expect when through-hiking the Appalachian Trail.

Steve Chase, a two-time Appalachian Trail through-hiker, said that on both completions of the trail he spent around $4,000, not including gear. He estimated that to get gear from scratch, one might spend $1,500 to $2,000, but that you could spend as much or as little on gear as you want.
Cost of segment hiking vs. through-hiking
The cost of hiking the Appalachian Trail will also depend on how you do it. You could hike the entire Appalachian Trail by segment hiking — completing one segment of the trail at a time — rather than through-hiking, which is doing all 2,190 miles of the trail in one trip. There are pros and cons to both approaches, so it really depends on what's better for your situation.

Dr. John McHugh is an Appalachian Trail segment hiker from Gastonia, N.C., who can attest to the expenses of segment hiking. "My biggest expense is a hotel room for my shuttle driver. My wife comes with me and stays in town while I'm on [the] trail," McHugh said.
After lodging, his second biggest expense is gas. The more segments he completes, the farther away the next segment is.
However, as a dean at Gaston College, McHugh said that segment hiking allows him to take advantage of the summer schedule to hike.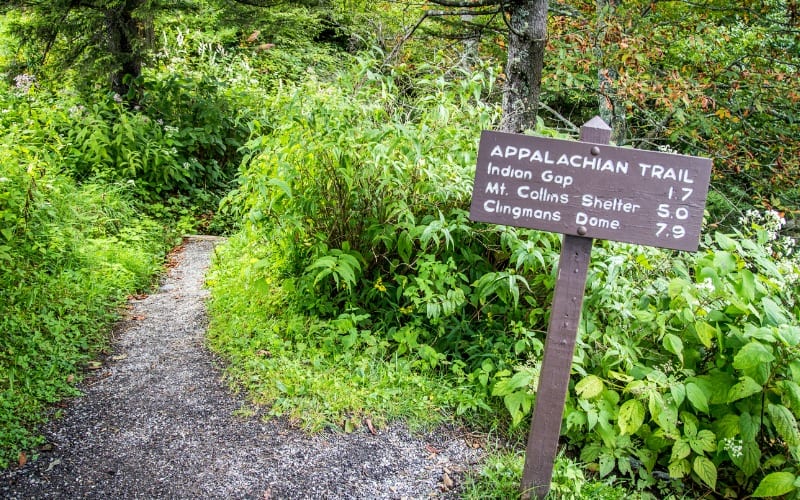 How to get (and save on) Appalachian Trail essentials
Not sure how to get the essentials you need to hike the Appalachian Trail? Here are details on how you could get the Appalachian Trail essentials that we mentioned above — food, gear, lodging and miscellaneous items — and how you might be able to save some money in the process.
Click below to explore different A.T. essentials:
Food
Food is often the single biggest expense for most hikers. Hikers need a lot of food energy, and they need to eat frequently. However, they don't want to carry more than a week's supply of food at a time because that would further weigh down their packs.
Here's a breakdown of what types of food you might consider bringing if you hike the Appalachian Trail, and how much these items cost on average.
To resupply your food stock, you could buy items in bulk and then parcel them out and mail them to yourself along the trail. The U.S. Postal Service Priority Mail Flat Rate box pricing starts at $7.65. For further information, including how to use a "bounce box," which could be useful for medication, you can check out tips from the Appalachian Trail Conservancy.
A pro-tip, according to Kristen "Lady Blaze" Smathers, an A.T. segment hiker from Pennsylvania, is to not just send yourself instant ramen. "You have to send yourself things you like, a pick-me-up, like a chocolate bar or something to put a smile on your face when you get it," she said.
Another option is to restock at grocery stores. Towns are common along the A.T. and allow for easy resupply of groceries and a greater variety of options, including the ability to buy based on your cravings.
Towns can also provide tempting restaurants. Restaurant meal pricing can vary greatly, depending on what you get and the restaurant. Stephanie White solo-hiked the A.T. in 2018 and kept a running tab of her expenditures on the trail. Her cheapest restaurant meal was $7.80 at Subway. Her most expensive meal was $31.15 near the town of Erwin.
Even if you supplement with a few restaurant meals here and there, you'll likely largely rely on either via-mail grocery supply or in-town resupply to stock up for your hike. Here are the pros and cons of both options to consider to determine which approach will be right for you.
Gear
Your tent, pack, sleeping bag and shoes are the big-ticket items you'll need to buy in terms of gear. While everyone needs some version of these things, how you get them can vary.
Smathers, for instance, likes to invest in her gear. "I geek out about gear… I'm a true believer that some of my enjoyment is tied to the quality of my gear." Smathers said. "If I get soaking wet and freezing because I got the cheap stuff, then I'm not having fun."
She wants to buy one good-quality thing once and not worry about it. Yet there is a price to this. "I'm better now, but at one point, it seemed like I was blowing up money," she said.
New high-tech gear can cost a lot. For example, a popular tent for A.T. through-hiking is the Zpacks Duplex Tent, which costs $599.
McHugh, however, prefers to buy used gear. "I get gear off Craigslist and OfferUp. I get stuff here and there, and if it works for me, then it works for me," he said.
The reward for gearing up this way is the savings. For example, McHugh uses a Deuter-brand pack, which he bought for $50 from a guy who'd originally paid $350 for it and had never used it.
If you're not sure whether to get new gear or go for used gear, here are some pros and cons to consider.
Lodging
The cost of lodging largely depends on how often and for how long you take a zero-day. A "zero day" is when you do no hiking to give yourself a break. People often stay in a town to enjoy their zero days. "You can expect to spend about $100 for every zero day you take," Chase said.
According to Chase, some people don't stay in lodging at all, but simply resupply in town and go back to the trail. (You could, after all, save money by camping.) But then "there were some people who would stay in town and party for days," he said.
Hikers have two choices for lodging: a hostel or a more traditional motel or hotel. A hostel offers the choice of renting a bed in a dorm-style room. This means you would have less privacy but you'd also get much cheaper prices. For example in Conway, New Hampshire, the White Mountains Hostel charges $35 a night for a bed in a six-room dorm, whereas local motels charge anywhere from $79 to $190 a night.
Miscellaneous items
In addition to big-ticket items like food, gear and lodging, smaller-ticket items can also impact your total cost to hike the Appalachian Trail.
Here are miscellaneous items to consider:
Health insurance
While you might hear that some hikers use bandaids and bourbon as their health insurance, it's a good idea to have actual health insurance, especially since hiking is physically demanding.
White, who through-hiked the A.T. in preparation to earn her title of triple-crown ultra marathoner, was able to get health insurance through her husband who remained at home, working. "I added AAA insurance as well, to be covered in case of a search-and-rescue or any type of disaster," she said.
Here are some of the ways you may be able to get health insurance coverage when you're on the trail, and the estimated cost of each of these options:
Your spouse's health insurance: If you are married, you might be able to join your spouse's health insurance plan. The average family health insurance rate for an employer-sponsored plan was $5,714 annually in 2017, according to the Kaiser Family Foundation. If you divide that amount between two people, it's $239 a month per person.
Your parents' health insurance: If you are under 26, you could still be covered under your parents' health insurance. If you divide the average $5,714 annual amount for a family plan between four people, it would cost you $119 a month.
VA health insurance: If you are a veteran or a family member of a veteran, Veterans Affairs (VA) could provide health insurance coverage at an extremely low cost. You can visit the VA.gov page for more information about enrollment and prices.
If none of those options are for you, you could look into:
Travel insurance with a medical benefit: This is made for travelers and could cover emergency medical costs. Consumer Advocate has a list of the best travel insurance companies. For a six-month $6,000 trip in the U.S., prices varied from about $250 to $1,500 total price for the whole trip, with different levels of coverage. Even the lowest-priced plan included emergency medical coverage up to $50,000 with a $0 deductible and a medical evacuation coverage of $500,000.
Government-sponsored healthcare plans: You can get these plans through Healthcare.gov. Open enrollment is at the end of each year, and some conditions might qualify you for special enrollment. Because you likely won't be working for six months, you might have low enough income to qualify for a discounted plan. But full-price plans could range from $196 for catastrophic coverage only to $582 monthly for "gold" coverage, depending on your age, gender and state of residence.
Health sharing plans: These mimic traditional health insurance and are religion-based. A few examples include Liberty, Altrua and Christian Care Ministries. Liberty's "suggested monthly share amount" that you might pay to be part of the organization ranges from $249 for a single person under 30 years old to $529 for a family with members who are 30 and older.
Any insurance plan provides different levels of coverage and has different sign-up requirements at varying costs. Make sure to read the fine print or speak with a representative from one of the companies to make sure the plan is right for you and what you're doing.
Transportation
To get your feet on the trail for the first time, will you need to fly? If the trailhead is far away, you'll need to purchase a plane, train or bus ticket. Also, be sure to establish a plan to get back once you've finished your hike.
The cost of this can vary widely. Megabus offers tickets from $1. But if you want to fly from Seattle to Columbus Airport, near the Spring Mountain trailhead, it could cost $615 or more. Transportation ticket prices depend on when you go, when you book a ticket, your origin and destination and what type and brand of transportation you use.
You'll also want to be sure to carry some cash to tip "trail angels": volunteers who give hikers rides to and from the trial into town when you need to resupply. Note that you do not have to tip, but tipping a minimal amount is usually expected and appreciated. Plan to tip around $5 per ride.
Recovery time
When you are done hiking, you may need some time to physically recover and find a job. Having enough money or a support network to help you through that time period should be a consideration. Aim to save enough to cover at least a couple of weeks of living expenses when you return from your hike.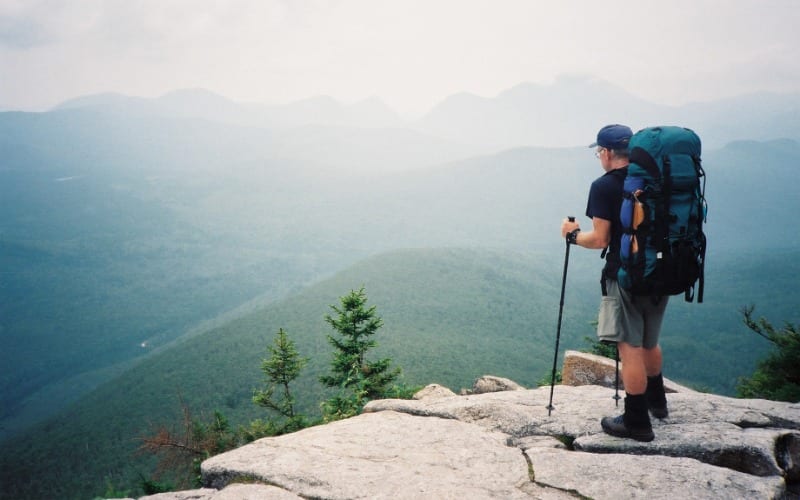 Ways to fund your hike
Less than 25% of people who set out to through-hike the A.T. actually finish, and one of the main reasons they fail is their finances.
Here are some ways to fund the hike:
Save up
The basic idea here is to make more and spend less. Aim to set a savings goal, and be sure to include an emergency fund. If something unexpected happens, like the two hurricane downpours that hikers faced in 2018, dipping into an emergency fund could help you stay healthy and motivated. It's not a bad idea to set a fixed amount or a percentage of your budget aside for emergencies only.
To save up, you could look into getting a part-time job, doing some gig jobs or staying home rather than going out on the town. White saved up for six months before hitting the trail. "I paid down credit cards down as much as I could and quit gym memberships. If I didn't need it, I shut it down. I saved $3,000," she said.
You could also look for ways to cut your spending and earn money while you're on the trail so you don't have to save as much to cover costs. For instance, you could cancel or suspend subscriptions like Netflix, Amazon Prime, cable, internet and gym memberships while you're hiking. If possible, sublet your car or your home, or don't renew your lease. You can put your things in storage.
So you don't totally stop earning money while you hike, consider blogging or vlogging for a professional hiking website. If you have something major to tell about your experience, consider sharing it. For instance, White wrote a book, "Running Thru," about her experiences.
Pros
No interest costs: By saving money before you go, you won't have to pay interest on a loan.
You won't owe money: You'll be able to cover all of your costs outright, eliminating the need to keep track of payments while you hike.
Cons
You'll need time to save: This method won't land a large sum in your account in a couple of days. It may take several months to save enough.
May need to make sacrifices: A fun weekend might be replaced with a working weekend to save up for time on the trail.
Find sponsors
Another option to fund your hike is to find a sponsor. Some businesses may be willing to sponsor your hike and provide supplies or funds. In exchange, they may ask you to write about their product or to take photos of you and other hikers using their products.
Pros
May gain access to needed supplies: The sponsor could provide money, food or gear at reduced or no cost to you.
Will have a support network: It could be nice to know there are people and businesses supporting you.
Cons
Takes time and effort: It can take both time and effort to find companies and reach out to them, and to follow through with their requests.
May see a lot of rejections: You may receive a lot of rejections in your quest to get a few approvals.
Use a credit card
You may consider applying for a new credit card to help fund your hike. Some credit cards charge no interest for as many as 18 months when you are first approved, which could be a good way to cover your costs without racking up interest. However, you need good to excellent credit to qualify for these offers.
And before you start swiping, you should have a plan to pay off the balance before interest kicks in. If you don't, you could end up paying a lot in interest after the introductory period ends. Some cards even charge deferred interest, meaning you'll pay interest retroactively on any balance that remains after the promotional period ends.
If you do use a credit card to fund your hike — and your other "real world" costs — make sure that you set up automatic payments for your credit card, rent or mortgage, car loan and student loans. Don't count on having internet service on the trail or even in trail towns.
Pros
It's easy to use on the trail: You can buy what you need when you need it wherever you go without worrying about it getting wet, unlike cash.
You could earn reward points: Depending on the credit card, you may be able to build up reward points or cashback from using the card.
You could boost your credit: If you add charges and pay them off on time and in full, you'll build a positive credit history, which could boost your credit score.
Cons
You'll need to make minimum payments: This is the case even if you get a 0% APR deal. If you do not do this, you may lose the APR deal, get hit with a large amount of interest and even lose points on your credit score.
You'll have to pay interest: Even if you get a card with an introductory APR period, you will have to begin paying interest when that period ends.
It could be easy to slide into debt: It can be easy to overuse a credit card. Be careful to not overspend, and consider writing down what you spend on your phone as you go to keep track.
Get a personal loan
If you don't have enough money to cover an expense, but it's now or never, a personal loan might tide you over. A personal loan is a fixed amount of money at a fixed APR that you repay over time. It's also called an unsecured loan because you don't provide collateral to secure the loan.
Because there's bigger risk involved for the lender, a personal loan can have a higher APR than, say, a car loan, but it could offer a lower APR than a credit card. The lender must approve you for the loan and, depending on your credit, they may or may not approve you for the amount of money or the term that you'd like. Your interest rate will also depend on your creditworthiness.
Pros
It's typically quick: Depending on the lender, once you're approved for a personal loan, you could get the money in a few days.
You'll have set payments: Your payment will be a set amount due on a set date, so it's a predictable expense you can plan for.
Cons
You'll need to get approved: Lender approval is based on factors such as your credit score, and you'll need a good credit score to qualify for better interest rates.
You'll pay interest charges: The average APR for a personal loan taken in Q1 2019 was 33.38%, according to our latest study on rates. Borrowers with a score over 720 saw an average rate of 7.27%; subprime borrowers saw an average of 85.92%.
You may owe origination fees: The lender may charge you an origination fee to cover the cost of pulling your credit and doing the paperwork. However, not all lenders charge this fee.
Finances are just as important to your A.T.-hiking success as physical fitness and mental preparation. About $6,000 is a good benchmark of what you should expect to spend. It's better to overestimate how much it costs to hike the Appalachian Trail than underestimate it and be forced to quit before you succeed.