Distance Learning Is Costly: Here Are 5 Ways to Pay in Fall 2020
Updated on: June 17th, 2020
It's likely that many students will have to learn remotely for the fall 2020 semester, and parents will have to help their children adapt to distance learning to avoid falling behind in school. But getting an education from home comes at a price: Parents are left to foot the bill when it comes to the electronics and supplies they need to help their children learn from home.
With the fall semester quickly approaching, now is the time to think about how to afford supplies necessary for distance learning. Here are a few ways parents can finance these costs.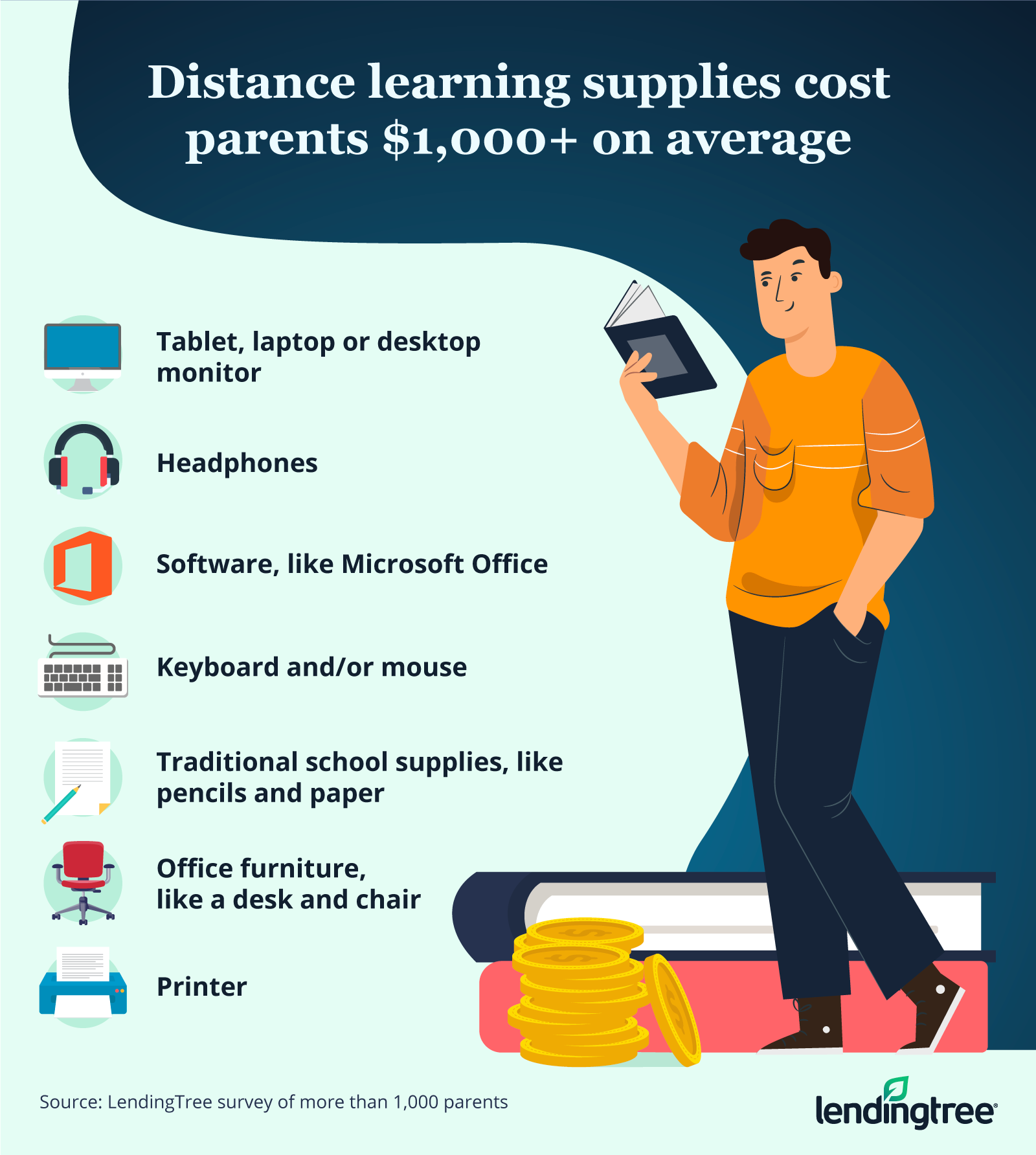 1. Budget and save up in the summer months
Now is the time to start budgeting for school expenses for the fall 2020 semester, especially if you need to purchase pricey equipment like a laptop or new office furniture. Depending on where you live and when your school semester starts, you likely have a few months to come up with funds. Organize your budget over the next few months using one of these methods:
The 50/30/20 budget: Spend half of your income on necessities (like rent and groceries), 30% of your income on wants (like dining out) and 20% of your income on savings and debt repayment.
Envelope budgeting: Using envelopes, put aside exactly as much cash as you'll need each month for different spending categories. For example, if you want to limit your grocery spending to $500 per month, put aside exactly that much to ensure you don't overspend.
Zero-based budgeting: Account for every single dollar — even debt repayment and savings — into your budget. In this case, you should allot a certain amount each month to go toward your child's distance learning expenses.
Ask friends, family or neighbors for help
Many Americans' financial situations have been negatively impacted by the coronavirus pandemic, making it difficult or impossible to save up. It's worth seeing if anyone in your network has distance learning supplies — even just a spare office chair or extra keyboard — that they can give you before you pay full price for new supplies at the store. Use social networking apps like Facebook and Nextdoor to see if anyone in your neighborhood can offer assistance in any way.
Lastly, get in touch with your local school's administration to see if they have any programs to assist with distance learning materials. This will vary by location, so keep that in mind before relying on your local school district. You won't be the only parent seeking assistance during this time.
2. Utilize special financing at the retailer
If there's a particularly expensive tech item you need to buy your child to assist with distance learning, consider searching for special financing offers through the retailer. Many big retailers like Best Buy and Amazon offer no-interest promotional periods through store-branded credit cards for laptops and other tech that kids might need as they begin the new school year. One caveat: If you don't make your payments on time, you could be charged deferred interest back to the date of purchase.
Check out a few credit cards with special financing that you can use to purchase electronics:
Store credit cards with electronics financing
Financing offer*
Regular APR
Other benefits
Amazon Prime Store Card
0% APR on eligible items:

6 equal monthly payments on purchases of $150 or more
12 equal monthly payments on purchases of $600 or more
24 equal monthly payments on select purchases

Special financing is also available for qualifying purchases as long as the entire balance is paid off within the promotional period

25.99% variable APR

Earn 5% back on Amazon.com purchases (promotional financing offer cannot be combined with this)
No annual fee

Amazon Prime Rewards Visa® Signature Card
0% APR on eligible items:

6 equal monthly payments on purchases of $50 or more
12 equal monthly payments on purchases of $150 or more
18 equal monthly payments on purchases of $500 or more

14.24% to 22.24% Variable APR, depending on creditworthiness

Earn 5% back at Amazon.com and Whole Foods Market with eligible Prime membership, 2% back at restaurants, gas stations, and drugstores, and 1% back on all other purchases.
No annual fee

Barclaycard Financing Visa® for Apple
Within the first 30 days of opening your card, you may qualify for deferred interest financing at the following levels:

Up to 6 months for purchases less than $499
Up to 12 months: for purchases from $499 to less than $999
Up to 18 months for purchases $999 and over

13.99%, 19.99% or 26.99% Variable APR, depending on creditworthiness

No annual fee
Depending on if you are approved for the Visa Platinum or the Visa Signature, you may be eligible for additional benefits

My Best Buy® Credit Card
As low as 0% APR on purchases financed up to 24 months, with reduced-rate financing available for up to 48 months
25.24% Variable APR

Price matching on BestBuy.com and in stores at Best Buy
5% back in rewards or flexible financing on Best Buy purchases

My Best Buy Visa® Card
Flexible financing options for purchases $299 and up
23.24% - 27.99% Variable APR

5% back in rewards or flexible financing on Best Buy purchases
3% back in rewards on gas purchases
2% back in rewards on dining and takeout
1% back in rewards where Visa is accepted
Not all retailers offer special financing through a store card, but some, such as Target and Walmart, offer point-of-sale financing for laptop purchases through third-party financing companies like Affirm. With this type of financing, you can apply for a loan at the checkout stand.
Point-of-sale financing allows you to break up your purchase into equal monthly payments like a personal loan, and you'll typically have to pay interest on your purchases; with Affirm, you could be charged up to 30% APR on top of your purchase. If you miss your payments through Affirm, then your credit score could take a hit.
3. Use a card with a 0% promotional APR period
To entice potential customers, many credit card issuers offer 0% APR promotional periods during which you don't have to pay interest on your purchases. These periods typically last from 12 to 18 months, but may last even longer. This could potentially give parents the time they need to pay off new tech, supplies and furniture to assist with distance learning, all without having to pay interest.
Keep in mind that if you don't pay off the purchases you made during this time period, you will be charged interest on the balance that remains on the card at the time the period ends. Plus, not all parents will qualify for a credit card with a 0% APR promotional period, as they require applicants to have good credit.
Shop around for the best deal on the equipment you need
When you use a credit card with a 0% APR promotional period rather than a specific store card, you're able to compare prices and choose the store with the best price on the electronics and supplies you need. It pays to shop around for the best deal on electronics, and online shopping makes it easy to compare prices between retailers. There are even price tracking tools, such as Honey, which alert you when there's a price drop on an item you're watching and automatically apply coupon codes to your purchase at checkout.
4. Take out a small personal loan
A personal loan is an unsecured loan — meaning it doesn't require collateral — that can be used to finance just about anything, from electronics (like a laptop or tablet) to office furniture. Our May 2020 survey on how the coronavirus has impacted families found that 15% of parents reported opening a personal loan to cover expenses.
Personal loans offer fixed interest rates and monthly payments, so you'll always know how much you owe. However, since the loan isn't secured by collateral, the lender has to rely more heavily on the borrower's creditworthiness to determine eligibility and to set the APR. Because of this, interest rates can be on the higher side, especially for subprime borrowers with credit scores under 640. Even borrowers with excellent credit may find cheaper financing through a 0% introductory APR offer.
Personal loan interest rates
Your personal loan eligibility — as well as the APR you're offered — is determined by a few things: credit score, income and debt-to-income ratio. Borrowers with higher credit scores will qualify for personal loans with lower interest rates and favorable terms. Subprime borrowers will likely get high interest rates, if they're approved at all.
See the difference in best offered APR by credit band in the LendingTree data below:
How personal loan APRs vary by credit band
Credit score range
Average best-offered APR
760+
11.99%
720-759
16.24%
680-719
20.98%
640-679
24.89%
Source: LendingTree Personal Loan Offers Report, May 2020
5. Pull money out of your child's college fund
If you need to pay for your child's education expenses when money is tight, it may be necessary to turn to college savings. More than a third (36%) of parents turned to college funds to cover distance learning expenses, our survey found.
It's not typically advisable to withdraw from your child's college fund to cover urgent expenses related to distance learning. However, it could be a good alternative to taking on more high-interest debt to cover these expenses, especially if you simply have the college fund stowed away in a savings account.
Parents who have a 529 college fund for their child might want to think twice, though, as withdrawing for non-related expenses can come with a penalty.
What happens when you take money out of a 529 early
Drawing from a 529 college savings plan early is like drawing from a retirement plan early, in that the borrower will have to pay a penalty. In the case of a 529 plan, the borrower may incur a 10% fee for withdrawing money early or for any money that's not spent on qualifying expenses, like college tuition and meal plans. So in the case of a parent who withdraws money from a 529 plan to pay for distance learning materials, they would be subject to the 10% penalty.
*Financing offers are accurate as of June 16, 2020.