The Fed Encourages Banks to Issue Small Loans, But Are They Your Best Option?
Published on: March 30th, 2020
Editorial Note: The content of this article is based on the author's opinions and recommendations alone. It may not have been previewed, commissioned or otherwise endorsed by any of our network partners.
As a response to the coronavirus pandemic, multiple banking regulators, including the Federal Reserve and the FDIC, are urging banks to consider lending small personal loans to consumers and businesses, in a joint statement released March 26.
Some civil rights and consumer advocacy groups, including the National Consumer Law Center and the NAACP, have criticized this move in their own statement, saying that the regulators are encouraging banks to make payday loans, which can cause a cycle of debt.
Learn more about small-dollar lending and payday loans to better understand these statements, and find out different ways to manage your finances during these troubled times.
As banking regulators push for small loans, critics warn of high-interest lending
The statement released by the Fed asserts that small personal loans and other types of small lending, like single-payment loans, can help consumers and small businesses in times of economic strain, like we are experiencing with the coronavirus pandemic.
"The agencies recognize the important role that responsibly offered small-dollar loans can play in helping customers meet their needs for credit due to temporary cash-flow imbalances, unexpected expenses, or income short-falls during periods of economic stress or disaster recoveries," the Federal Reserve statement said.
However, there's a footnote about these small-dollar loans included in the statement. It suggests that banks consult with their federal regulator about small-dollar loan products offered specifically for consumers affected by COVID-19, but it falls short of requiring any financial institutions to work with regulators. This provoked the opposing groups' stance: they say that the Fed's statement lacks consumer protection measures.
"By saying nothing about the harm of high-interest loans, regulators are allowing banks to charge exorbitant prices when people in need can least afford it," the opposing statement reads.
While it doesn't seem that the Federal Reserve and its partner groups are truly endorsing payday loans, critics say that this type of lending is a slippery slope. For example, in the wake of the 2008 Great Recession, some banks issued deposit advances with over 200% annual interest. This practice is now looked down upon, but the consumer advocate groups don't want to see banks repeat the mistakes they made in 2008.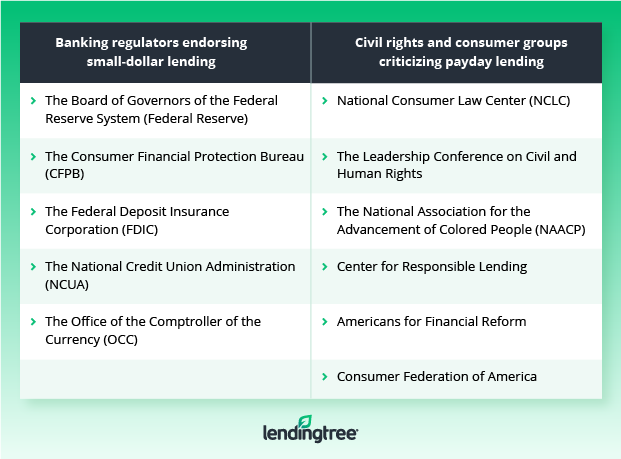 Small-dollar personal loans and payday loans are not the same
The differences between small personal loans and payday loans are easy to miss. Both types of lending allow borrowers to get emergency funding fast, making them popular tools for people who are struggling to make ends meet.
The primary difference is that you can get a payday loan without a credit check, while personal loans do require a credit check. Because there's no credit check, payday loans typically come with high fees, taking advantage of people who have subprime credit. Here are some other key differences.
Overwhelmingly, Americans take out personal loans for debt consolidation (36%) and credit card refinancing (31%), according to February 2020 LendingTree data. Payday loans, by contrast, are typically used in time-sensitive emergencies to cover costs like bills.
It's generally not advised to take out debt — including personal loans and payday loans — to cover your expenses. During a time of crisis like the coronavirus pandemic, financial institutions typically offer help, such as forbearance. (More on that below.)
Alternatives to taking out a loan to pay bills amid COVID-19 outbreak
Personal loans can be a powerful tool for debt consolidation and credit card refinancing. However, it's generally discouraged that you take out debt to pay your bills. At the end of the day, by taking out a loan, you're just adding another bill onto your plate each month. Before you take out an emergency loan, there are a few steps you can take to avoid missed payments and late fees.
If you're struggling to pay your utilities …
Some states, like Texas, New Jersey and New York, have temporarily halted utility shut-offs amid the coronavirus pandemic. Measures like this allow you to prioritize other necessary expenses, like grocery shopping for your family. Get in contact with your utility providers right away if you can't pay your bill.
If you absolutely need to pay your bills, there are a few programs in place to put cash in your pockets. Americans who have been laid off due to the coronavirus are encouraged to apply for unemployment through the Department of Employment Security. However, with a record-high 3.28 million people filing unemployment claims in the third week of March, getting through the website might be easier said than done.
The $2 trillion coronavirus bill that passed through Congress on March 27 will ensure a $1,200 cash payment to every American making under $75,000, if enacted. Using that money would also be a better alternative to borrowing money to pay utilities, as you'd have to pay interest on the loan.
If you're struggling with personal loan payments…
The first thing you should do if you're unable to pay your personal loan is call your lender or bank. They may be able to help you with hardship assistance programs, including:
Forbearance, which may allow you to forgo payments for a few months.
Refinancing, which may allow you to secure better terms and lower payments on your loan.
Payment plans, which may allow you to break up missed payments across multiple months.
Multiple lenders have already released plans for coronavirus relief. See a list of banks and lenders offering support amidst the COVID-19 pandemic.
If you're struggling to pay your credit card bill…
Call the 800 number on the back of your card to get in touch with your credit card issuer. Speak honestly about your financial situation — whether you've lost employment or you have a sick relative. Be persistent if you aren't getting the assistance you need.
You won't be the only consumer who's making this call. During times of hardship, banks and credit card issuers put specific assistance programs into place to help those affected, such as:
Waived late fees
Higher credit limits
Lower minimum payments
Lower APRs
Extended payment deadlines
Your issuer also may agree to stop reporting late payments to credit bureaus.
Don't wait until the bill is due to make the call. Wait times are longer than usual due to a high volume of calls because of the coronavirus pandemic.
If you're struggling to pay your mortgage…
The Federal Housing Finance Agency Mortgage has halted foreclosures and evictions until mid-May, unless this period is extended.But just because you won't be evicted doesn't mean there aren't other consequences of not paying your mortgage. While some states, such as New York, have enacted mortgage relief mandates banning lenders from taking disciplinary steps toward borrowers, not all states have such legislation.
Most lenders give borrowers a 15-day grace period before charging a late fee, but they can typically report to the credit bureaus after 30 days of missing your payment. Don't wait until you've fallen far behind on your mortgage to get in contact with your lender. They may be able to help you with hardship programs like forbearance, mortgage modification and mortgage refinancing.
Certain mortgage lenders have also rolled out relief measures for borrowers who are affected by the coronavirus outbreak.
If you're struggling to pay your student loans…
If enacted, the aforementioned coronavirus bill will suspend all federal student loan payments through Sept. 30, as well as suspending all interest charges during that six-month time period. Collections on federal student loans have already been halted.
If you use private loans to finance your education, contact your lender to explore your options for forbearance.