Christmas on a Budget: 5 Steps to Thrifty Holiday Gift-Giving
Published on: November 15th, 2019
Editorial Note: The content of this article is based on the author's opinions and recommendations alone. It may not have been previewed, commissioned or otherwise endorsed by any of our network partners.
The holiday season is supposed to bring tidings of comfort and joy. But for many, the Christmas spirit is overshadowed by burdensome shopping lists and pricey flights home.
It's easy to see why the holidays are a time of financial stress for many families. A Gallup poll found that Americans plan to spend $942 on Christmas gifts this year, up from $885 in 2018.
But you can show your family how much you love them without sacrificing financial stability. Learn how to take a more holistic approach to Christmas shopping on a budget this year.
5 steps to celebrating Christmas on a budget
1. List out all your recipients
It doesn't matter if they were naughty or nice, sometimes you still feel obligated to buy a gift for everyone in the family. If you go shopping in the right frame of mind, then you can find a little something for everyone on your list, from immediate family members to the co-workers with whom you spend every weekday.
Although you're never required to give pricey gifts, especially when you're in a tight spot, you can at least send cards to your extended family and friends, or you could find DIY budget gifts, such as homemade confections or candles.
2. Set a specific monetary limit for groups
It's not good form to spend much more on one grandchild or niece than another. Plus, having a specific value in mind will stop you from overspending on gifts. Your holiday budget might look something like this:
So a married mother with two children, three nieces and nephews, two parents and one sibling, for instance, could start a budget at $600 before she accounts for friends. It may look shocking to see these costs added up, but considering the average American will spend nearly $1,000 on gift-giving this year, this is a modest budget.
That said, take your financial situation into account when determining how much you can comfortably spend on each group. You may find, for example, that you don't need to spend $10 per work colleague.
3. Account for other holiday costs in your budget
Gift-giving will only make up part of your holiday budget. When you're setting aside money for the season, take these other items into account:
Holiday décor, like wrapping paper, a Christmas tree and new string lights. That is, unless you have the willpower to skip the home goods aisle.
Food costs, accounting for a Christmas or Hanukkah dinner and any holiday parties you're attending. Don't forget about the cookies and milk for Santa.
Travel costs, if you're leaving home to see family. (See how to save on holiday travel here.)
Just a single round-trip plane ticket could max out your holiday budget. In 2017, the average flight price for Christmas travel was $910, according to data from flight-tracking app Skyscanner. So if you want to fly home for the holidays, plan ahead and work holiday travel into your budget.
4. Once you have a figure in mind, set up a monthly contribution
You've determined how much to spend on Christmas, now it's time to save up. Let's say you want to spend $600 on gift-giving this holiday season. If you're proactive enough to budget five months in advance, then you could set aside $120 per month in your budget to reach your goal.
But the reality is that not everyone is thinking about the holidays in August. The longer you wait to establish your budget, the more you'll have to set aside each month to fill out your gift-giving plan. When it's down to the wire, you might consider using your credit card or opening a personal loan.
5. Shop for thoughtful Christmas gifts on your budget
Your friends and family love you because of who you are, not for what you can buy them. Let your passions feed into your Christmas list this year by spending time creating personalized presents for people on your gift list.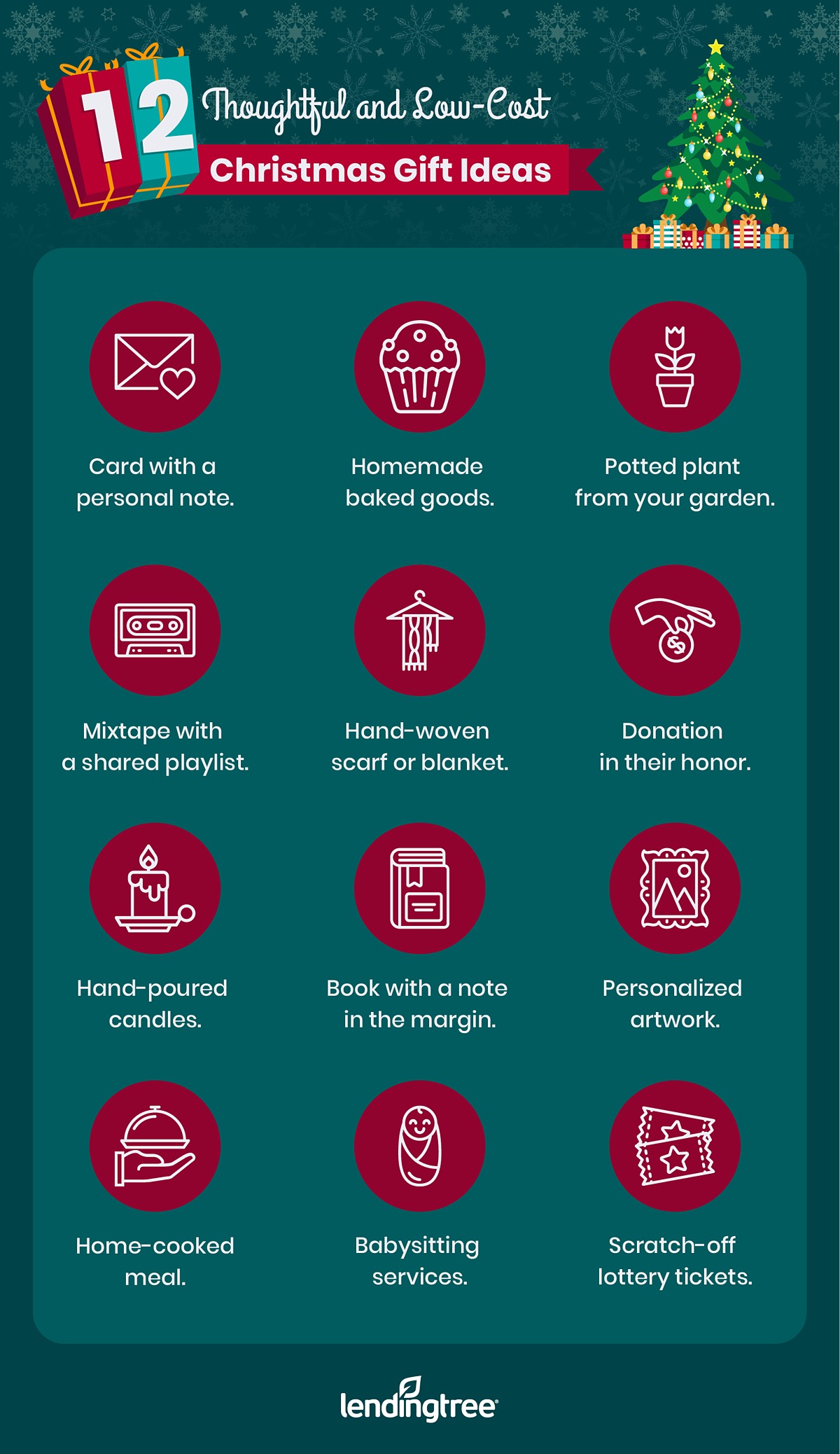 You could also keep gifts uniform among groups. For example, you could get all of your work friends a book or coffee mug; acquaintances may have earned homemade candles or body scrubs. When it comes to close friends and family, though, personalization offers a special touch. Give a present with each person in mind, even if the cost is low.
Of course, you may not be able to give something to everyone on your list. Just a card, personalized message or phone call showing that you care could be the perfect sentiment this holiday season.
Financing your holiday spending with a credit card or personal loan
Lots of shoppers will be racking up debt this holiday season in order to pay for presents. Holiday debt reached an average $1,230 in 2018, according to a report from MagnifyMoney, a LendingTree company. While 68% of shoppers carried that debt on their credit cards, only 14% used a personal loan to fund their holiday shopping.
You should think twice before charging your credit card this holiday season because there are some situations in which a personal loan might work better for you. For example, personal loans can offer lower interest rates than credit cards for those with strong credit profiles. See the table below to compare your financing options.
Holiday financing: Credit cards vs. personal loans
 
Credit cards
Personal loan
APRs

Minimum average APR across new card offers was 16.94% in October 2019
Maximum average APR was 24.25% in the same period

Borrowers with good credit profiles saw an average 7.27% APR in Q1 2019
Subprime borrowers saw an average APR of 85.92% in the same period

Borrowing limits

Credit limit depends on your credit profile

$1,000 to $50,000, typically
You ask for a set amount and may or may not be approved for it

Potential fees

Annual fee: From $0 to $39 or higher
Late payment fee: $15 to $35, depending on your balance
Penalty APR: Typically 27%-30%

Origination fee: 0%-8%
Prepayment penalty: Varies by lender
Late payment fee: Can be a percentage of your balance or flat rate

Rewards

Rewards cards offer cash back, points or travel miles
Store cards offer unique incentives like discounts or early access shopping

Affect on credit score

Responsible credit card use (keeping a low balance) will have a positive effect
Negligent credit card use (missed payments, maxed out cards) will have a negative effect

When paid off on time every month, a personal loan could raise your credit score
Missed or delinquent payments will lower your credit score

This table includes information sourced from MagnifyMoney and ValuePenguin, which are owned by LendingTree.
Understand that your presence is a gift
One of the most important money tips for the holidays might be one of the least expected: Just be present. Traveling to see loved ones is expensive and time-consuming. Don't feel obligated to spend a lot of money this holiday season. But do make a concerted effort to be present this year.
Too often, "family time" feels forced — make sure your loved ones know that you care. In fact, do more than just spend time together; make memories that will carry you throughout the year, and take pictures you can look back on when you're missing the people you care about.
As clichéd as it sounds, time is the best thing you can give your family and friends around the holidays.