How to Pay for Solar Panels for Your Home
Published on: February 20th, 2019
Editorial Note: The content of this article is based on the author's opinions and recommendations alone. It may not have been previewed, commissioned or otherwise endorsed by any of our network partners.
Conserving and preserving energy is one of the best ways to help the environment. You can start to do that with solar panels on your house. Luckily, you're in good company.
In the U.S., California is the leading state in solar power usage, with almost 17% of the state's electricity coming from solar. In Arizona, more than 530,000 homes are powered by solar.
Getting solar panels installed on your home is a great way to conserve energy, but beware of the cost. HomeAdvisor estimates that the national average cost of a solar panel plus installation is $23,014.
Having them might not add much value to your home, so it's really a personal preference. However, there is a tax credit for having solar panel systems on your home.
Are you ready to invest in solar panels? You have a few choices for how to pay for it.
5 financing options for solar panels
If you're ready to make the move to solar panels, take note of all your options before jumping in. Your choice depends on your financial situation, so browse through them all to find the right one for you.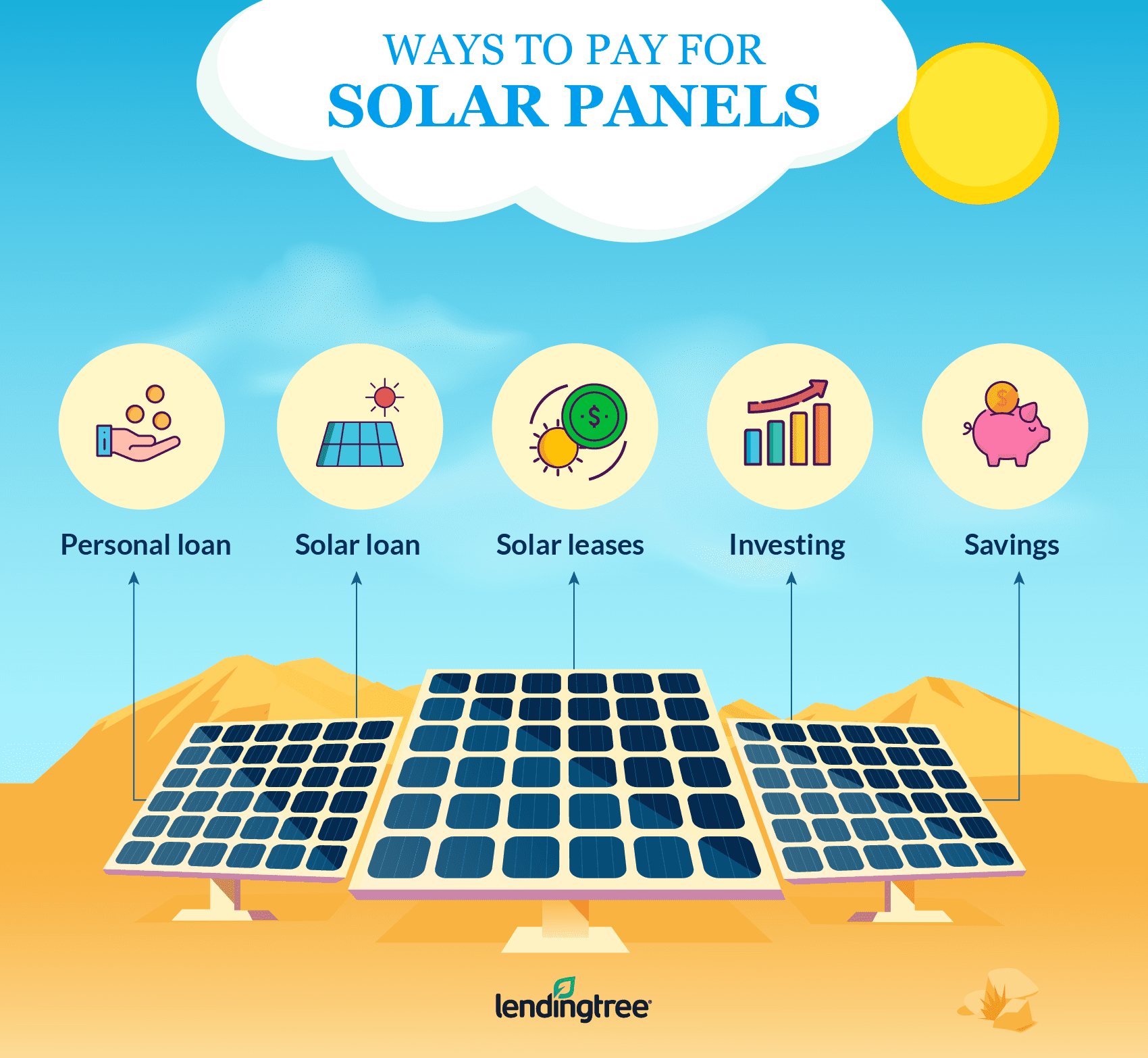 Personal loan
A personal loan might be the quickest way for you to pay for solar panels. Many personal loan lenders can deposit your money within a few days — or as little as a day — after being approved. You can browse through many different lenders online, or apply through your local bank or credit union.
Pros
It's often the quickest way to get money for home improvements, including solar panel installations.
The higher your credit score, the lower your interest rate will be. A lower rate could make solar panels more affordable.
Cons
You'll need to be vigilant of lender fees, including origination fees, late fees and prepayment penalties.
You may not get approved based on your credit score, income or lack of credit history, so this isn't an option for everyone.
Solar loan
A solar loan is only for installing solar panels. While personal loans allow for solar panel installations, they also give you the freedom to do what you want with that money. For solar loans, you can only use the money to put solar panels on your house.
Pros
Many lenders offer solar-specific loans, including LightStream. You can browse by state to see where you can get a solar loan specific to your local needs.
Solar loans terms can reach up to 20 or 25 years, while many personal loans stop at five years (although some go longer). This can help you with low monthly payments if that's all you can afford.
Cons
A solar loan is still specific to solar panel installation. If you need to make other home improvements, you'll have to take out a separate personal loan with its own interest rate.
Borrowing money means you still need to pay it back with interest. A long-term loan equates to more interest payments over the life of the loan.
Solar leases
Leasing solar is a lot like leasing a car. You get the benefit of enjoying the energy produced, but you make monthly payments. You still get to save on your monthly electric bill, but you don't get the same tax credits and benefits from owning solar panels.
Pros
There's usually a power production guarantee. This means if your panels don't produce a certain amount of power, your solar panel lease payment goes down.
The company you lease from handles replacing broken parts. This means you don't have to pay if something isn't working.
Cons
Lease contracts are around 20 years — about the same as a solar loan for installation. But at the end of it, you need to give the solar panels back rather than owning them. Although, some companies offer a buyout deal where you can own the solar panels after the lease is up.
You save much less from leasing than from owning. With owning your solar panels, you can save more than $61,000 over 20 years. With leasing, you'll save around $18,000 after 20 years.
Investing
If you have the time to devote to growing some cash, you might want to start investing. You don't need a big chunk of money, but you should commit to adding funds to your investment account every month to help your money grow.
Pros
Using money from your investment accounts lets you avoid taking out a loan and paying it back with interest. You can use your own money instead.
Investment funds tend to grow faster than some savings accounts, depending on where you put your money.
Cons
All investments carry risk. This means you might take the chance to lose money rather than build it up.
If you're hoping to get solar panels sooner rather than later, growing money through investment accounts might not be the right choice for you.
Savings
The best savings accounts are the ones with low to no fees, no minimum balance requirements and a decent APY. The higher the APY, the more money you earn on top of the money you put in. Also, the more money you can add to your savings on a regular basis, the more money you earn from a high APY.
Pros
Savings is the safest way to invest. Your growth comes from APY, but your loss only comes when you take out money.
The money you put into a solar panel installation won't be from a loan that you'll need to pay back — with interest added on, it'll come from your own funds.
Cons
Money might grow slower than investment funds, which could delay when you can buy the solar panels.
Saving your money means you won't get the instantaneous satisfaction of getting your solar panels right now, which is what a solar or personal loan could offer.
Getting solar panels for your home can be a pricey endeavor. Be sure to carefully consider your finances before committing to solar panels. If you decide to move forward, you should know how much you can afford to spend and what funding options make the most sense for you.