How Much Does Rehab Cost And What Are My Funding Options?
Published on: August 14th, 2019
If you or your loved ones need help with substance abuse, there are available treatment programs. But it's important to understand the different types of treatment programs there are, the cost of rehab and how you may pay for that cost.
Addiction comes in many forms
Unfortunately, millions of Americans are suffering from some kind of substance abuse addiction. The 2017 National Survey on Drug Use and Health breaks down the statistics on addiction for those over 12 years old:
About 966,000 Americans struggled with a cocaine use disorder
About 652,000 people had a heroin use disorder
About 1.7 million people had a pain reliever use disorder
About 4.1 million adults battled a marijuana use disorder
About 14.5 million adults battled an alcohol use disorder
Most rehab treatment facilities can treat all of these addictions, though your costs will be affected by a number of factors, which we cover below. However, not all forms of addiction deal with drug use. Before pursuing rehab, it's important to understand your individual needs. That way, when you research programs, you know better what to look for.
Types of rehab treatments
There are two typical types of rehab treatment centers: inpatient treatment (also known as residential treatment) and outpatient treatment.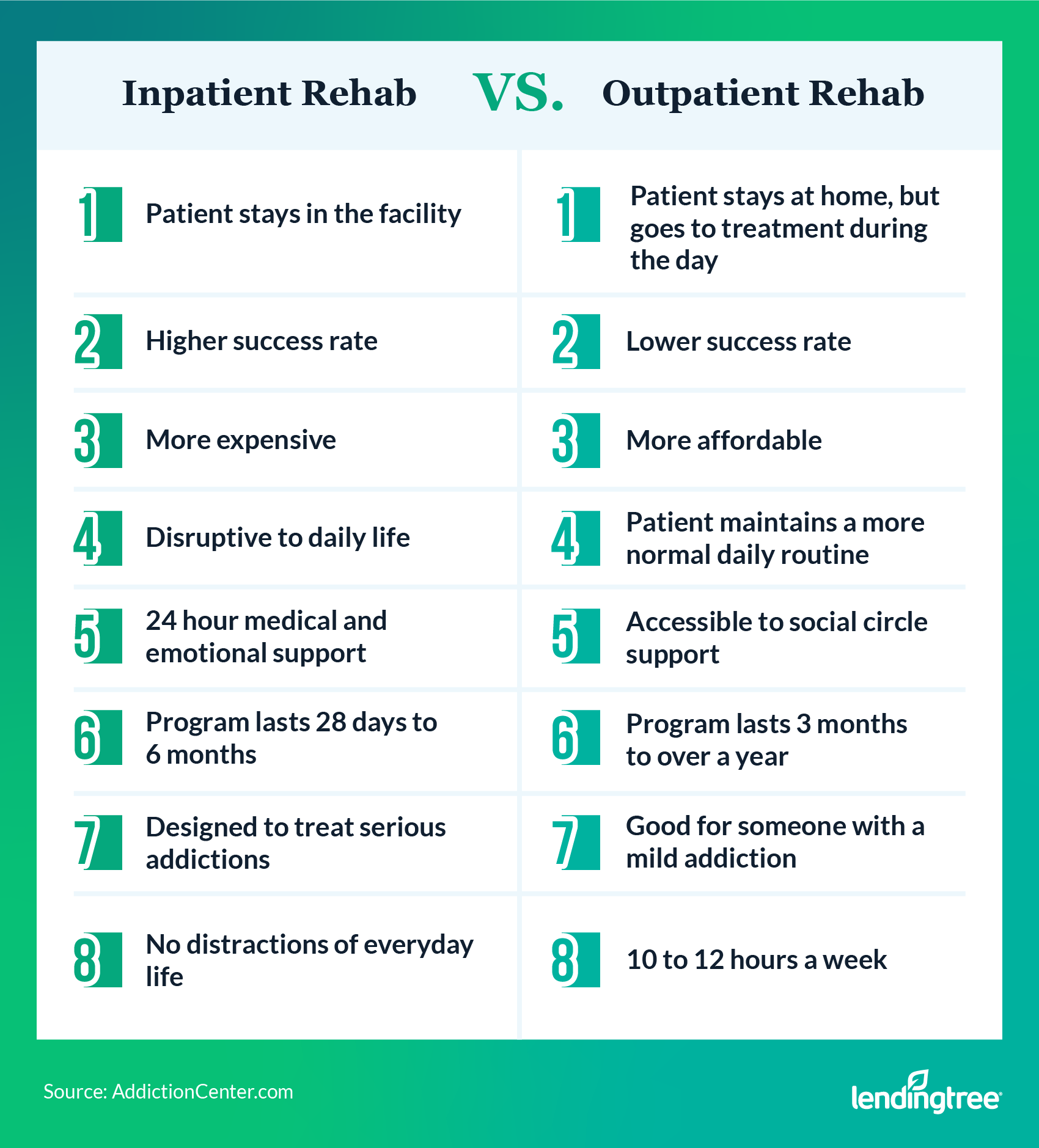 Inpatient substance abuse treatment requires that the patient live at the facility where they are being treated for a specific, often lengthy, period of time. Residential treatment is typically used to treat more serious addictions that require long-term care.
Outpatient treatment may be ideal for those who want to go to rehab but cannot leave family or a job to participate in the program. How many days and hours you go will depend on the facility.
There is also a partial hospitalization treatment, where the patient isn't required to stay overnight, but the program can run from five to seven days per week and up to six hours per day. Some people transition to partial hospitalization after completing inpatient addiction treatment.
What affects the cost of rehab
Facility funding and level of care
Rehab treatment facilities are either privately funded or state-funded. Stephen Ebbett, chief digital and marketing officer for the American Addiction Centers, explained that the cost of rehab depends on factors such as level of care, length of stay and whether the facility is state-funded or private. Private treatment centers tend to be more expensive than state-funded facilities because of the therapy options available, the latest technology offerings and the enhanced amenities.
"Medical detox is the most expensive level of care because it requires 24-hour medical monitoring," said Ebbett. "Detoxing from some drugs can be very serious, and a specialized team is needed to address any medical emergencies. As the patient steps down to a less intensive level of care, treatment costs often decrease, with outpatient treatment generally being the least expensive.
Length of stay
How long a patient stays in treatment can also determine the costs of rehab. American Addiction Centers recommends that patients stay in treatment for a minimum of 90 days for the best outcomes.
"Research shows that the longer a person stays in treatment the better the chance for long-term recovery," said Ebbett.
Public vs. private care
"The cost of a state-funded rehab center can range from free to thousands of dollars," explained Ebbett. "However, patients often have to meet certain eligibility requirements, such as income restrictions or lack of adequate health insurance. In addition, with low-cost or no-cost programs, there is often a waitlist."
How much rehab costs at a center depends on the type of treatment the patient is receiving. For example, the National Institute on Drug Abuse cites the following average costs of rehab from 2017:
How to pay for rehab
To determine how much the bill will be for rehab, first start by calling the patient's health insurance company to see if they cover substance abuse treatment. "While most insurance plans cover addiction treatment, the patient's out-of-pocket expenses and what is covered can vary," said Ebbett.
Ebbett suggests paying careful attention to the following areas to see if they are covered:
Does your policy cover room and board?
What is the difference between your in-network versus out-of-network benefits?
What are your deductibles and copays?
Does your plan cover transitional housing, such as a recovery residence, to allow you to continue outpatient care while living in a drug-free environment?
Afterward, you can explore the different ways to pay for rehab, including the following.
Your insurance: Plans differ when it comes to the types of coverage provided and for how long treatment will be covered. Further, for certain people, Medicare and Medicaid may help you afford the cost of rehab at an inpatient or outpatient facility. However, certain conditions may apply. Reach out to your insurer to learn more about what costs you may be responsible for.
Flexible spending account (FSA) or health savings account (HSA): An FSA is a special account you put nontaxable money into that you use to pay for certain out-of-pocket health care costs. An HSA is another type of savings account that lets you set aside money on a pretax basis to pay for qualified medical expenses, but may not be used to pay premiums. These accounts may be options to pay for rehab treatment costs not covered by insurance.
Payment plans: "Some treatment centers provide financing options, discounted rates and payment plans to help pay for care," said Ebbett. However, these plans may differ from one treatment center to the next. If you are looking at different rehab centers and will need help paying for treatment, reach out to each center to learn about what payment options they offer. You may find that their payment options are more or less affordable than a personal loan, another option we discuss below.
Crowdfunding: If you or your loved one do not have health insurance, or if what health insurance that you do have does not cover all of your rehab costs, you may need to raise money to cover the balance. Crowdfunding sites, such as GoFundMe, allow you to create a free account to raise money to cover medical expenses. There are no costs to start a GoFundMe campaign and the campaign can stay live until you turn off the donations.
Scholarships: "Some treatment providers offer scholarships based on an individual's circumstances," Ebbett said. "Also, with some research, a person may find other options, such as MusiCares®. The affiliated charity of the Recording Academy™ provides resources for struggling musicians."
There are state-based scholarships, such as the one offered by Sobriety Foundation, for Utah residents, as well as national scholarships from 10,000 Beds, which offers scholarships to rehab centers throughout the country.
Should you take out a loan to pay for rehab?
Rehab can become expensive if all of your costs aren't covered by health insurance and the additional options are not for you. As a result, you might consider taking out a personal loan to pay for the costs.
A personal loan is typically available to those who have good to excellent credit — all you need to do is sign on the bottom line that you promise to repay what you borrow according to the terms. As an unsecured loan, you won't need collateral. This type of loan can also be used to pay for medical bills.
However, before taking out any kind of loan, make sure that you — or someone who is helping you — can keep up with making your payments on time while you are in rehab. If your credit isn't stellar, be mindful that you'll likely face higher interest rates. For example, in Q1 2019 subprime borrowers saw an average APR of 85.92% versus 7.27% for those with scores over 720.
If you're facing high rates on a personal loan, you may instead consider taking out a secured loan. Be sure you can afford to make payments, however, to avoid losing your collateral.
Bottom line
Addiction can be difficult to overcome — and its effects can be catastrophic. According to the National Institute on Drug Abuse, every day more than 130 people die from overdosing on opioids alone.
"For some people, getting into treatment is a matter of life or death, and they will do whatever it takes to get the help they need," said Ebbett. "Left untreated, addiction doesn't just go away, it gets progressively worse over time. We know that treatment works and can lead to long-term recovery."