Peloton Financing: Get in Shape for Less Money
Published on: November 21st, 2019
Peloton offers two major products: a stationary bike and treadmill. Each allow you to watch live and on-demand fitness classes with a $39 monthly membership. These products are ideal for people who prefer to work out at home. But they come at a high cost: The bike starts at $2,245 and the "tread" starts at $4,295.
You can finance your Peloton purchase at checkout with Affirm, a lender that offers point-of-sale personal loans. Learn about this option, plus other ways to pay for the cost of a Peloton below.
Peloton financing through Affirm: How does it work?
You can take advantage of Peloton bike or tread financing by applying for an Affirm personal loan at checkout. The manufacturer has a partnership with the lender. You'll submit to a credit check to determine your eligibility.
Rates and terms depend on your credit profile and purchase amount, but include:
APR: 0.00% – 30.00%
Repayment term: 1 to 48 months, depending on the size of your purchase
Fees: No origination fee, late payment fee or other hidden fees
Down payment: May be required at checkout
Unfortunately, Affirm does not provide detailed information about their credit score requirements, but you can find out if you prequalify for financing, the amount you're eligible to borrow and the APR straight from Peloton's website. Doing so will not affect your credit score.
Assuming a 0% APR, here's what your monthly payments may look like with Affirm financing: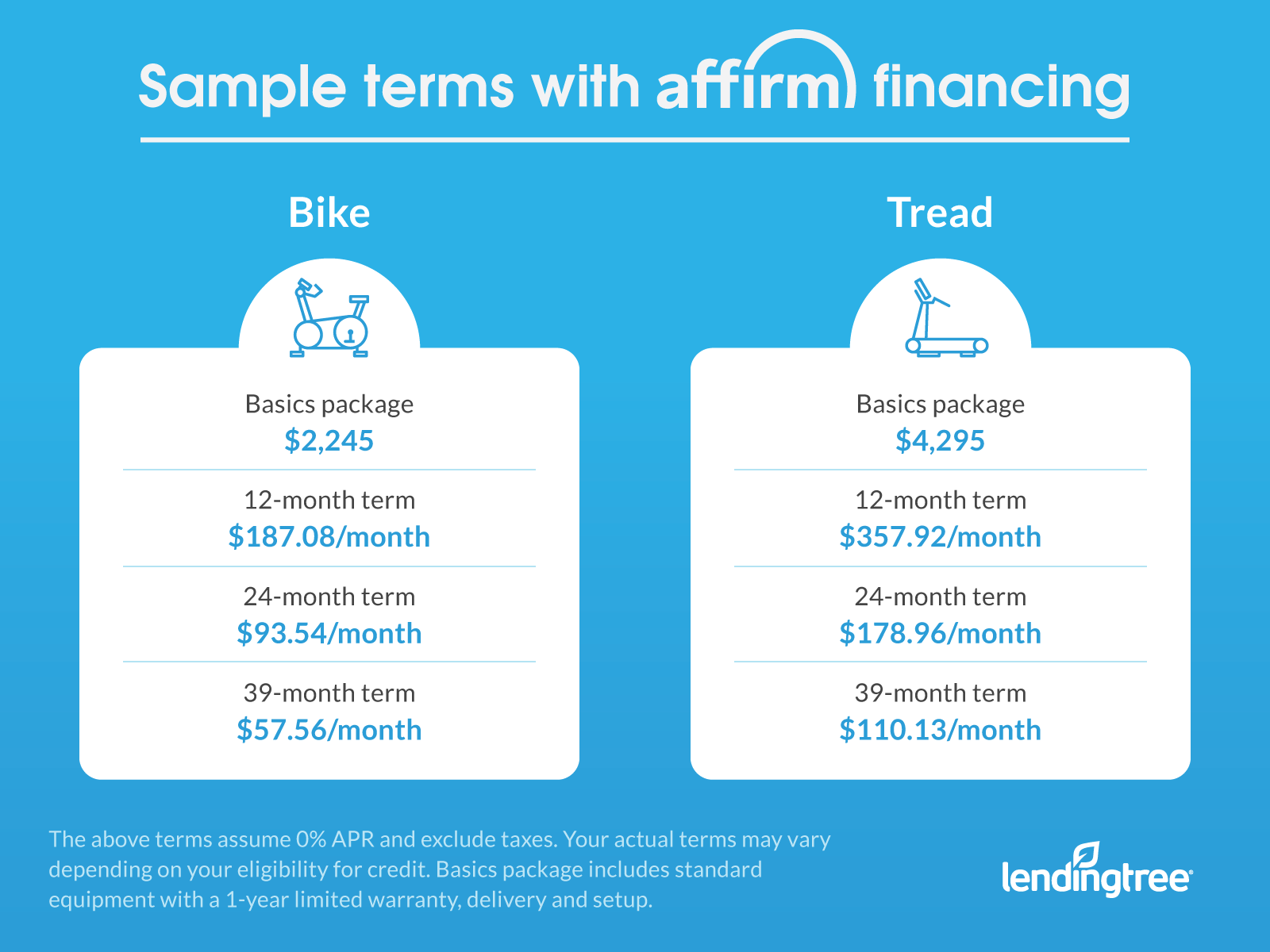 3 more ways to finance a Peloton bike or tread
Other personal loan lenders
Affirm is an unsecured personal loan, but it isn't your only option; you should shop other lenders to ensure you're getting the best deal.
You can find small personal loans with fixed interest rates from banks, credit unions and online lenders, with terms varying depending on the lender and your credit. The minimum borrowing limit is $1,000, but you may find some lenders only offer loans for as little as $2,000 or $5,000.
Many lenders allow you to see terms with a soft credit check (which won't affect your score). By shopping lenders, you may benefit from the following:
Lower APR: Affirm offers a minimum APR of 0.00% to highly qualified borrowers, but its terms can be as high as 30.00%. You can find lenders with lower maximum APRs.
Longer repayment term: Affirm repayment terms are based on your purchase amount. You may qualify for a longer term with another lender.
Easier qualification requirements: Affirm isn't clear about what it takes to qualify. If you have poor credit, you may be unable to get an Affirm loan. But there are bad credit loans you may consider instead. (Beware high interest rates, though.)
How this option compares to Affirm
Other lenders may struggle to compete with Affirm's point-of-sale personal loan. That is, if you have excellent credit and can nab a 0.00% APR. Even if you land an OK APR through a competitor, Affirm may still be a better option. No origination fee, late payment fee or prepayment penalty makes Affirm a strong contender.
If you want a longer repayment term, though, non-Affirm lenders may be your better option. Lenders like Discover offer terms from 36 to 84 months, or even longer. Depending on the loan terms you're quoted with Affirm, you may also find better interest rates elsewhere.
Credit card with a promotional APR
Using a credit card with a promotional 0% APR to purchase a Peloton bike or tread may be a viable option to minimizing interest charges. But you should consider the following before pursuing this option:
Potential for deferred interest charges: To benefit from zero interest charges, you'll need to repay your balance in full before the promotional period ends (usually within 12-18 months). Fail to do so and you'll be charged interest from the purchase date.
Your credit score: Credit cards offering this type of deal to new customers require exceptional credit.
Your existing debt: Taking on a large amount of credit card debt can adversely affect your credit score by increasing your debt-to-income ratio.
Your financial situation: Consider how long you'll need to repay your debt in full. Cards with promotional APRs only offer them up to 18 months or so, and you could be hit with deferred interest if you fail to repay your debt in full.
Another thing to consider with this financing option: You'll lose the promotional 0% APR if you're late on payments or have a returned payment. So if you worry about making on-time payments every month, you may want to consider other Peloton financing options.
How this option compares to Affirm
Only borrowers with strong credit will qualify for this type of credit card offer. However, if you do qualify, this is a strong contender for financing your Peloton purchase. That's because you may qualify for other sign-up bonuses, such as cash back or bonus miles on rewards credit cards if you spend a certain amount within a few months of opening your account. These can reduce the overall cost of your purchase. For example, if you receive bonus cash for signing up for a new card, you can apply that amount to your balance.
However, a card with a promotional 0% APR is a poor option if you don't plan to repay your debt in full before the promotional period ends. That's because your APR could reach up to 25% depending on the card, and you'll be hit with deferred interest.
Salary advance
Going to your employer and asking for an advance is an alternative method for funding your Peloton. Some companies have payroll advance programs to assist staff during financial emergencies, but you may be able to convince your employer to give you an advance for a Peloton bike or tread to improve your fitness and well-being.
You may also double-check whether your employer offers a wellness benefit, where they'll cover a portion of your purchase. This can reduce your cost of purchase.
How this option compares to Affirm
This is a great option for borrowers with bad credit, but you can pair this option with traditional financing to minimize how much you need to borrow upfront or to cover the down payment for an Affirm loan (if you need one).
What's great about a salary advance is that you can avoid the interest and fees that may come with other financing options. That said, some businesses will only provide paycheck advances for emergencies like car repairs or medical bills.
Beware taking out a salary advance that jeopardizes your finances. Make sure you'll have enough money leftover to cover normal bills if you're taking out an advance.
Buying a used Peloton bike
Purchasing a used Peloton bike could lead to significant savings and allows you to avoid paying interest or loan origination fees, assuming you don't use a credit card or loan to fund the purchase. On eBay, the price for gently used Peloton bicycles ranges from $1,400 to $1,800. You may also find used Peloton bikes for sale on Craigslist and Facebook Marketplace.
You'll need to have the original owner disconnect their membership and account if you decide to purchase used equipment. Once you have the bike or tread, contact Peloton customer service to link your new account to the bike.
Keep in mind, you'll also need to transport the equipment to your home or negotiate with the seller to deliver the item. Any warranty is nontransferable, so you'll be on the hook for any repairs.