8 Signs You Might Need a Personal Loan
Published on: February 20th, 2019
Editorial Note: The content of this article is based on the author's opinions and recommendations alone. It may not have been previewed, commissioned or otherwise endorsed by any of our network partners.
Whether you're moving cross-country, remodeling your home or contending with a pile of medical bills, a personal loan can help you pay for expenses that you can't cover with cash.
Increasingly popular with borrowers, personal loans are growing faster in the U.S. than any other type of consumer debt.
If you have great credit, personal loan rates are often much lower than what you can get from a credit card. Personal loans also tend to be more predictable and transparent. If you choose a fixed-rate loan rather than a variable-rate option, such as a credit card, your interest rates will stay the same over the life of the loan.
"You know what you're signing up for," said David Green, chief product officer for Earnest, an online lender that offers personal loans and student loan refinancing. "You know the payback period. You know you have to budget for a specific amount each month. It's a little more controllable."
Many lenders will allow you to use a personal loan for virtually any big expense as long as you can prove that you have the means to pay it back. But it's always important to spend within your limits. Keep that in mind as you consider these signs you might need a personal loan.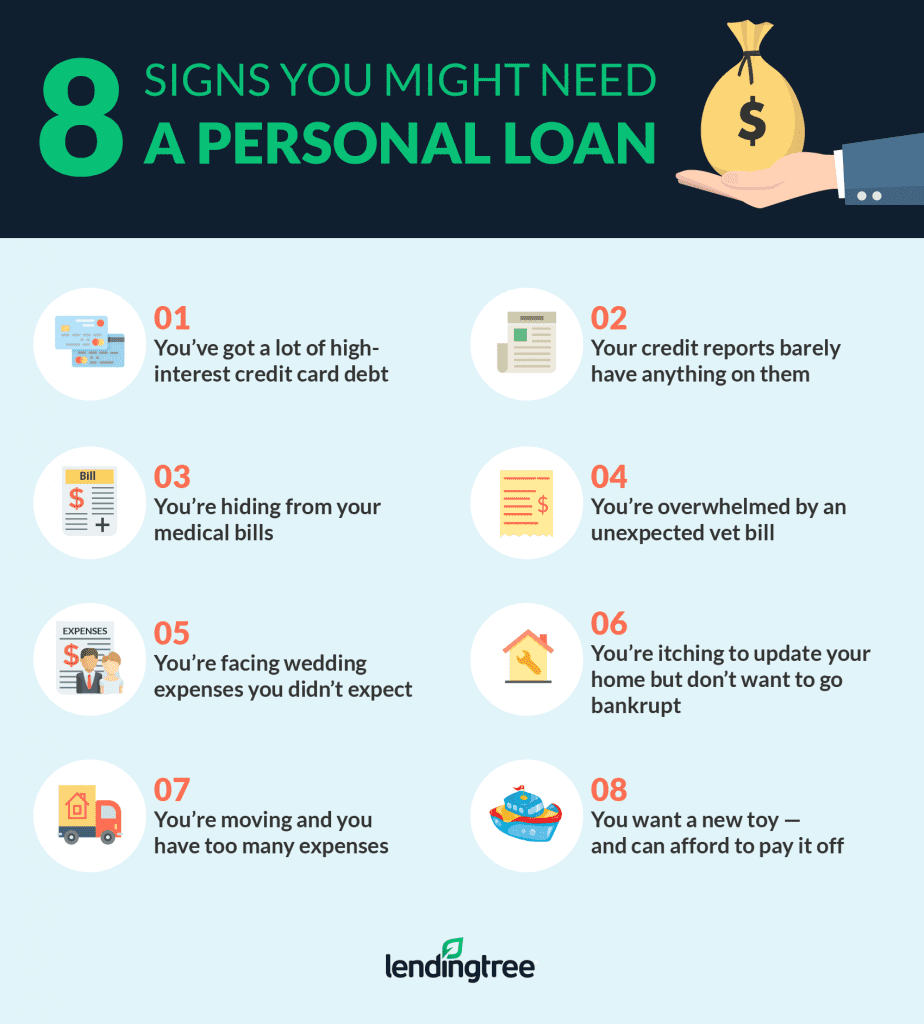 1. You've got a lot of high-interest credit card debt
This is one of the most popular reasons people take on personal loans. A January 2019 study showed that 39.2% of borrowers seeking a personal loan through LendingTree planned to use it to consolidate debt, while 21.8% planned to refinance credit cards.
Consolidating your debt through a personal loan could allow you to refinance it at a lower rate. This is a good option if you have multiple debts and you're having trouble keeping track of them. You can consolidate your debts into one so that you have just one monthly bill to manage.
Consolidating credit card debt doesn't just make it easier to manage your payments and save on interest. When you use a personal loan to consolidate card debt, you're decreasing the amount of debt you carry on credit cards. That will in turn reduce your credit utilization ratio, which is how much you owe versus your total credit limit and constitutes a whopping 30% of your FICO Score.
This strategy hinges on your ability to get approved for a personal loan with a better rate than your credit cards offer. If you've been struggling to pay off high-interest debt and have a high utilization rate or a history of missed payments, chances are your credit score isn't great. And in that case, you may find it difficult to get approved for personal loans with your best rates. Even so, it may be worth shopping around to find a personal loan that carries a lower rate than your card debt. Use the LendingTree marketplace to start, and consider reaching out to your local credit union since it may be more likely to work with borrowers with poor credit histories.
2. Your credit reports barely have anything on them
You may want to consider a personal loan if you're building your credit history and don't have a lot of experience to show lenders.
Payment history accounts for 35% of a FICO Score, which means that if you can make regular on-time payments on your personal loan, your credit score will rise.
Also, if your credit file is thin, a personal loan can boost your credit mix — which accounts for 10% of your score — if you don't already have an installment loan like a student or an auto loan. But remember that this all means nothing if you don't make your payments on time.
It's possible to get a personal loan with no credit or bad credit, but you need to watch out for predatory lenders — and sky-high APRs. If you can only get approved for personal loans with super high rates or if you're denied a personal loan, consider alternatives like a secured credit card or credit-builder loan.
Make sure to explore your options and decide which outcome matters most to you.
3. You're hiding from your medical bills
On top of the rising cost of health care, more people are enrolled in high-deductible health plans than ever before, which can leave them with bills they can't afford to pay even after insurance kicks in.
If you can't afford to pay for your medical bills with cash — or if you're afraid your medical bills will deplete your emergency fund — you may want to consider using a personal loan to pay your bills. Although you'll incur interest, your credit will be healthier if you can prevent your bills from being sent to collections.
That being said, before you opt for a loan, consider negotiating directly with your medical provider first. Or it may be able to put you on a payment plan that will save you from having to take on debt at all.
To help negotiate, don't be afraid to ask questions or seek an itemized bill of your services and look out for common medical billing errors.
4. You're overwhelmed by an unexpected vet bill
If a beloved four-legged member of your family needs expensive medical tests or treatment, it can be tough to come up with enough cash to pay for it in a pinch. A personal loan can help you pay for those expenses a little more safely than if you used a credit card with a much higher interest rate.
For example, some cards advertised in veterinarians' offices can charge rates as high as 26.99%, most with deferred interest. The problem with a deferred-interest card is that you need to pay your full bill in a certain time frame. If you do not, the past interest that was deferred will accrue, which means you'll owe the interest that was due during that period.
To get the benefit of both a 0% financing deal and a personal loan, you could consider applying for the deferred-interest card first. If you're approved, you get to enjoy that interest-free period and make payments as you wish. Then, before the promo period expires, you could apply for a personal loan and use it to pay off the card. That way, you won't be paying interest from the beginning and you avoid getting hit with those deferred-interest charges later. From that point, you'll be left with a fixed-rate loan you can pay back over a fixed period and don't need to worry about your rates changing.
5. You're facing wedding expenses you didn't expect
It's four weeks before your wedding and you owe half of the fee to your photographer. But then you realize the vendor only accepts cash.
A wedding photographer can cost from $1,200 to $3,000, per WeddingWire. If you put that $3,000 on a credit card with a 15% APR and can only make a minimum payment of $100 each month, you would pay $784 in interest — and spend more than three years paying it off. As an alternative, you could use a personal loan to help finance your wedding. With a good credit score, you might snag a loan with a lower rate than a credit card could offer, and you won't have to worry about your rate changing over time since personal loans come with fixed APRs.
Ultimately, you want to make sure that a wedding is something that puts you on the right path, rather than a path to debt. So think about other ways to pay, such as borrowing from a family member, before you consider a personal loan.
6. You're itching to update your home but don't want to go bankrupt
If major appliances or parts of your home, such as your roof or back deck, are wearing down, you may need a personal loan to help replace them. Personal loans often come with terms lasting as long as five years or more, making it easier to pay back thousands of dollars in repairs over time.
You could also consider a personal loan if your home looks stuck in a time warp and you could use a serious makeover. Updating your home won't just make it nicer to live in, but it could increase your home's value and make it easier to sell.
You should know you have other options when it comes to borrowing for home improvements, though. You could consider a home equity loan or home equity line of credit (HELOC) to pay for your renovations. With these, you borrow against your home's equity — the difference between the value of your home and how much you owe on the mortgage. A home equity loan or HELOC may also provide you with a lower interest rate than a personal loan because they are secured with collateral (your home).
7. You're moving and you have too many expenses
Moving is another time when you may need a lot of cash to pay for a wide array of expenses.
For example, you may need to budget several hundred dollars — or potentially even thousands — for movers, moving supplies, storage costs and other expenses. The farther you move, the more likely you'll need some extra help, such as a personal loan, to help you make the transition.
Remember that moving somewhere new can provide a fresh start. Make sure you don't get into unnecessary debt at the start of your journey.
8. You want a new toy — and can afford to pay it off
Some people use personal loans to purchase recreational items, such as a boat, a new surfboard or skis, or a recreational vehicle you can use to travel around the country.
Just be aware of how much more you're paying when you use a personal loan to finance a new purchase, said Stephen Newland, an accredited financial counselor with Find Your Money Path. "Think about the true cost of that," he said.
Would you be willing to pay that much if the interest you incurred through the loan was added to an item's sticker cost instead?
How to get a personal loan
If you decide that a personal loan is right for you, shop around and compare your options. Many personal loan providers will allow you to prequalify without triggering a hard inquiry on your credit report.
When comparing offers, don't just look at the APR. Also look at whether there's an origination fee or other charges, such as a penalty for repaying a loan early.
Also consider a wide range of lenders. For example, you may be able to find cheaper rates through your local credit union. Or, you could lower your costs by working with an online lender instead. Many online lenders consider different qualifications when deciding whether to offer you a loan, beyond just your income and what's in your credit report. For example, they may look at your education and job history, your saving and spending habits, and other factors.
As a result, you could secure a better deal than what a traditional lender is willing to offer you or have an easier time getting approved.