How to Plan a Wedding on a Budget: 7 Steps to Follow
Published on: February 19th, 2019
Editorial Note: The content of this article is based on the author's opinions and recommendations alone. It may not have been previewed, commissioned or otherwise endorsed by any of our network partners.
There is good news for couples getting ready to tie the knot, as research from the University of Maryland indicates the U.S. divorce rate fell 18% from 2008 to 2016, partially because couples are entering marriage with "high levels of economic interdependence."
So if you want to give your marriage that extra boost to help get started on the right economic footing, it's not a bad idea to create a plan that helps you pay for your wedding within your means.
Here's what you need to know about how to plan a wedding on a budget.
Paying for a wedding
A recent survey by WeddingWire found couples underestimate how much their wedding will cost by about 40%. Because wedding costs vary depending on your location, it's important to check the cost of recent weddings in your area when setting your budget. In some cities, photography is expensive while venues are more affordable, while the opposite can be true elsewhere. You can check recent wedding costs in your area via Cost of Wedding.
Generally, you should consider the following categories for your budget, and how much each cost on average in 2017, according to WeddingWire's data:
Venue: $9,000
Catering: $6,600
Photography: $2,400
Band or DJ: $3,800
Hair and makeup: $550
Dress: $1,700
Groom's clothes: $350
Flowers and decorations: $3,000
Making a plan to pay for your wedding
Now that you have an idea of how much your wedding might cost, it's time to start creating a plan to pay for your wedding before you spend any money.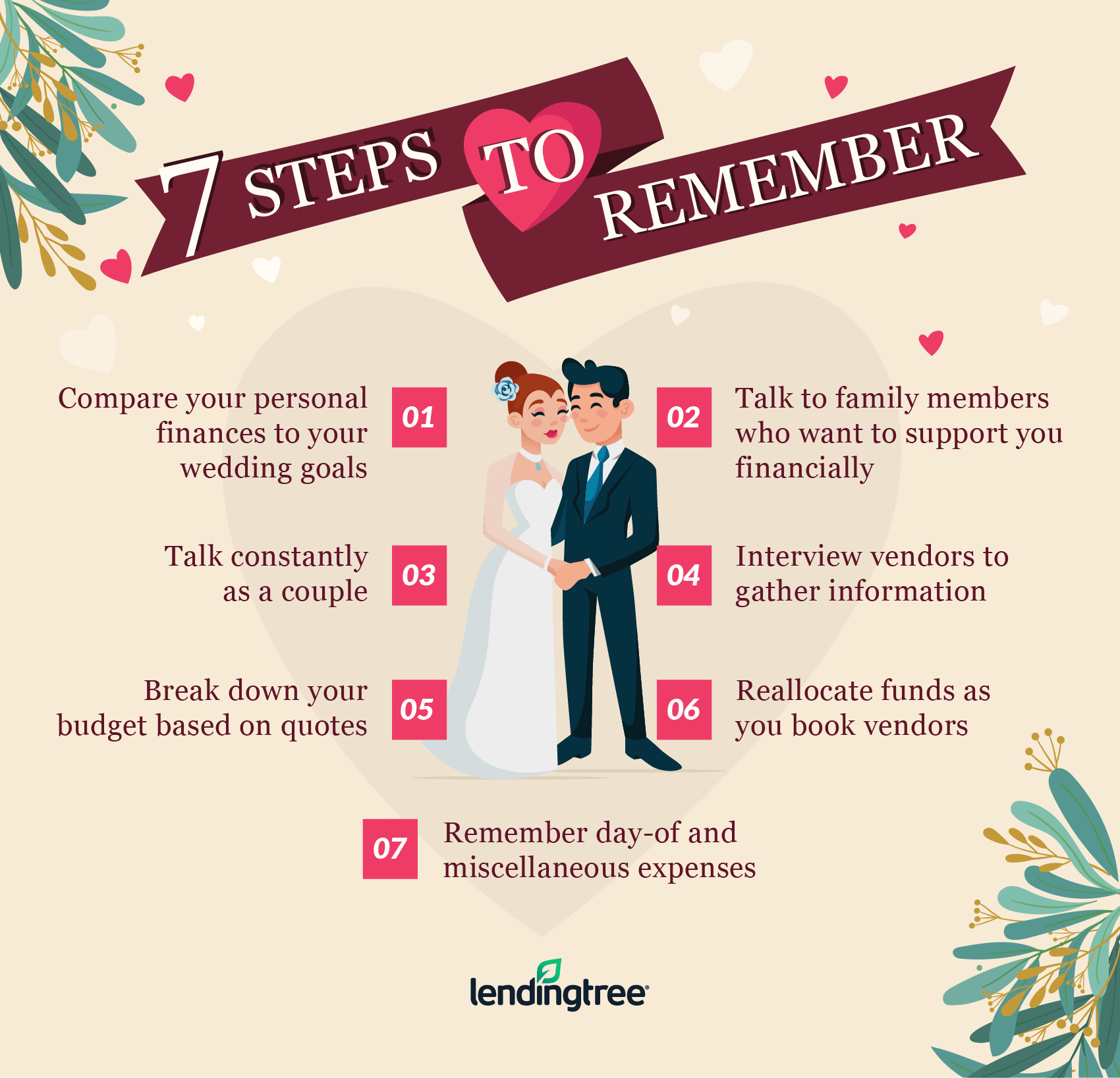 Step 1: Compare your personal finances to your wedding goals
"It's always best to go with a budget that fits within your ability to pay on your own dime," said Meghan Moloney, owner of wedding planning company D.C. Engaged. "Look at your own budget and see what kind of flexibility you have to produce a wedding on your own."
This means adding up your savings, plus calculating the amount of money you think you can save before the wedding. You'll also need to decide what kind of wedding will be right for you. Do you want a small wedding? Luxurious? Simple? This is the step where you paint the picture for your dream wedding and count the cost to determine how much you can afford to pay.
Step 2: Talk to family members who want to support you financially
"Try to identify what matters to family members who will help you financially that you're willing to give up control of," Moloney said. "If you can tie the money they're giving to a thing they have direct control of, it helps prevent them from taking control of everything."
If you feel comfortable delegating an area such as flowers, decorations or catering to a family member and inviting them to shape that part of your wedding, you can account for that cost in your budget.
Step 3: Talk constantly as a couple
Throughout the process, make sure you're staying in communication with your significant other on how the budget will be allocated. This could begin as early as when you're shopping for an engagement ring.
One way to get on the same page with your budget is to download a budgeting app each of you can use to track funds. For a hassle-free solution that doesn't take much to master, you could try Fudget. If you've decided to split the costs individually and not combine your finances as a couple, the app Splitwise can help you break down how much each person will contribute. Or, if you're looking for a budgeting platform that's more feature rich and gives you the option to merge your finances, you could create a Mint account and add your financials in together.
Step 4: Interview vendors to gather information
Next up: Figure out how much everything is going to cost by getting quotes. "You want to do this before you spend any money with anyone," Moloney said. Make sure you get several quotes from different vendors so you have an idea of where you'll have to spend money and where you can save. Since the amount you're budgeting for each section could change based on these quotes, it's important to do all the research before committing to anything. Also, research ways to save money on your wedding, because you might find some tips that will really help you in this stage.
"This is where a wedding planner can really help you because they know the area you're working with and who the vendors are," Moloney said.
Step 5: Break down your wedding budget based on quotes
Once you have all your quotes in, you can start creating a realistic budget for your wedding. Moloney recommends keeping an eye on decor and added venue costs when you're breaking down the budget since these are where couples often accidentally overspend.
"A lot of people will choose a cheaper venue option thinking it'll be better for their budget but it turns out to be harder on their budget because they have to bring in all of the decor," she said. "If you are getting married in a beautiful historic venue that is naturally pretty, you might not have to bring much in. If you decide there's a field that you can get for $500 but you don't factor in that you'll have to bring in every table, every chair, every linen — those tiny costs add up."
Step 6: Reallocate funds as you book vendors
As you begin booking vendors and paying for wedding costs, you might notice you don't spend as much in a certain area as you thought you would. This is a good chance to dedicate more funds to other areas where you're having difficulty staying on budget. "As you're spending or not spending money, you want to reallocate funds," Moloney said.
Staying proactive on managing your budgets can keep you on track financially heading toward the big day.
Step 7: Remember day-of and miscellaneous expenses
Day-of expenses always occur, and often it's these smaller items that couples forget to include in their big plan. So once you've created a budget, go back over it and make sure you haven't forgotten day-of expenses. "Tipping is a day-of expense that often comes up," Moloney said.  "So is breakfast on the morning of, along with lunch for your wedding party." Also, don't forget to budget funds for your honeymoon.
How to pay for your wedding
Once you've created a workable plan, it's time to start paying for your wedding. Here are a few options you can use to find the money you need.
Use your personal savings
Use any personal savings you've set aside first and continue to save portions of your earnings leading up to the big day. If you don't think you have enough saved to start paying for your wedding, you could choose to delay your wedding while you save more, or create a smaller budget.
Add in contributions from family
If you have family who want to help you financially with your wedding, use their contributions throughout the process. This could also include any money you receive as an engagement gift.
Strategically use a credit card
Using a credit card to pay for your wedding could be a savvy strategy if you have a plan to pay it off rapidly. Some cards have 0% APR introductory rates, so as long as you repay the money before the rate expires, you won't incur any interest. Other cards have great cash back or travel rewards, so you might collect enough points to put toward a purchase — or your honeymoon.
Apply for a wedding loan
You could also consider taking out a personal loan to help pay for wedding expenses. Depending on your credit, you might get a lower interest rate with a loan versus a credit card. This could also help you keep your debts organized because you'd have to make one monthly payment instead of remembering to pay several credit cards. Compare wedding loans before deciding on the one that's right for you. Make sure you look at the APR and terms of the loan, and don't commit to monthly payments that are higher than what you can comfortably afford.
The rates and fees mentioned in this article are accurate as of the date of publishing.