Where to Get a Personal Loan
Published on: March 12th, 2019
Editorial Note: The content of this article is based on the author's opinions and recommendations alone. It may not have been previewed, commissioned or otherwise endorsed by any of our network partners.
People take out personal loans for a variety of reasons. You may consider a personal loan to go on vacation, renovate your kitchen, pay for a medical procedure or consolidate high-interest debt.
If you're interested in taking out a personal loan, multiple lenders might grant you one. That includes loans from banks, credit unions and online and peer-to-peer lenders.
Check your credit first to help determine where to look
Personal loan lenders will use your credit score to measure how you may manage your responsibility to repay debt and determine how risky of a borrower you may be. While some lenders are willing to approve borrowers with less-than-stellar credit, others have stricter requirements and may turn away those without excellent credit scores.
Knowing your credit score can give you an idea of where you should look for a personal loan. You can check your credit score through a variety of free resources, including the LendingTree credit score tool. If you find that your credit score is lower than you'd like it to be, paying your bills on time, keeping balances low and paying off credit card debt can help improve it.
Let's dive deeper into the various personal loan lenders available, as well as the pros and cons of each.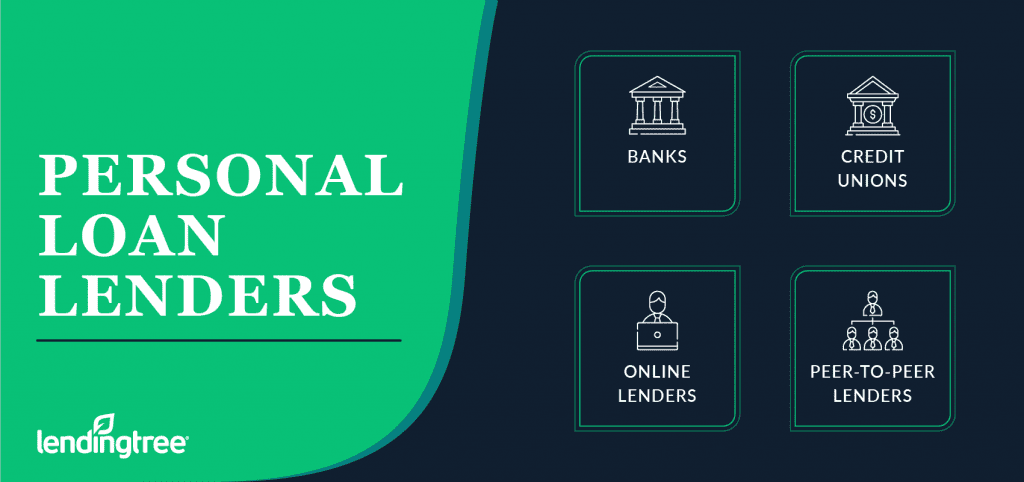 Banks
Banks are for-profit financial institutions, meaning they make money from the products they provide to their customers. They have a reputation for possessing strict lending policies, making it difficult for some applicants to get approved for a personal loan. Each bank evaluates applicants based on its own set of criteria.
Pros
Convenience: Banks offer the convenience of keeping all your financial products in one place. If you already have a checking or savings account with a certain bank, it may be a good idea to secure a personal loan from it as well.
Fast approval process: If you have a relationship with a bank, you may find the approval process to be far quicker than it would be with another type of lender. This can be a huge perk if you need money right away.
Branch availability: If you prefer to apply for a loan in person, a bank may be a good option since many banks have thousands of branches across the U.S.
Cons
Personal loans are not always available: Some banks, such as Chase and Bank of America, do not offer personal loans to their customers.
Strict lending policies: Compared with credit unions and online lenders, banks tend to be more selective with whom they provide personal loans. If you have poor credit, you may find it challenging to get approved.
Higher interest rates: Your credit history will influence the type of interest rate a bank may offer you. But most personal loans from banks come with interest rates that are higher than those from credit unions.
Who they're best for
You may be a good candidate for a personal loan from a bank if you have a good credit score and appreciate the convenience of using one lender for all your financial needs. Bruce McClary, vice president of communications at the National Foundation for Credit Counseling in Washington, D.C., recommends loans from banks to those who have credit scores of 790 or better since they are the ones who may qualify for their best rates.
Credit unions
Credit unions are nonprofit institutions where account holders are viewed as members rather than customers. While some credit unions are small, local unions, others have a nationwide presence with thousands or even millions of members. These organizations offer a plethora of financial products, including personal loans.
Pros
Likely to approve borrowers with fair or poor credit: Credit unions tend to have more lenient requirements and are more likely to give out loans to members with less-than-stellar credit.
Low interest rates: According to the National Credit Union Administration, the maximum APR that credit unions are allowed to charge for most loans is 18%. This figure is lower than the interest rates you may find at banks or online lenders.
Personalized attention: "Since most credit unions are community-based, they take a more personalized approach to their lending processes and actually help their members make informed financial decisions," McClary said.
Small loans available: If you're searching for a small personal loan that is $2,500 or less, a credit union may be the way to go as some other lenders do not offer small-dollar loans.
Cons
Only available to members: You typically cannot secure a personal loan from a credit union unless you become a member of one.
Members must meet eligibility requirements: Unfortunately, becoming a member of a credit union isn't always a walk in the park. This is because credit unions can base membership approval on factors such as location, employer and group affiliations.
Limited locations: Typically, credit unions only have a handful of locations and ATMs. Although this may not affect your loan directly, you may have difficulty accessing your other financial products if you move.
Who they're best for
If you have fair or poor credit, value personalized attention or are searching for a small personal loan, a credit union may be your best bet.
Online lenders
Online lenders offer personal loans that can be secured from the comfort of your home. They eliminate the need to walk into a bank and credit union, having increased in popularity thanks to today's digitally savvy world.
Pros
Convenience: Perhaps the most noteworthy benefit of obtaining a personal loan from an online lender is convenience. An online lender can give you the opportunity to complete the entire loan application process online.
The opportunity to avoid sales pitches: If you walk into a brick-and-mortar bank or credit union to apply for a personal loan, someone may try to sell you a line of credit or another financial product. With online lenders, there are no sales pitches.
Fast approvals: Once you apply for a personal loan online, you may get approved and collect your funds the very same day.
Cons
High interest rates: If you don't have the best credit history, an online lender may offer you an APR that's higher than one you may receive from a bank or credit union.
Not available in every state: Some online lenders can't offer personal loans to residents in every state. For example, Earnest does not offer personal loans in Alabama, Delaware, Kentucky, Nevada and Rhode Island.
Who they're best for
If you like the idea of being able to secure a personal loan without going to a financial institution, an online lender may be an excellent choice. You may also benefit from a personal loan via an online lender if you don't have a good credit score or you're in need of the funds quickly.
Peer-to-peer lenders
Peer-to-peer lending does not involve a financial institution, such as a bank or credit union, giving borrowers the opportunity to connect with individual lenders directly. These individual lenders can give out loans in small increments. Borrowers are not obligated to get their entire loan approved by one lender and may receive funds from a number of different investors.
Pros
A good alternative to payday loans and credit cards: If you're considering credit cards or payday loans, a personal loan from a peer-to-peer lender may be a better option.
Convenience: Peer-to-peer lenders operate online, offering you the convenience of being able to obtain a loan from just about any location with Wi-Fi.
Cons
High interest rates: Peer-to-peer lenders are known for giving borrowers slightly higher interest rates, especially those with poor credit. If you don't have the ideal credit score, you may find cheaper borrowing options from other lenders.
Shorter loan terms: If you don't think you can pay off your personal loan quickly, you may want to avoid peer-to-peer lending since it often comes with shorter loan terms, McClary said.
Who they're best for
"Consider other options before turning to peer-to-peer lending," McClary said. "If you do opt for a personal loan via peer-to-peer lending, however, make sure you understand your rights as a borrower and ensure they have a solid reputation."
What to watch out for when taking out a personal loan
It's important to be careful and read the terms and conditions closely before taking out a personal loan. "Don't become fixated on the interest rate that the lender is marketing," McClary said. "Sometimes, lenders who offer competitive interest rates make up for them in other ways."
A lender may advertise a 7% APR but charge a hefty origination fee. Another lender may also offer a low interest rate but charge a prepayment penalty if you decide to pay off your loan early.
While most personal loans feature fixed interest rates, some personal loan products come with variable interest rates. "If you are concerned about your current economic environment and want to lock in a rate that you're going to have for the term of your loan, be weary of variable interest rates," McClary said.
McClary suggests you look beyond the APR and add up the total cost of the loan. By doing so, you may find that a loan that seems to be the best option at first glance is the most expensive one.
The bottom line
Multiple lenders may be willing to lend you a personal loan. Rather than going with the first lender you find, do your due diligence. By performing research and taking the time to compare all your options, you can save money over the term of your loan.